(Minghui.org) A ceremony was held at Bromley by Bow Centre in the east end of London on October 20, 2022 to celebrate outstanding achievements by students and volunteers at the ESOL (English for Speakers of Other Languages).
Ms. Sun, a Falun Dafa practitioner, was presented with the "outstanding achievement" award in recognition of her efforts to introduce Falun Dafa to the community and her passion for community service.
Councillor Maium Talukdar, Deputy Mayor and Cabinet Member for Education, Youth and Lifelong Learning in Tower Hamlets council, presented the award.
When Susanna, the community manager at Bromley by Bow Centre, invited Ms. Sun to come up to receive the award, there was a round of applause from the audience. Susana asked Ms. Sun to demonstrate the Falun Dafa exercises and encouraged everyone to give it a try.
Ms. Sun said in her acceptance speech: "Falun Dafa, also known as Falun Gong, is a high level spiritual way based on the principles of Truthfulness, Compassion, Forbearance. Adherents experience their energy levels being replenished in a short period of time, and they become full of energy, at peace and more tolerant. This is truly a virtuous way, enabling one to obtain improvements in their physical and mental well-being, as well as gaining happiness in family."
People in attendance stood up and learned the exercises while Ms. Sun demonstrated them. Susanna said, "Such a wonderful practice, yet it is free to learn and the health benefits are significant. I hope everyone can find time to attend the classes organized by Falun Dafa practitioners."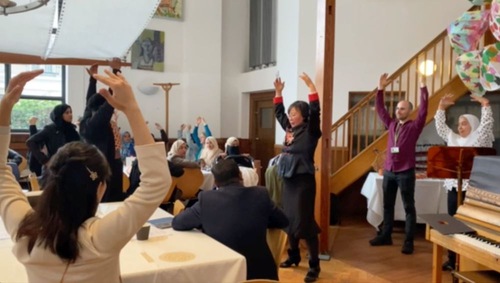 Councillor Maium Talukdar was keen to learn this ancient Chinese practice and asked, "When is the best time to do this? Is it in the morning after waking up or at night before going to bed?" Ms. Sun replied, "You can do this at any time. Of course it is great if you do it in the morning, as it will give you energy to get on with your work throughout the day."
Alice, who is general manager of Bromley by Bow Centre, said, "In the past year after going through lockdowns during the COVID pandemic, more than ever, we need something to strengthen our body, this is an excellent form of exercise. We should keep doing this. It is amazing that in China there is such a great way to improve our health and fitness. We are a multicultural community with many migrants from Bengal. We need people like Ms. Sun to share with us good things in their native country."
For years, Falun Dafa practitioners in London have been holding free introductory classes at various community centres, parks and libraries. The exercises are always taught for free and many people have learned them.
Background: What Is Falun Dafa?
Falun Dafa (also known as Falun Gong) was first introduced to the public by Mr. Li Hongzhi in Changchun, China, in 1992. The spiritual discipline is now practiced in over 100 countries and regions worldwide. Millions of people who have embraced the teachings, which are based on the principles of Truthfulness, Compassion, and Forbearance, and have learned the five exercises, have experienced improved health and well-being.
Chinese version available
(Clearwisdom)