(Minghui.org) Falun Dafa practitioners in Romania set up a booth at the "Health from Nature" fair in Constanta's Vivo Mall from September 23 through 25, 2022, to introduce Falun Dafa and raise awareness of the persecution of the spiritual practice in China.
Practitioners displayed information and handmade lotus flowers at the booth. Some practitioners demonstrated the Falun Dafa exercises, while others passed out fliers and talked to people about the practice.
Visitors spoke with practitioners at the booth and received materials about Falun Dafa. Practitioners found that people are increasingly eager to find solutions and regain hope. Falun Dafa is a practice based on the principles of Truthfulness-Compassion-Forbearance, and people were happy to know that an estimated 100 million people are actively living according to these principles.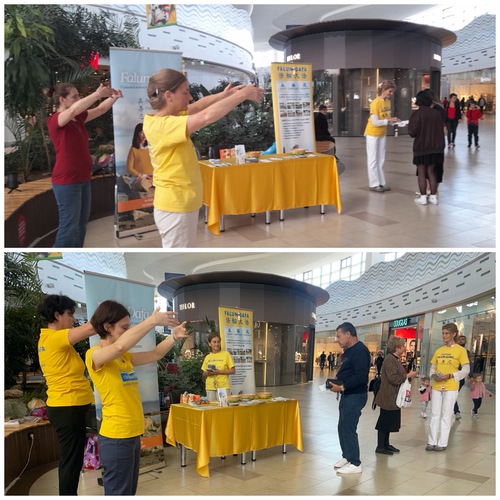 Mr. Viorel stopped at the booth and received a leaflet and asked what the practice was all about. He learned that Falun Dafa teaches cultivating one's moral character by assimilating to the principles of Truthfulness, Compassion and Tolerance. With a good-natured attitude and an obvious willingness to listen, Mr. Viorel said, "What you said resonates with me. It would be good for people to learn these principles. For example, it would be good to teach them in school."
He said that teachers could guide children to be more harmonious, to tell the truth, to be tolerant, and to support and understand each other. This would make the world a better place.
A man and a woman approached the Falun Dafa booth and wanted to know more about the practice and the activities at the event.
A practitioner answered their questions, and the man said that the practice raises one's energy level, which helps get rid of negative things.
When the man learned about the persecution in China and how the Communist Party persecutes practitioners, he said that totalitarian regimes never want people to ascend spiritually.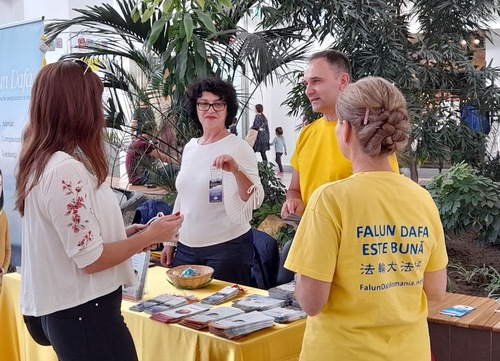 A woman and a man passed by the Falun Dafa booth, and a practitioner gave them a leaflet about Falun Dafa and the persecution in China. The leaflet also told people how to help end the persecution by signing an online petition. The woman passed by again later and smiled and thanked a practitioner when the practitioner handed her another leaflet. The woman said she had already read it, knew what it was about and she said that she would sign the online petition.
The man said that although he had already taken a leaflet, he would take one more because he wanted to help end the persecution by giving it to someone else.
One woman who passed by the booth said that the world is in dire need of Truthfulness, Compassion and Tolerance.
(Clearwisdom)
Brasov, Romania: Practitioners Spread the Beauty of Falun Dafa