__________________________________________
(Minghui.org) Thirty years ago in May 1992, Falun Dafa was introduced to the public by Mr. Li Hongzhi, the founder of the practice. To celebrate this special occasion, New Zealand practitioners on the west coast of North Island gathered at New Plymouth on May 28 for a parade and rally to tell the community about Falun Dafa.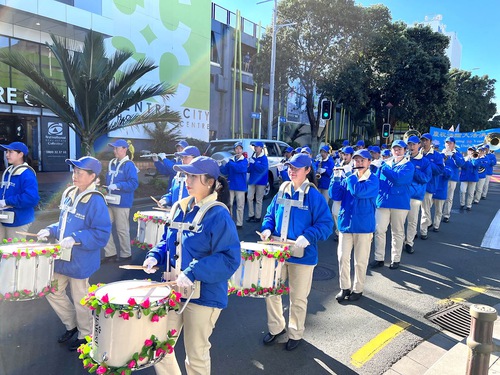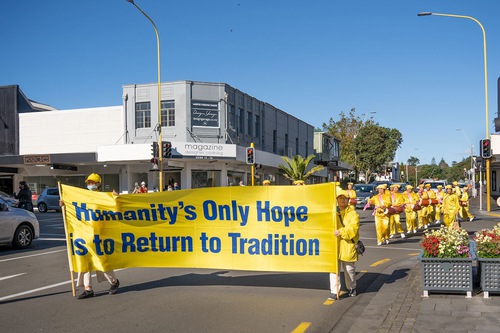 Harmony and Energy
Mia and Samuel said they were very impressed by the parade and kept applauding. "It is amazing—everyone is in such harmony," exclaimed Mia.
She said every musical note played by the Tian Guo Marching Band seemed to convey empowering energy. "Same thing with the waist drum performance—the rhythm and synchronisation are great," she said. Interested in the performances and the principles of Truthfulness-Compassion-Forbearance, the couple walked with the parade and then joined the rally to watch the exercise demonstration.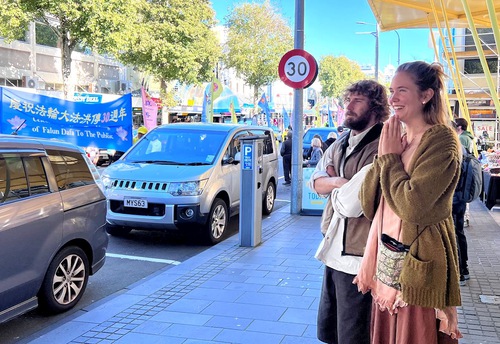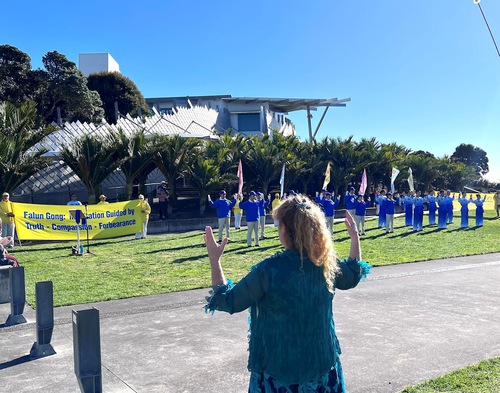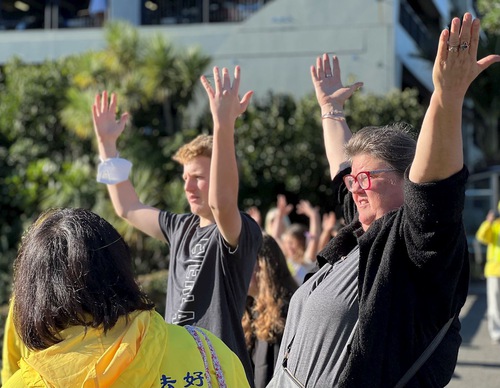 Peace and Good Manners
Hillary Gregory is a music teacher and Nick Chandler works in the wood glue industry. Attracted by the music of the Tian Guo Marching Band, they came to watch the rally. "The music is excellent and the performances are great," Gregory said, "but what surprised me the most is how polite everyone is. Whether it was the dragon dance, waist drums, or band, when one group performed, members of the other teams waited quietly. I think this is the power of Truthfulness-Compassion-Forbearance written on the banner."
Nick said he was impressed by the exercise demonstration. "It is horrible that the Chinese Communist Party (CCP) suppresses the practice simply because people like this peaceful meditation system," he said. "The regime wants to control people and restrict their freedom. I hope (Falun Dafa) practitioners can do more to raise awareness about this so that people will know what is going on."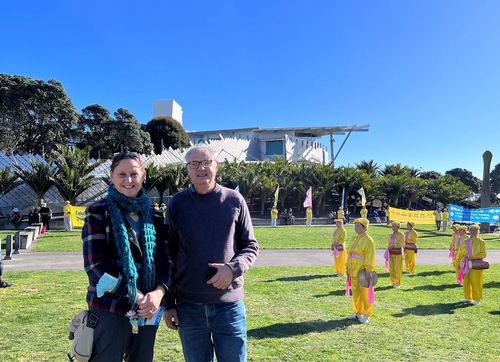 Becoming Better People
Pamela Gold is a radiologist and works at a hospital. When practitioners demonstrated the exercises, she stood nearby to learn the movements. With a pamphlet in her hand, she said she particularly liked the words, "Truthfulness, Compassion, and Forbearance." "They give you power and strength to handle life's different situations," she explained.
"People should be considerate of others, not just themselves," she added. When she heard that Falun Dafa was introduced to the public 30 years ago, she said she wished more people would embrace it. "These principles will help practitioners become stronger and inspire more people," she said. "I hope these principles will last forever."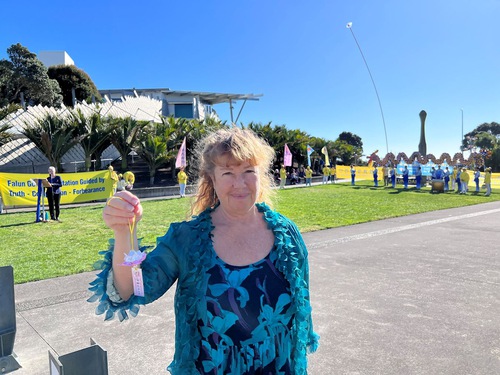 The Horror of Organ Harvesting
Hunter Osborne, a nurse, came with his son. "The band's music is beautiful, and the dragon dance and waist drum performances are superb," he said. He enjoyed learning about Chinese culture this way.
Hunter said that, when he lived in Auckland, he often saw practitioners peacefully protesting in front of the Chinese Consulate and holding banners. He said the suppression in China is terrible, especially forced organ harvesting. "It is unbelievable that innocent people are killed like this because of their belief," he said. "The crime should be stopped immediately."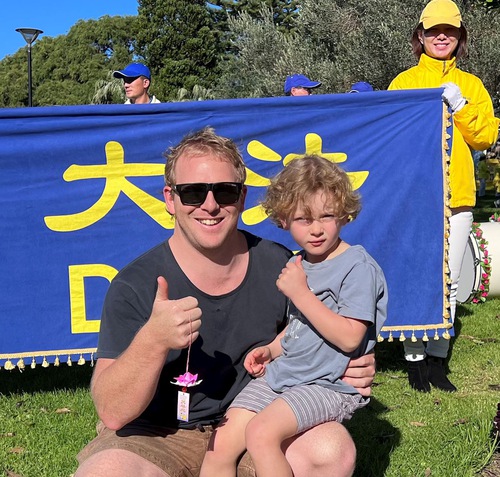 Continued Efforts
Pauline Hilliam, a farmer, said she was interested in learning the exercises. "When I did the second exercise, I felt my entire body was strengthened with energy. I also had a feeling of peace and serenity," she said.
She was particularly happy to be there to help celebrate the 30th anniversary of Falun Dafa's introduction to the public. "This is amazing. I believe more people will benefit from it," she said.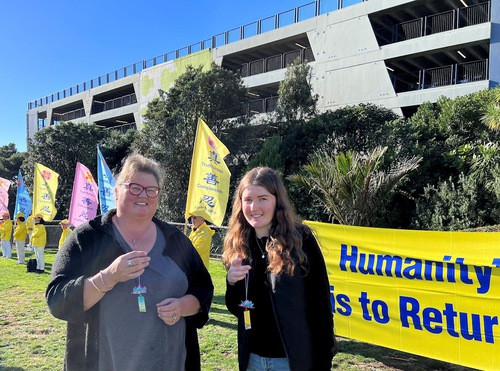 All content published on this website are copyrighted by Minghui.org. Minghui will produce compilations of its online content regularly and on special occasions.