__________________________________________
(Minghui.org) Falun Dafa practitioners held a rally and group practice in Auckland, New Zealand, on April 16 to celebrate the 390 million people who have quit the Chinese Communist Party (CCP) and its affiliated organisations. A member of the Auckland Refugee Council, a New Zealand human rights lawyer, a Christian church representative, and pro-democracy activists were present to offer their congratulations.
The Tian Guo Marching Band, the Dragon Dance team, and the Waist Drum team were on hand to perform and were well received. Many people stopped to watch. Practitioners also demonstrated the exercises, and the peaceful music attracted many passersby who joined them.
Five practitioners addressed the rally, telling the listeners how, since 1999, the CCP has persecuted practitioners who believe in Truthfulness-Compassion-Forbearance and even harvested their organs for profit in the organ transplant industry. They hope that more people will wake up to the CCP's lies and renounce the Party.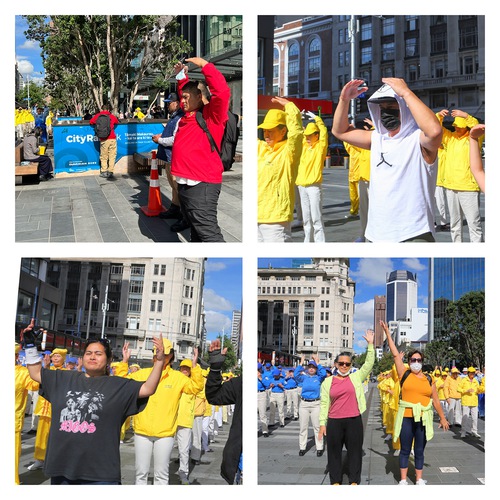 Auckland Refugee Council Member: This Is a Peaceful Resistance to the CCP's Lies
In speaking to the rally, Michael Zhuang from the Auckland Refugee Council said he'd met people who'd escaped the CCP's persecution, many of whom were Falun Dafa practitioners. "It's been 23 years since the CCP launched a cruel campaign of terror towards peaceful Falun Dafa practitioners. And for 23 years practitioners worldwide have campaigned and peacefully clarified the truth about the persecution in China.
"The CCP seeks to control everyone's thoughts and ideas. Independent thought is an abomination to them. That's why they cannot tolerate Falun Dafa practitioners because they offered an alternative. Under the CCP, China is one of the least free countries in the world.
"Unfortunately, the CCP's brainwashing and cult form of propaganda has influenced an overwhelming majority of Chinese people.
"Today we're here celebrating the people who have quit the CCP. This is a peaceful resistance to the CCP's lies."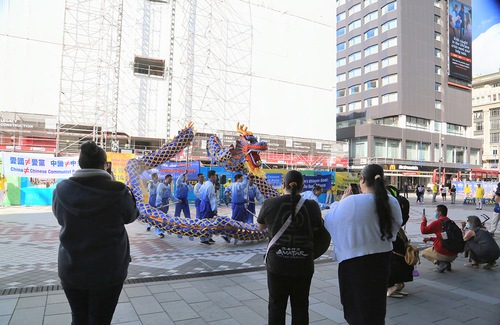 Human Rights Lawyer: Quitting the CCP Is the Most Welcome News
Kerry Gore, a human rights lawyer, said, "Congratulations to the Global Quit the Chinese Communist Party Service Centre for all of its hard work over 18 years in enabling 394 Million Chinese people to quit the Chinese Communist Party and its affiliated organisations, the Youth League and the Young Pioneers.
"This is most welcome news and it is not at all surprising that this tide of withdrawals has happened. As even the most recent Amnesty International Annual Report on China for 2021 records: 'The human rights situation in China has continued to deteriorate.'
"Falun Gong practitioners and House Church Christians have also been subjected to various forms of persecution comprising unlawful arrest, arbitrary detention, physical torture, psychological torture, brainwashing, and slave labor, all in an effort to force believers to abandon their faith. Falun Gong practitioners and some House Church Christians have also been subjected to forced live organ harvesting of their vital organs. This is a form of state-sanctioned murder."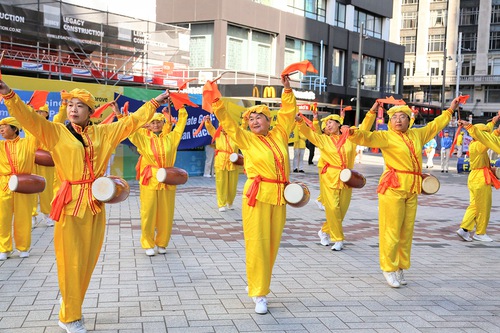 Project Manager of Christian Church Condemns the CCP's State-sanctioned Live Organ Harvesting
Dr. Stuart Vogel is the project manager of a Christian church. He came to support the event. He said that the CCP's state-sanctioned organ harvesting from live Falun Dafa practitioners reminded him of the Nazi Germany's use of Jews for human experimentation during World War II. This is the most terrifying page in Europe's history. As long as there is a dictator, whether it's Hitler or the CCP, the same thing happens.
Mr. Vogel praised the Tian Guo Marching Band, the Dragon dancers, and the Waist drummers. He said that the performers and their children were friends and neighbours. "Falun Gong practitioners don't just practice, they also have such activities and performances. Cultural communication shortens the distance between people."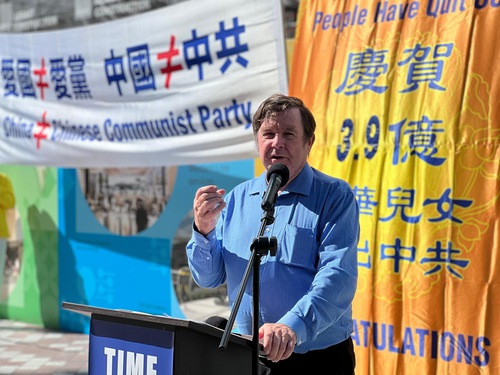 Falun Gong Is Extraordinary
Kimiora Aue works for the Auckland city government. A practitioner gave her a small paper lotus flower and a flyer. After reading the flyer, she decided to start practicing Falun Dafa.
She said, "I think it's really amazing. While doing the exercises, I felt that my body was healed and the pain was disappearing. When I did the first one, my back still hurt a lot. But when I did the second exercise, my back pain was gone."
About Truthfulness-Compassion-Forbearance, Kimiora said, "This is my belief, my life's principles. Many children now lack kindness, and their hearts are full of anger, frustration, and greed. They all need this kind of philosophy. Once they have such a philosophy, they can feel calm and relaxed and be at peace—and their bodies and minds will be healthy. I hope my children will become sincere people. I like this Falun Dafa practice so much. I will read the Falun Dafa books carefully. I think everyone needs this, and it's suitable for every age group."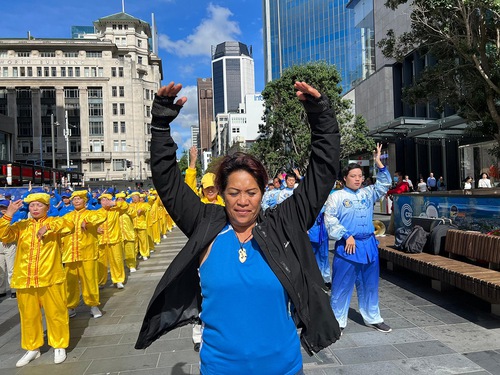 The CCP Is Not China
Chris from Australia was in New Zealand visiting his family. He is in the tourism industry and has traveled to many countries. He said, "I love the Chinese people, but the CCP is not good, because there are no human rights, no freedom of speech, and no freedom in the media. The CCP suppresses Falun Gong and other ethnic groups. It threatens Taiwan and concealed the Wuhan virus. The CCP is afraid of all other organisations, including religious organisations. Those churches have surveillance cameras, and they are all CCP (Party members). Those Confucius Institutes all over the world are trying to get the whole world brainwashed. Their media is lying, and the purpose is to gain control."
Chris said he recently saw the movie "Unsilenced," which was released in Auckland. He said that the reason why the film was good was that, even though the events happened to one person, it made us see what many people are going through.
He said, "The CCP persecution has gone on for too long. The Chinese people have endured this kind of suffering for too long. Although I am not a fan of politics, I will read and learn so that I can understand the world and what is going on. The CCP is trying to categorise all dissidents as anti-China or racist. This is not true—the CCP is not the same as China, but they use all kinds of political and diplomatic tactics to keep people from criticising them. They are very insidious."
Falun Gong Welcomed
Nooroa Teko works for the Auckland City Council and manages the event venue. Because Falun Gong practitioners do the exercises in the central square, he often goes there to make sure everything is going smoothly. Sometimes he does the exercises with them.
He said, "Falun Gong practitioners practice here, and the response from passersby is very good. A high-level city government employee recommended that I practice it because she has started to practice herself, and she thinks it is very good."
Nooroa said, "Although I am busy with work, I take half an hour to do the exercises with them when I have time. When I do the exercises, I can feel that my pain is lessening or disappearing. When I am not feeling well, I do the meditation. Even if I listen to the practice music, I can feel the bad things in my body disappearing. So beliefs play a big role. I like this (Falun Gong) very much."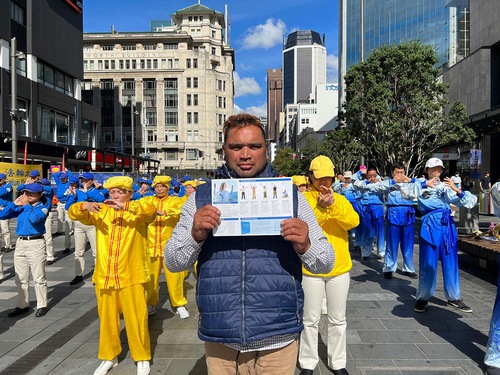 Views expressed in this article represent the author's own opinions or understandings. All content published on this website are copyrighted by Minghui.org. Minghui will produce compilations of its online content regularly and on special occasions.