(Minghui.org) Since former Chinese Communist Party (CCP) head Jiang Zemin began to suppress Falun Gong in 1999, many officials have been promoted to high positions and given honors for their dedication to the nationwide policy of persecution.
Over the last two decades, tens of millions of Falun Gong practitioners have been discriminated against, harassed, detained, tortured, and even killed for their belief due to this persecution. Many of the CCP officials who were the most active in suppressing Falun Gong are now facing consequences for their actions.
One example is Wang Sanyun (王三运), a province-level officer who was taken down in 2017, eventually sentenced to 12 years in prison and fined four million yuan.
Directing the Persecution in Several Provinces
Wang was born in Guizhou Province in 1952. He became the deputy Party secretary of Sichuan Province and the principal of the Sichuan Provincial Party School in July 2001. In October 2002, he was assigned the same positions in Fujian Province.
In April 2002, Wang launched a province-wide campaign that mobilized over 19,000 officers in Chengdu City alone. Supposedly an effort to "end pornography and gang activity," he arbitrarily arrested many practitioners, leading to more than 30 deaths. Four months later, he went to Meishan City and directed further attacks on Falun Gong practitioners.
After becoming the Party secretary of Anhui Province in November 2007, Wang was appointed its governor in January 2008. He then gave orders to ramp up the suppression of Falun Gong practitioners, encouraging the use of brainwashing, psychiatric abuse, and torture. In addition, he directed the arrests of a large number of practitioners, many of whom died from torture.
In December 2011, Wang was appointed Party secretary of Gansu Province, where his efforts to persecute Falun Gong practitioners continued. Practitioners in numerous areas, including Lanzhou City, Tianshui City, and Linxia City, were arrested. Even areas with few cases of suppression in the past had severe cases.
The notorious Gongjiawan Brainwashing Centre in Lanzhou City is one example of how brutal Wang's methods were. In addition to detention and torture, Wang also hired so-called "experts" to hound practitioners psychologically into giving up their belief.
According to a March 2019 Minghui report that compiled statistics from 3,640 brainwashing centres in China, 3,128 Minghui articles explicitly called out the severity of the torture in Gongjiawan Brainwashing Centre. This is second only to Xinjin Brainwashing Centre, which is also in Chengdu.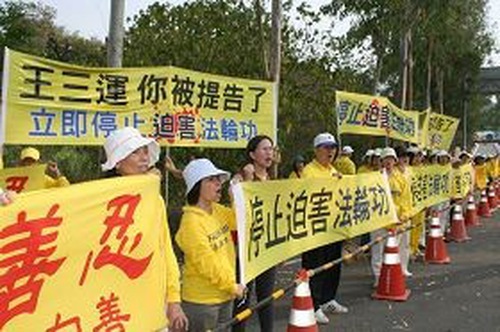 Warned Again and Again
Wang had many opportunities to turn around before his fall, including when he visited Taiwan in 2011.
Before Wang's visit on April 18, the Taiwan Falun Dafa Association filed a lawsuit against him with the High Procuratorate for the crime of genocide. When Wang arrived at Taoyuan Airport, more than 50 Falun Gong practitioners protested and the lawsuit was served at the airport. Wang did not say a word at the time.
During his stay in Taiwan, Wang ran into protests wherever he went. Even city councilors joined the local practitioners in calling for an end to the persecution of Falun Gong.
As he left Taiwan on April 25, Wang encountered Falun Gong practitioners at the airport again. They told him he had been sued and hoped he would stop participating in the persecution. Wang did not respond and hurried out of customs in three minutes.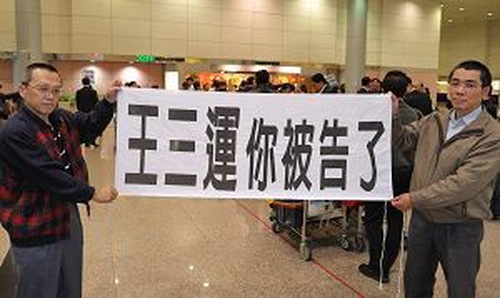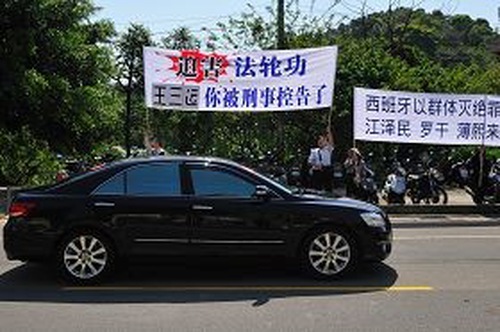 Arrest, Sentenced, and Fined
There is an old Chinese saying that "good is rewarded and evil is punished." Wang could have learned a lesson on his trip to Taiwan and stopped participating in the persecution of innocent Falun Gong practitioners. But after becoming Gansu Province Party secretary in December 2011, he chose to continue the suppression and in the end met with consequences.
In January 2017, Wang's associate Yu Haiyan was targeted for investigation. Three months later, Wang left Gansu Province for a nominal position in the National People's Congress. On July 11, 2017, Wang was investigated and sentenced to a 12-year term in April 2019. His assets acquired from bribes were confiscated and he was also fined four million yuan.
According to the CCP's news media, wherever Wang went, his circle of friends and business associates would follow, bribing him for favors. In fact, he had been taking bribes for 24 years.
Wang is one of the many CCP officials who have participated in the persecution of Falun Gong. We hope that more officials learn from his experience. If they'd stop following the CCP in committing crimes, perhaps they could buy themselves a better future.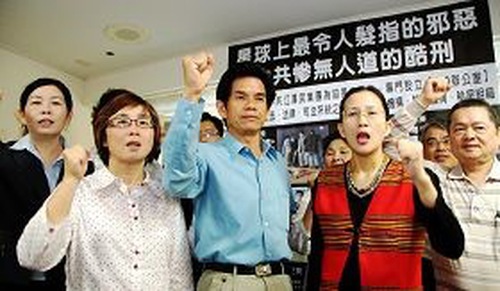 Views expressed in this article represent the author's own opinions or understandings. All content published on this website are copyrighted by Minghui.org. Minghui will produce compilations of its online content regularly and on special occasions.