________________________________________________
(Minghui.org) During the first week of March 2022, the New York-based Shen Yun Performing Arts continued its world tour with performances in London, Paris, and three U.S. states (Arizona, North Dakota, and Ohio).
3rd Viscount Bridgeman: "Unbelievably Good"
The Viscount Bridgeman and his wife Harriet saw Shen Yun in London on March 3.
"Marvelous dancing, but a mixture with all the sadness of present-day communist China. But unbelievably good," said Robin Bridgeman, the 3rd Viscount Bridgeman, and a member of the House of Lords.
Viscount Bridgeman also said he could see "so many shared beliefs" between the spiritual traditions of East and West.
His wife Harriet, an author and editor, and the founder of the Bridgeman Art Library, described Shen Yun's digital backdrops as "very sophisticated" and "very clever."
Viscountess Bridgeman shared that Shen Yun opened her eyes to China's traditions.
"I think it's wonderful, opening my eyes to the wonderful, wonderful traditions," she said.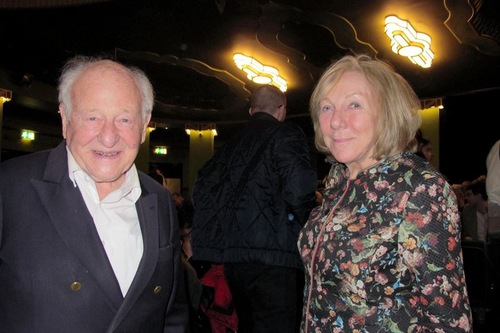 Baroness Altmann, CBE: "Absolutely Beautiful" and "Fantastic"
The Baroness Altmann CBE saw Shen Yun in London on March 3, 2022.
"I think their kindness and their enthusiasm and the meditation and the spirit seems to shine through," said the Baroness, Rosalind Miriam Altmann, a current member of the House of Lords and a leading pensions expert and political campaigner.
"I think it's fantastic. I love the dancing, I love the colors—the colors are absolutely beautiful. The storytelling is lovely.
"It's really sad that China is not taking advantage of its fantastic historical culture and the beauty of the art and the dance and the music that is part of its history," she said.
Baroness Altmann appreciated Shen Yun's efforts. "And I congratulate all the cast on all the work they're doing," she said.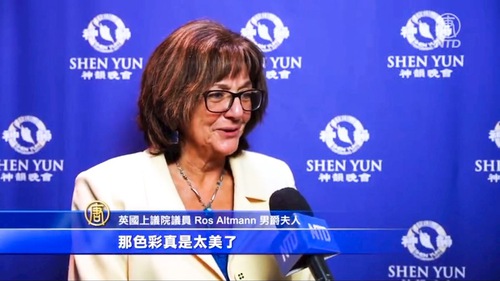 Baroness Finlay of Llandaff: "The Most Incredible Celebration of a History of Magnificent Culture"
Baroness Ilora Finlay of Llandaff saw Shen Yun in London on March 6.
"A great visual and emotional experience," described Baroness Finlay, FMedSci., a Welsh doctor, professor of palliative medicine, and a Crossbench member of the House of Lords.
"It's a magnificent show with the most incredible dancing and acrobatics. And it really brings the culture to life in a very powerful way.
"Of course, it also highlights difficulties and problems of today—this show itself is the most incredible celebration of a history of magnificent culture.
"It really makes you appreciate the human touch all the way through… And I think the dancers are absolutely amazing because they don't even look breathless. They're really fantastic. And the costumes as well, I was really taken," Lady Finlay said.
She also spoke about Shen Yun's portrayal of modern stories, such as the ongoing persecution of Falun Gong practitioners by the communist regime.
"We've discussed it in Parliament as well… The sad reality is that there are terrible things going on in society. And we have to recognise them. We can't close our eyes to them.
"I hope everybody who's been to the show leaves with a greater tolerance of other people in the world, a greater understanding of cultures… and allow different people to live with different faiths in peace.
"'For evil to flourish, it only takes good men to do nothing,' " Lady Finlay said, quoting Simon Wiesenthal. "We cannot ignore bad things in the world. And we must not perpetuate them."
She also called Shen Yun a show "for people of all ages and all cultures."
"I would say to the artists that they are absolutely phenomenal, inspirational in their discipline, as well as in their expressive performance. But I think also the musicians, the people who make the costumes, the filming for the backdrop—one mustn't forget all those people as well—all the technical people involved in putting on a show like this.
"By sharing culture, we learn to respect other people. We learn to recognize the intrinsic value of all that they have and their history… And I think that actually, it is the road to peace at the end of the day if we can only understand other people and respect them. And we desperately need peace in this world today," she said.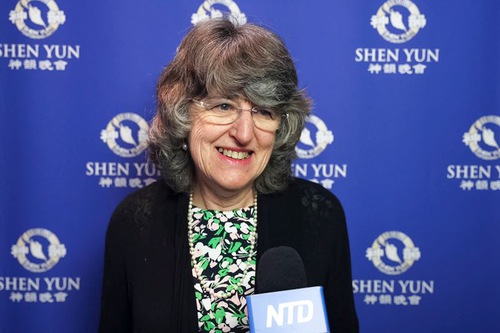 London Law Firm Partner: "Demonstrated the Chinese Culture Immensely Well"
James Pickavance, a partner at the law firm, Jones Day, saw Shen Yun with his wife and his son Andy in London on March 5.
"The diversity of dance was really special… And I felt it demonstrated the Chinese culture immensely well," Mr. Pickavance said.
Six-year-old Andy was overjoyed by what he saw.
"My son was jumping up and down, really enjoying the dances, but also I think he learned a lot during the dances, which is one of the most important things… It's immensely important for us that he learns different cultures. He's only six, but no better time to start," he said.
Through the universal language of music and dance, he saw a message of unity which he said has "longevity."
"It's interesting how the values of courage really translate over thousands of years… And it doesn't really matter whether it's a modern-day performance, or a modern-day tale or a tale set back in ancient times—the message of courage is really the same throughout the different performances," Mr. Pickavance said.
He said he's looking forward to an all-new Shen Yun program next year.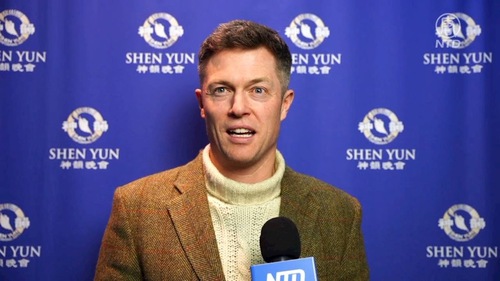 Soprano: "I Will Remember it for the Rest of My Life"
Natasha Jouhl, a soprano, saw Shen Yun in London on March 3.
"I think it's amazing. The bass that I heard singing the one number was really so from the heart and so performed with passion and complete commitment to what he was singing about. It really came through so well… You could definitely tell he was a bass and very accomplished in his techniques," Ms. Jouhl said.
"Really amazing, very inspiring, forthcoming, kind of almost triumphant really. [The] words that will appeal to so many people on so many different levels. It was really moving," she said.
Ms. Jouhl was also impressed by the dancers' performances.
"The discipline of the performers is amazing. They're so completely on top of every move that they do. There's not anything out of place," she said.
"I think the energy is very peaceful [and] also uplifting at the same time. You really feel like it's from the heart, from the soul. It's just really wonderful to watch.
"It has a certain sense of spirituality and emotional calmness that I think only something like meditation could give you because you never feel for a moment that they are out of control or not in complete understanding of their bodies and what they can add to the performance. So I applaud them for that. It's such a calming thing to watch," Ms. Jouhl said.
If she had a chance to speak to the artists in person, she would say, "Wow! Bravo! Encore! It's the most amazing thing I've ever seen. The commitment and what you offer is truly astounding, and it's not like anything I've seen before, and I will remember it for the rest of my life."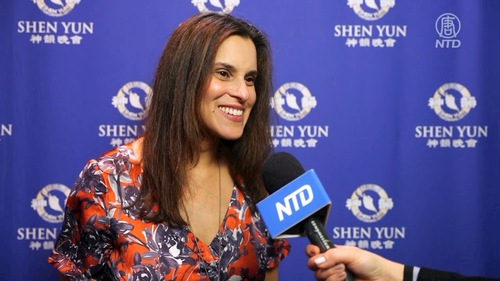 French Jewelry Designer: "Message from the Heavens"
Marie-Jeanne Haegy, a jewelry designer, and her husband Jean-marie Haegy, an emergency room doctor, saw Shen Yun in Paris on March 5. The couple traveled 500 miles to see the performance.
Mr. Haegy thought the trip was very worthwhile, "because the performance was extremely excellent. It demonstrated all the values of humanity. It touched the heart and was very moving. My wife was completely in awe."
Mrs. Haegy said, "Yes, I was very much in awe. The performance far exceeded my expectations, because the messages delivered by the performance were even more important. The performance is so deep. The messages are so awing. The message is: to go to a more beautiful place through this world. Our birth was not a coincidence. We carry important missions. We have to nourish beauty and compassion."
"Shen Yun is indispensable! Especially during this unsettled period. It is the message of hope! It is the message from the heavens. It is a call. It is something very magnificent. It leads to serenity and beauty," she added.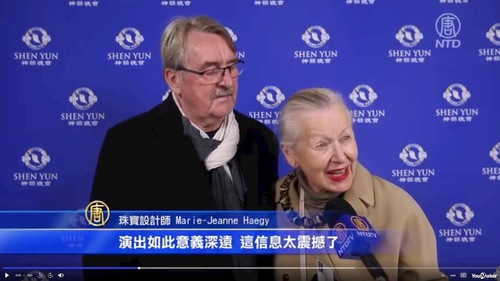 Professor: "Brought us to the World of the Divine"
Isabelle Michel-Delclaux, a professor of economics, saw Shen Yun in Paris on March 5.
"I really love this performance. The dancers were extraordinary. They were so graceful, light, and excellent. The costumes were dazzling and eye-catching. I really like the combination between the animated backdrop and the stage scenes. It was precise, simultaneous, and seamless," Ms. Michel-Delclaux said.
"The dancers brought us to the world of the divine, the heavenly empires, the universe of all the heavenly beings. Through their enthusiasm and emotions, they let us understand and feel the ancient China in the old days.
"The performance is really a passageway to another world. I hope we can stay a little longer in this world of the divine. Let humanity, whether male or female, all have a spiritual elevation," she said.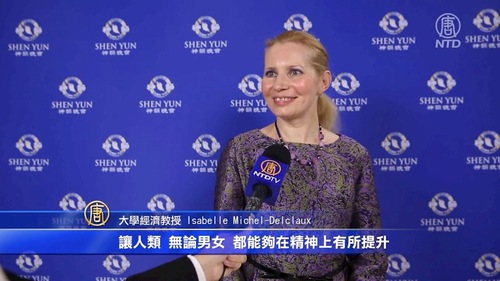 President of University of North Dakota: "Absolutely Incredible"
Andrew Armacost, the President of the University of North Dakota, saw Shen Yun in Grand Forks, North Dakota, on March 2.
"The performance was absolutely stunning. All of the dancers and the musicians were absolutely incredible. And just how the show was put together was absolutely beautiful. Just the scenery, and the stage was just gorgeous. The performance couldn't have been any better. It was extraordinary," Mr. Armacost said.
"I think the biggest takeaway was just coming together. And just the unity that we saw on the stage. How the performances of the individual dancers came together to make a beautiful whole. It was absolutely stunning.
"The theme was wonderful, and about the connections and being together, and having hope and compassion. It was just an incredible theme and it was matched by the beautiful performance.
"The mission seems to be wonderful – to promote the culture that exists – I think is an opportunity for the rest of the world to learn something about that culture, and to see how it comes together in such a beautiful performance.
"The traditional culture was wonderful. And I do believe it gives the audience a chance to understand and to really reflect upon what that culture means.
"I would encourage others, whether it's here in Grand Forks, or elsewhere in the United States, to come see the performance. It's absolutely beautiful. It's meaningful. And I was very pleased to be here tonight and to see what those performers can really do," he said.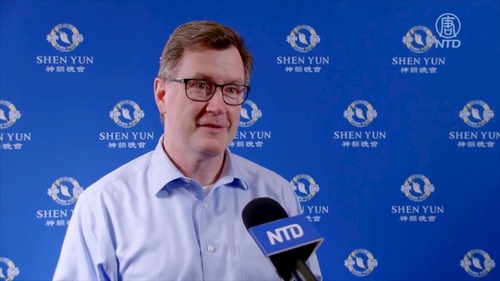 Painter: "My Mind Was Purified and Renewed"
Shannon O'Donnell, a painter, saw Shen Yun with her husband Joe O'Donnell in Phoenix, Arizona, on March 5.
"The performance was fascinating. Beautiful and magical. I recommend it to every person," Ms. O'Donnell said.
"As an artist, frankly speaking, I am filled with admiration for the beauty of Shen Yun's arts.
"After hearing the emcees' explanation of the stories, you would see that those stories are portrayed in a very beautiful, touching, and artistic way. This feeling is very hard to describe in words. You have to experience it in person.
"I like the theme about all of us being connected. Everything has an eternal side. Kindness will definitely defeat evil, even if it takes the test of time.
"When I first sat there to watch the performance, I was still thinking about everything that's going on in the world right now. But gradually my mind was purified and renewed by all the beauty on stage. I completely forgot about the troubles in the secular world. This beauty can completely take the audience to a realm where they can enlighten to the supreme truth. At the same time, this beauty and deep care can heal the body and mind. The performance can really do that," she said.
Ms. O'Donnell believed that many audience members had the experience of having their body and mind being purified, because the performance presented universal values that everyone can understand.
"People should come see Shen Yun, and experience it for themselves," she said.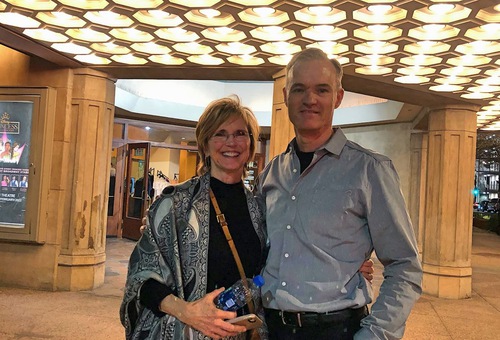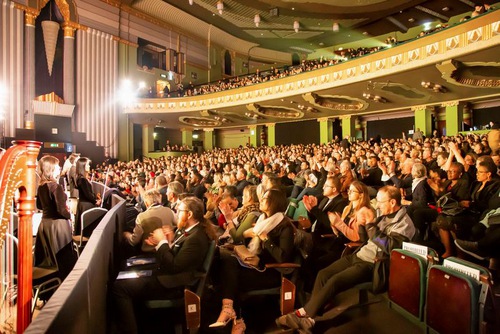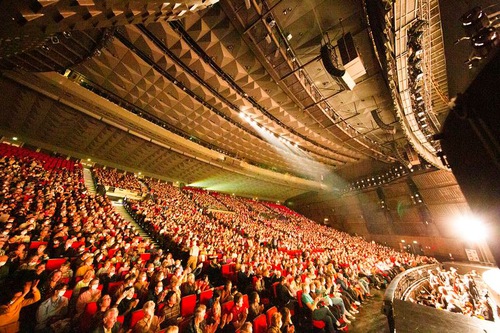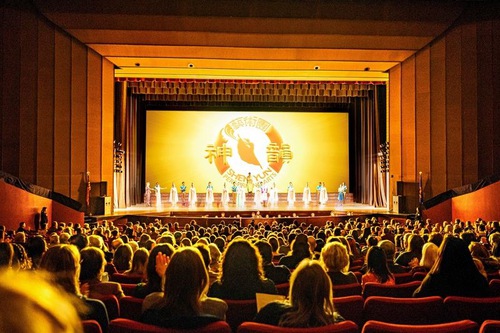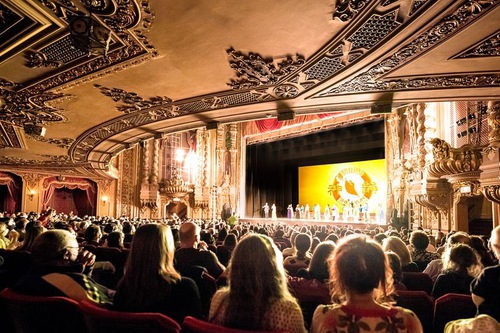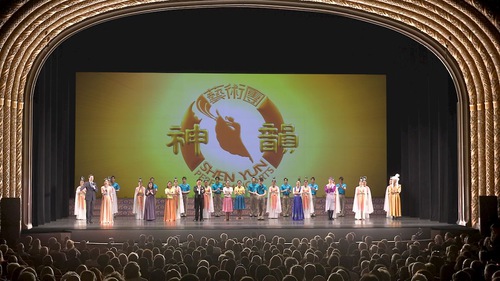 Upcoming Performances

Shen Yun continues its 2022 tour with upcoming performances in:
London, U.K., March 11–13
Mülheim an der Ruhr, Germany March 11–13
Salt Lake City, Utah, March 10–12
Mesa, Arizona, March 10–13
New York City, New York, March 10–20
For more information on tickets and dates, please visit https://shenyun.com.
Views expressed in this article represent the author's own opinions or understandings. All content published on this website are copyrighted by Minghui.org. Minghui will produce compilations of its online content regularly and on special occasions.