________________________________________________
(Minghui.org) From March 15–21, 2022, Shen Yun Performing Arts performed in five U.S. states (New York, California, Oregon, Nevada, and Massachusetts) and France, and kicked off the company's Canada tour in Ottawa.
"It's a Feeling of Being Stronger in My Faith"
Avram Gropper, an independent researcher and educator, saw Shen Yun in New York City on March 17.
"I love and respect all religions,… cultures, walks of life, and there is a common ground that needs to be reached. And Shen Yun contributes greatly to this," Mr. Gropper said.
"Now what's amazing is, there's so much, so many parallels, and so much beautiful common ground. The spirituality of people who are honest and dare to care transcends language. It transcends borders, cause we're all working for a spiritual home.
"It's more than a feeling of being refreshed. It's a feeling of being deeply connected. It's a feeling of being stronger in my faith," he said.
Mr. Gropper is of Jewish descent. He mentioned that his ancestors had suffered persecution under a totalitarian regime. He was brought to tears by the stories portraying Falun Gong practitioners' strong and unyielding spirit in resisting the Chinese Communist Party's persecution.
"To quote Lao Tzu in English, nothing is softer or more flexible than water, yet nothing can resist it… I feel a great parallel here after seeing the Shen Yun performance.
"Shen Yun represents the flowering of the lotus, in terms of overcoming incredible obstacles to achieve great beauty, transcendent beauty," he said.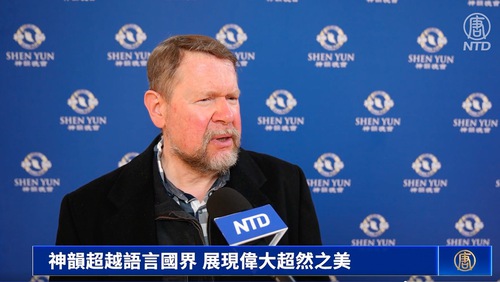 "Moving and Stunning"
Dennis Aguilar, a Partner Account Manager at Cradlepoint, a technology company, saw Shen Yun with his wife Claudia in Sacramento, California on March 16.
"I like this show so much, because you can experience the Chinese people's traditional culture before communism. It's very fascinating. I'm very inspired by it, and feel hope," Mr. Aguilar said.
"It is that the future China could return to what Shen Yun portrayed today. The society with traditional culture that China had thousands of years ago. So I look forward to all this happening in the future, even though I don't know how long the wait is. But everything Shen Yun artists are doing truly triggered everyone's optimism for the future.
"This was the first time I've ever seen this kind of animated backdrop. Especially since our seats were really good, I could really feel how moving and stunning the gorgeous colors, beautiful dancing, and touching stories of the performance were.
"The first piece after intermission especially left a deep impression. The dancers came out of clouds. It's so magical to be able to do all this," he said.
Mr. Aguilar also gave an example that while watching the piece, "Three Hundred Years in One Day", the two of them looked at each other, as if their sealed memories were awakened. He said with tears in his eyes, "This scene really made us think of ourselves, as if the past memories were awakened. Our souls do not die. We've met in the past. We now meet again and are close companions. This kind of special inspiration and feeling you get from watching the performance is really extraordinary and amazing. We're also very happy, because the performance made us realize that we have this kind of connection. This is very touching."
Both of them said that while watching Shen Yun, they felt joy and the compassion of the divine and that the power of this compassion also brought one to tears. Mr. Aguilar said, "When we learned from the emcees the meaning of the troupe's name, 'Shen Yun', and then saw on stage heavenly beings descending to the world, we were very touched."
For people who have not seen Shen Yun, he would like to say, "Shen Yun presents that in Chinese traditional culture in the past, people could have the compassionate protection of heavenly beings. You can truly feel all this just by watching this performance today. And implant in the heart the hope that we can all very soon live together like that."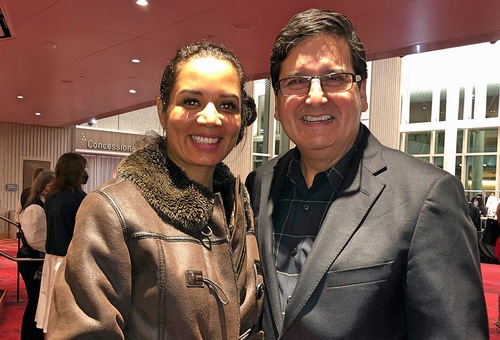 "They Sang Very, Very Beautifully"
Judith Milardo, a soprano and international recitalist, saw Shen Yun in New York City on March 19 with her husband David Weakliem, the editor of the journal Comparative Sociologyand a former professor of sociology.
"I like this show… This show gives you a feeling that, like the season now, spring is here," Ms. Milardo said.
"Shen Yun's singers properly used Baroque ornaments. They call this kind of voice, 'countertenor,' which is already sung in the range of mezzo-sopranos. This is very hard to do. I think they sang very, very beautifully.
"The tenor was absolutely astounding," she said.
"We're Tied to Something Greater Than Ourselves"
Dorzell King, a candidate for Nevada's State Assembly, saw Shen Yun in Reno, Nevada, on March 18.
"The message is also clear throughout. The central piece to me was the singer that came and just makes the message so plain, that we're tied to something greater than ourselves. It was beautiful," Mr. King said.
"The message that we come from something greater, something divine and beautiful, and that's what connects all of us. In that sense that we come from something greater, Creator. That message is very clear. That's the message I came away with, which resonates with me," he said.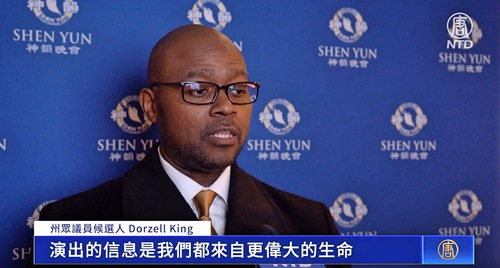 "Full of Joy"
Alain Allard, the owner of a performing arts company, and his wife Delphine, a former professional classical dancer, saw Shen Yun in Montpellier, France, on March 20. The couple traveled about 170 kilometers from the city Marseille to see the performance.
"The performance was really wonderful and magical. The uniform coordination of the performers is even rare in the dance field. Everything was so perfect and very disciplined. The jumps, leads, flips, and even the positioning of the fingers was so symmetrical and perfect. It's fantastic. And the synchronization between the stage performance and the backdrop was so great. The performers were all smiling. Whether it was dancing or singing, they were all very talented. They also have impressive discipline. We lack this kind of discipline in the West," Mr. Allard said.
Mrs. Allard also said, "The dancing was so uniform that everything became one. It was full of joy and full of colors. Incredible."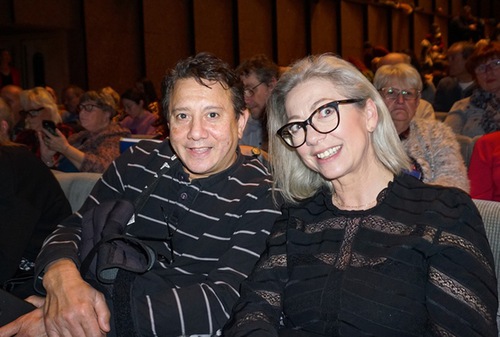 "Pure, Beautiful, and Elegant Presentation"
Gemologist Robert Kirchner saw Shen Yun in Portland, Oregon, on March 16.
"We love Shen Yun!… This is a marvelous journey," Mr. Kirchner said.
"It goes beyond the past and present but is also closely related to our daily life.
"What people see that is happening right now isn't simple, but involves different opinions and mindsets. So I think the continuation of all cultures is very important. We can learn from repeating history and not lose ourselves. This is very important. It is very important that we can still see it (traditional culture).
"I love this pure, beautiful, and elegant presentation. Through vivid performance, the classic stories seemed to really present in front of me… I love this performance method. It seemed to bring you back to a very serene and peaceful place," he said.
He said he would recommend the performance to his friends, "A wonderful, uplifting performance that is closely related to you."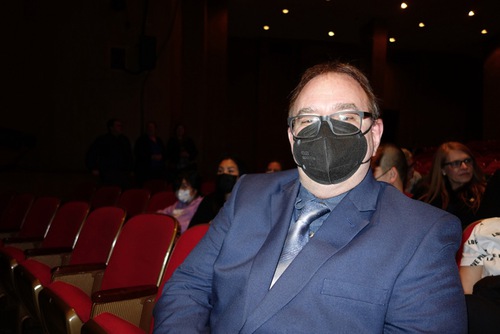 "We Should Follow Traditional Values"
Lesli Spears, a veterinarian and the owner of Quail Ridge Animal Hospital, saw Shen Yun with her daughter in Reno, Nevada, on March 20.
"When the curtain opened and we saw the heavenly scene, Wow! It was so magnificent. My daughter and I looked at each other with our eyes wide open. We also saw from the backdrop the Creator bringing heavenly beings down to save people. My understanding is that no matter what your faith is, there must be higher beings watching over us. I felt that I myself became part of [the scene]. Too beautiful and magnificent," Ms. Spears said.
"My daughter also likes traditional culture and doesn't like modern performances. But these traditional cultures don't fit in with people her age. I want to let her know that her thoughts are not wrong. Not everyone likes modern things. We should follow traditional values," she said.
She was especially touched by the dance piece portraying the ongoing persecution of Falun Gong in China, where a communist military surgeon participated in forced organ harvesting but ended up bringing misfortune to his own daughter. Ms. Spears was brought to tears.
"As a mother, it made me feel more pain. But I believe that good people would be saved by God. I was very happy when I saw that the daughter was brought back to life. That's the most beautiful ending," she said of the piece.
"We're a very traditional family. I also hope that my daughter follows traditional values. From the dance pieces, you can see the strength of male performers and the softness of female dancers. This is traditional. It is also one of my favorite parts," she said.
During the intermission, Ms. Spears went to the local presenter's concession stand and purchased the book, Zhuan Falun, in order to learn more about Falun Gong.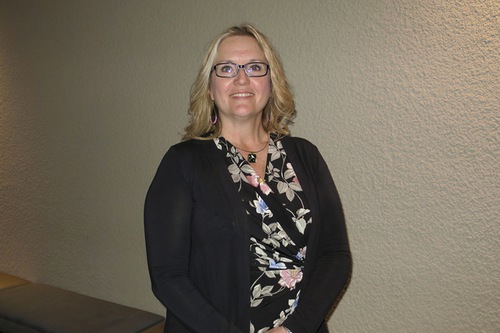 "There's Nothing More Important Than to Come See This"
Robert Finn, a project manager, saw Shen Yun with his wife in Portland, Oregon, on March 16.
"I had high expectations coming into it and it was way better than I even expected," Mr. Finn said.
"I forgot I was in a theater. I forgot I was watching something. I felt like I was in the actual show.
"I know that in China you guys hide your religion cause it's pushed down, right? So it's beautiful to see it performed. It's so beautiful to see it actually performed and heard.
"You can see in every single performance, people do not break a smile when they're in the spirit. And I didn't see anyone break character. I didn't see anyone stop smiling. The spirituality was beautiful," he said.
When asked about how he would introduce Shen Yun to his friends and family, Mr. Finn said, "I'll force them to come here. Tell them to shut down what they're doing. There's nothing more important than to come see this. Don't go watch a movie. Don't go watch TV. This is art. This is different. It's theater. Whoever produced it put everything into it. The colors, the costumes, the dance, it was perfection… We need more of this in this world."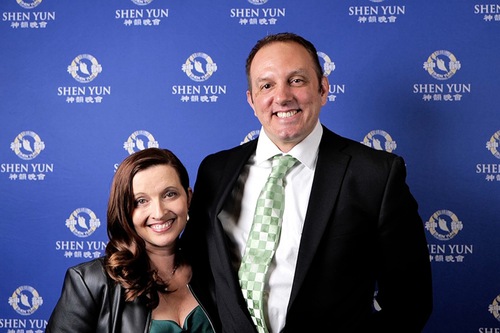 —–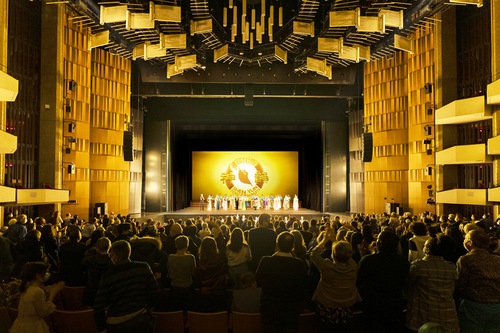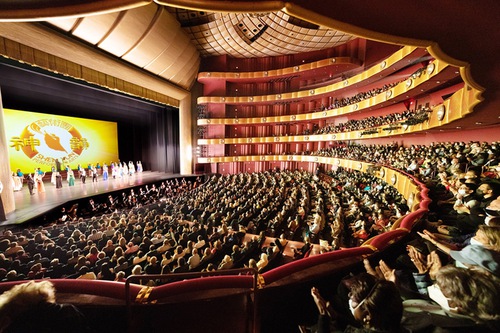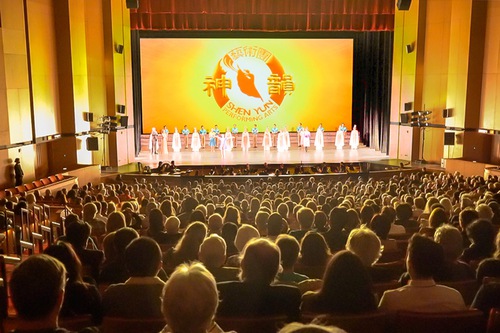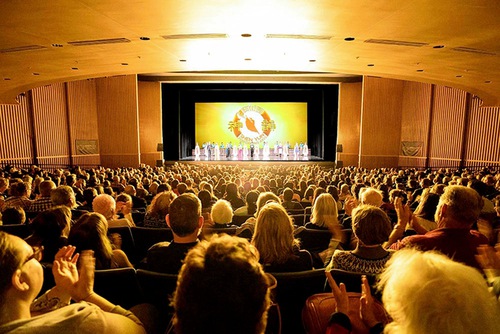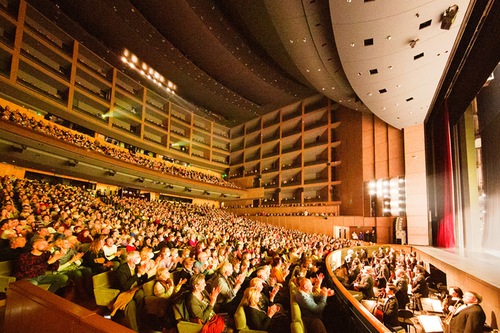 Upcoming Performances
Shen Yun continues its 2022 tour with upcoming performances in:

Houston, Texas, March 25–27
Honolulu, Hawaii, March 26–27
Vancouver, Canada, March 24–27
Mississauga, Canada, March 25–29
Aalborg, Denmark, March 25–26
Berlin, Germany, March 28–30
For more information on tickets and dates, please visit https://shenyun.com.
Views expressed in this article represent the author's own opinions or understandings. All content published on this website are copyrighted by Minghui.org. Minghui will produce compilations of its online content regularly and on special occasions.
32 total views