______________________________
(Minghui.org) Falun Dafa practitioners gathered on Friday, February 18, for an event in Rambam Square in the city of Ramat Gan, central Israel, to introduce Falun Dafa and call for a stop to the persecution of Dafa practitioners in China.
The gathering took place in an outdoor plaza situated between two commercial streets, where many people go on Fridays to shop for the weekend. Friday is usually a day off for most residents in Israel, and they use that day for shopping. Many shoppers arrived that morning and encountered the Falun Dafa event.
Practitioners had a table with informational materials, leaflets, origami lotus flowers and a petition calling to stop the persecution of Falun Dafa practitioners in China. They also demonstrated the five Falun Dafa exercises.
Many people stopped to watch the group of practitioners in yellow shirts as they performed the 5 exercises to the sound of the soothing exercise music. As the movements and the music drew passersby nearer, many took interest and asked about Falun Dafa.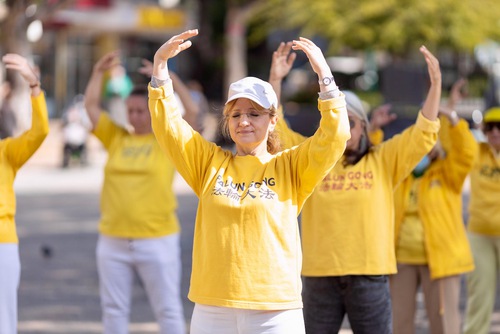 They were handed leaflets, colorful origami lotus flowers that practitioners had made, and learned about the practice, its benefits, and also about the brutal persecution and forced organ harvesting that Falun Dafa practitioners endure in China.
Falun Dafa, also called Falun Gong, is a body and mind cultivation practice, in which practitioners conduct their lives based on the principles of Truthfulness-Compassion-Forbearance. The practice includes four standing exercises and a sitting meditation. Falun Dafa is taught all over the world for free, and all the study materials are available at no charge online.
Practitioners also handed out leaflets and lotus flowers to people sitting and chatting on benches around the plaza, giving them the opportunity to learn about Falun Dafa and the persecution. For many, this information was completely new, as they had never heard about the persecution before.
Several practitioners set up a table and taught both children and adults how to make origami lotus flowers. While making the flowers, the practitioners told the people about Falun Dafa and the persecution. They explained the symbolism of the lotus flower, which grows clean and pure out of the swamp, rising above the mud into the bright sunshine above.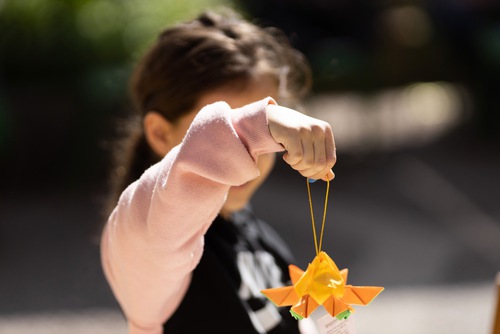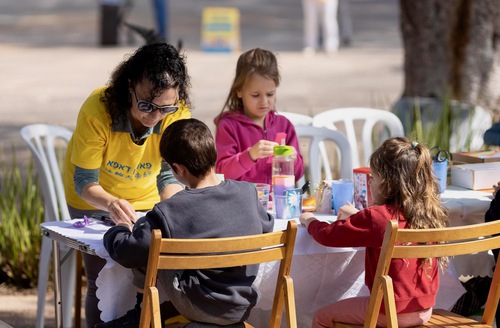 Many people shared their thoughts and feelings about Falun Dafa and the persecution in China.
Naama, 45, from Ramat Gan, who works in the field of culture, remarked, "If it were up to me, China would not have a winter Olympics because they should not be rewarded. The world is keeping silent… it kept silent on Tibet, it keeps silent with the Uighurs and silent with Falun Gong. China has a developed economy, but the regime there disrespects human life and human rights and is dangerous to the world."
A senior woman enthusiastically told us that she had already heard about organ harvesting at a lecture given in Ramat Gan by Prof. Jacob (Jay) Lavee, who is the Director of the Heart Transplantation Unit at the Sheba Medical Centre, Israel's largest medical centre.
Prof. Lavee is also one of the co-founders of Doctors Against Forced Organ Harvesting (DAFOH), a leading medical ethics NGO dedicated to stopping illegal forced organ harvesting, with a particular focus on China. In the lecture, Prof. Lavee recounted the practice of organ harvesting and how it is technically performed in China, and she was deeply shocked by it. She took some leaflets and said she would pass them on to her sister in Canada and to the rest of her family.
A young woman, who provides spiritual counseling to the sick, approached the practitioners and said, "How lovely! Seeing you practice here is such a delight for me." She signed the petition, saying that she wholeheartedly supports Falun Dafa, and that she has known about the practice for many years. She said that it is difficult for her to hear about the persecution.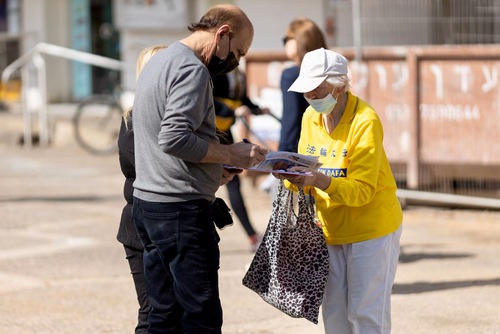 A retired Israeli Airline man said he had heard about the persecution and condemns it. He said today it's not easy for him to express his opinions anywhere, not even with his family.
A passerby said that he had heard about Falun Dafa at a truth-clarification site in the Tel Aviv-Jaffa promenade the week before, and signed the petition there. He said, "Bless you!"
Another person said that he'd worked with industrialists in China for several years and traveled to China twice a year. He said that in China human life has no value, and that he believes there is a persecution taking place there. He heard about Falun Dafa for the first time at this event.
Views expressed in this article represent the author's own opinions or understandings. All content published on this website are copyrighted by Minghui.org. Minghui will produce compilations of its online content regularly and on special occasions.
(Clearwisdom)
7 total views