_____________________________________________
(Minghui.org) During the week of February 6–12, 2022, Shen Yun Performing Arts presented eleven performances in three U.S. states (Oklahoma, upstate New York, and Alabama) as well as Aix-En-Provence, France.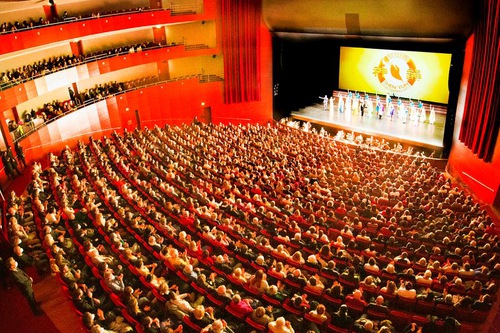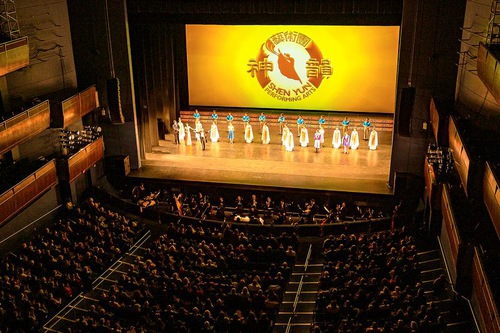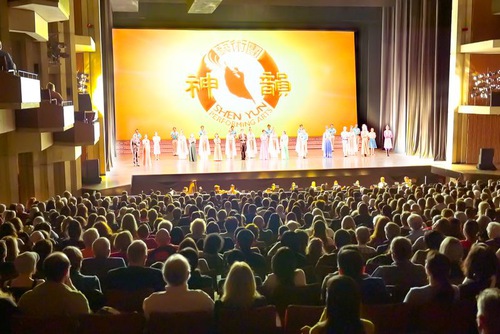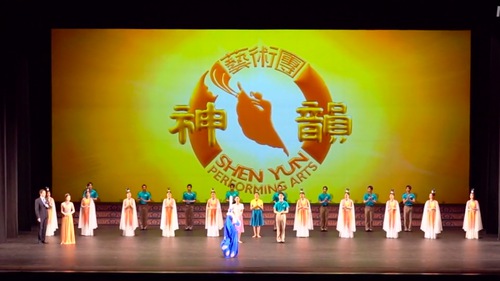 "I'm Standing Without [My Crutches]"
Walter Dixon, a retired business owner, saw Shen Yun with his family in Syracuse, New York, on February 12. While he walked to his seat with his crutches, he walked out after the performance without them.
"I usually use crutches. I'm not using them right this minute. I'm standing without them. I have Parkinson's disease. I had trouble getting in here and after the show, I walked right out of there—I don't know what happened," Mr. Dixon said.
"The whole thing was healing really, made me feel calm. I'm very religious, I was supposed to go to church you know at 5:30 today. I missed church today to do this—it feels good to me.
"The religious part of it touched me, that China has been such a place. I know the real struggle to keep communism away from things. It was unbelievable. It talked about atheism, and atheism doesn't help the world, and having a higher power of some sort does, and that was very obvious in the show.
"I think we come from heaven and we're going to go back," Mr. Dixon said.
He also shared his thoughts on the company's artistic presentation as well as the use of its patented stage-backdrop interaction technology.
"This is unbelievable. It's so professional. It's top-notch… They were there on the screen flying. I thought it was fabulous. I've never seen it before. I would come back again for sure," he said.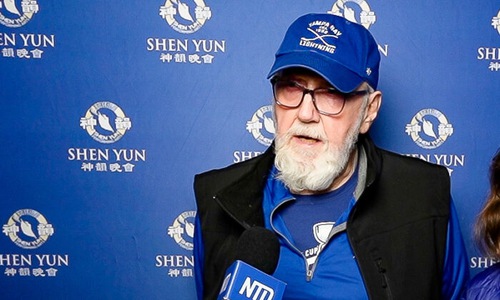 "Beauty and Elegance"
Tim Thrasher, the CEO of Community Action Partner for Alabama, saw Shen Yun in Birmingham, Alabama, on February 12.
"I love it. The message is great. Getting back to the classical before communism hit China was very enlightening to me, and very educational… It's so good to see the history of China," Mr. Thrasher said.
"From the performances I've seen one of beauty and elegance, and the dancing and the arts are dear to my heart.
"It's very relevant to modern days… I have a lot of those same values. And I think across borders, wherever we are, we have those same kinds of connections to the divine, and to those that can bring your salvation, so [I] appreciate that.
"It's been a long, kind of challenging time. But I think this is one of the things that does re-bounce spirits, and helps to bring us to a different place, and realize what's really truth and blessing in our life," he said.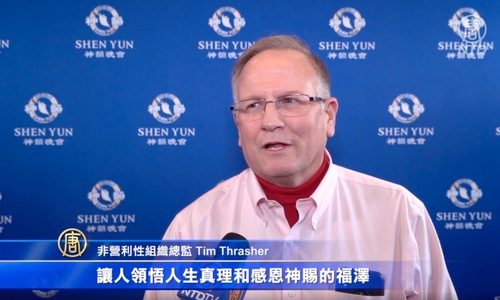 "The Importance of Unity"
Estela Hernandez, the former vice chairwoman of the Oklahoma Republican Party, saw Shen Yun with her friend Gina Pazzaglia in Oklahoma City on February 12.
"It really gave me a glimpse of the importance of unity, the importance of compassion, and the importance of individuals having that ability to exercise their individual conscience. That we as human beings were really created to think freely, to think for ourselves, and understanding that there's a higher being, and that our existence here is not just coincidence, and that there's a purpose for each and every individual that has the privilege of living on this earth," Ms. Hernandez said.
"I love classical performances. So I didn't know that this really just embodied that… Walking away, I just want to know more on—just where the Chinese culture is and where it can be and where it should be. And just the beauty of the culture itself.
"I'll be back next year, and I'm bringing more," she said.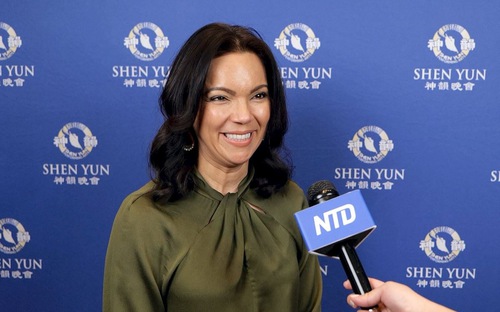 "Everything was Fabulous"
Betty Villard, a professional dancer, and her mother Nicky saw Shen Yun in Aix-en-Provence, France, on February 6.
"I have the impression I have traveled—I was completely elsewhere, I was under a spell and it was over," Betty said after the performance.
"I wanted more, and next year we will come back because it was really a show of beauty, fantastic dancers, fabulous musicians, and singers—everything was fabulous," she said.
Her mother felt as though she had "crossed China in one evening."
"It was really magical, and it is the first time that we have come to the show. From the opening of the curtain, it was WOW!—it was really very rich in emotion. Bravo to all the team," Nicky said.
As a dancer, Betty appreciated that Shen Yun was different from anything she had seen before. Shen Yun's dancers are trained in classical Chinese dance which is an art form with a history of thousands of years. Chinese dance allows for a wider breadth of emotional expression through movement.
"We've been to other performances—we were always a little touched, but this evening, we were really very moved. It was very rich in emotion," Betty said.
"It is really necessary that people come to see it. We had heard about it and we received this as a gift for Christmas—really it was the most beautiful Christmas gift," Nicky said.
China's rich history has been under attack by the communist regime, which has systematically destroyed, distorted, and supplanted the traditional culture with its own—a reality that many in the West are not aware of.
"I really liked the traditional side mixed in with the modern side represented in the show and I liked very much the mystical aspect because it is part of Chinese mythology—everything that has to do with the gods, and goddesses," Betty said.
Nicky also noted that Shen Yun was showcasing China's spiritual and historical stories before communism.
"I also discovered some [Chinese] traditions… We also saw that spirituality was very important and [they] knew how to share it through dance—everything is now forbidden there, and we do not realise it here, because we have a lot of freedom," Nicky said.
Appreciating tradition, Betty said, "I think we must not forget everything that makes our past and our identity. And I think it's good in fact to keep the traditions alive."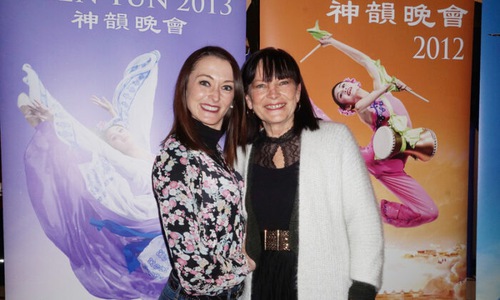 "God's Beauty was Very Much Evidenced Today"
Pastor Daniel Houck and his wife Patti saw Shen Yun in Syracuse on February 12.
"It was very, very beautiful… Very professional. And you know, any time you can be in touch with the beauty that God arranges to show us, it's a beautiful thing," Daniel said.
Patti, who loves dance, works in her son-in-law's business serving people going through the mortgage process.
"I was impressed by the modesty of the costumes. [The performance] made me think about what China is like now, the persecution [of religious believers], and that we are so blessed to be in this country," Patti said.
"And the orchestra was amazing. The timing was amazing. Obviously, many, many hours of practice, which is pretty cool to see," Daniel said.
"God's beauty was very much evidenced today in not only the dance, but the music, the scenery—all of it. It was very encouraging.
"No matter what season we're in, we always have hope. Hope can always be found in God. No matter what kind of persecution, nothing matters when we have hope in God.
"And I'd like to think that some of the scenery and some of the message that people saw today would draw them closer to their Creator," Daniel said.
He said it was good to know that in the pre-communist era, Chinese people enjoyed a freer society.
"Communism to me is very oppressive and it's never a good thing. I think God gives us a lot of freedom… I feel bad that people sitting under communism don't know how to get to experience that freedom," he said.
"Learning that hundreds of years ago, China's culture was very different, was very encouraging, and gives people hope," he said.
"It was an Experience"
Karen Morris, a financial planner, saw Shen Yun in Birmingham, Alabama, on February 12.
Ms. Morris said that she felt safe while attending Shen Yun at the BJCC Concert Hall and that healing will begin when people are together again.
"It's time for us to get together. I think people need people and we need to be around people. People have their masks… I think that we really need the energy of each other, so I think we need to come out and start gathering again.
"It wasn't just performing arts… It was telling a story. The precision of the dancers and the story behind the dances was most impactful.
"It was an experience… You really felt like you were drawn into it. I thought the best thing was the pictures on the screen coming down… into real life. I thought that was beautiful.
"I will come every time this is available, I will be here… And just to experience a different culture, I think that we should definitely open ourselves up to the diversity of what's in the world, which is absolutely beautiful," she said.
She shared that what struck her the most was the depiction of a higher being descending to Earth and how this higher being offered salvation when people needed it the most.
"That was the theme actually, throughout the entire [performance]… that there was a higher being, because even in the beginning, he was coming down.
"I think there's some actual reality, and just the fact that the presence of the higher being was always there—that was amazing," Ms. Morris said.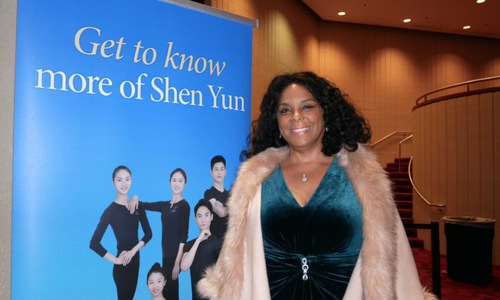 "A Very Touching Story About the Beautiful Culture of China"
Kevin Calvey, Oklahoma County Commissioner, saw Shen Yun with his family in Oklahoma City on February 12.
"It's wonderful… Just the colors and the movements, it ranks up there with the best ballet or other dance performance I've ever seen," Mr. Calvey said.
He saw in Shen Yun "a very touching story about the beautiful culture of China and how, unfortunately, many of those who want to practice that traditional culture, including those who practice Falun Dafa, are so horribly persecuted by the communist Chinese government," Mr. Calvey said.
As a Roman Catholic, he said the performance inspired him to "seek solidarity with those who practice Falun Dafa and Falun Gong, because united, we can stand up to communist persecution."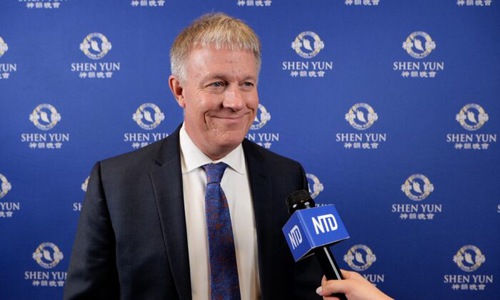 "I'll be Here Every Year"
Quality engineer Mungu Edington and her husband Trip Edington, who is now retired and coaching wrestling, saw Shen Yun in Birmingham, Alabama, on February 12.
Mungu hails from Mongolia. Hearing the music of Shen Yun—particularly the two-stringed erhu that has a sound reminiscent of the Mongolian morin khuur—filled her with nostalgia.
"It takes me back to my own country… Every moment, every second, I was just mesmerised," she said.
The couple lives in Huntsville where they have seen the show before. This year was Mungu's third time and Trip's second time, but the couple agreed that it wouldn't be their last.
"Every year, the performance changes—so I'll be here every year," Mungu said.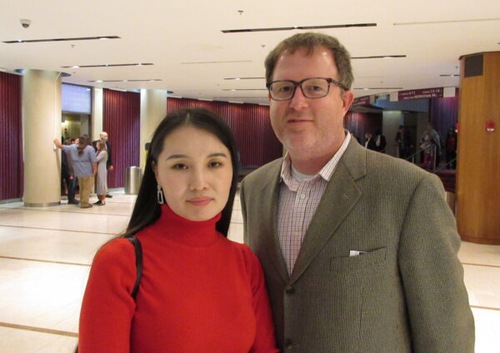 Upcoming Performances
Shen Yun continues its 2022 tour with upcoming performances in:
Philadelphia, Pennsylvania, February 19–27
Las Vegas, Nevada, February 25–27
Cincinnati, Ohio, February 25–27
Tucson, Arizona, February 26–27
San Sebastian, Spain, February 22–23
For more information on tickets and dates, please visit https://shenyun.com.
Views expressed in this article represent the author's own opinions or understandings. All content published on this website are copyrighted by Minghui.org. Minghui will produce compilations of its online content regularly and on special occasions.