____________________________________
(Minghui.org) "Minghui Radio helps me a lot. Through the cell phone app I could listen while driving or doing household chores," wrote a Falun Dafa practitioner in North America, "Although there are very few practitioners around me, I am not feeling lonely at all. Thanks to Minghui Radio for connecting me with other practitioners and helping me make progress in cultivation."
Many other practitioners have had similar experiences. Launched in late 2005, Minghui Radio has sorted, organised, and sometimes rewritten articles to present them to listeners. This helps them benefit more from Minghui, through the website, phone app, and shortwave radio.
The Minghui website started in June 1999, one month before the Chinese Communist Party (CCP) began to suppress Falun Dafa. Besides the Chinese version, other languages were also added on later. Currently, the website has over 20 languages providing a platform for practitioners around the world to exchange ideas on how to apply the principles of Truthfulness-Compassion-Forbearance in their daily lives. It also serves as a window for the general public to know more about Falun Dafa.
Remaining Diligent
A coordinator of Minghui Radio said dozens of articles are published on Minghui every day and lots of practitioners do not have time to read every article. Consisting of selected articles from the website, Minghui Radio has filled the gap and makes this content easier to access.
There are a variety of programs on Minghui Radio. They include overseas news, mainland China news, spreading Dafa, firsthand accounts of lecture seminars by Master Li (founder of Falun Dafa), cultivation stories, sharing on Fa-rectification period cultivation, China Fahui (online experience-sharing for practitioners in China), collection of reports related to World Falun Dafa Day celebration. In addition, there are programs of young practitioners' cultivation stories, traditional Chinese culture, and so on.
One of the most popular programs focuses on Fa-rectification period cultivation. Having lasted for 8 years with more than 1,200 episodes, it includes selected articles from daily published content on Minghui. They help practitioners from various continents, including those behind the Great Chinese Firewall, to access the information so that they can stay on track in cultivation practice.
"I like those stories. From them, I learned what cultivation practice is and saw my gaps," one listener wrote. "Minghui Radio reminds me to be diligent. In particular, I realized studying then Falun Dafa teachings on a regular basis is critical to comply with the principles of Truthfulness-Compassion-Forbearance."
Special collections on certain topics are also very convenient for listeners. Some examples are reciting Dafa teachings, opposing the persecution with legal tools, getting rid of the CCP culture, and more.
"The CCP officials have abused the law to persecute practitioners," one listener explained, "With such legal knowledge and how to use them, I learned how to approach officials with the facts about Falun Dafa, that practitioners are innocent, and the suppression is illegal. They help rescue detained practitioners as well as stop officials from doing bad deeds."
To accommodate young practitioners, Minghui Radio added programs geared toward young practitioners (preschool or elementary school ages) and young (secondary school or college-level) practitioners. Adapted from articles published on Minghui, they were sometimes rewritten for young practitioners, so that they could follow the principles of Truthfulness-Compassion-Forbearance in the family as well as at school. Some of the Minghui Radio broadcasters are also young practitioners. "When hearing these programs for the first time, I already loved them and listened to them over and over again. That is why I want to be involved," one of them explained.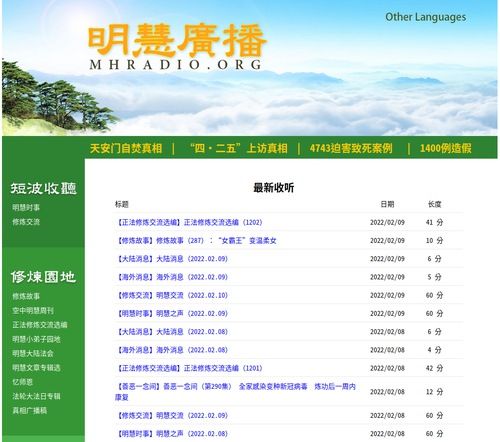 Deep Gratitude 
According to the Minghui Radio coordinator, lots of people have started to practice Falun Dafa since the practice was introduced to the public 30 years ago. Many of them started to practice overseas and were not aware of Falun Dafa's popularity before the persecution. As a result, Minghui Radio has compiled many issues of "Recalling Experiences with Master With Gratitude" helping listeners to learn the compassion, hard work, and sacrifice of Master Li when he taught Falun Dafa in the early days.
The Chinese version of Minghui has so far produced about 100 episodes of this series, said the coordinator. They illustrated how Master Li held lecture seminars in China and introduced Dafa to the public. It was during those days that many people finally found what they had been waiting for after searching painstakingly for decades. From those seemingly trivial matters, practitioners were able to witness Master Li's righteous words and actions, and compassionate salvation of people.
Minghui Weekly in the Audio Form
Due to the CCP's censorship and information block, as well as 23-year-long persecution, many practitioners in China have no access to Minghui website. As a result, the magazine  Minghui Weekly was produced that passes on the information of major events along with sharing of cultivation practice.
Since the magazine started to be broadcast through Minghui Radio 16 years ago, there has been lots of positive feedback. "In the past, people might have chosen the print version and only read part of it. Now, they can get the entire message," one of them wrote.

"We used to print and distribute Minghui Weekly," one practitioner added. "We now only need to give everyone an updated memory SD card." "It is much easier for us to hand out and recipients to keep," another one explained. 
In addition, Minghui Radio provides convenience for those who had difficulty accessing overseas internet or who had problems reading. "It is a miniature of Minghui website and contents are very comprehensive," one listener commented.
Reports about Falun Dafa and the Persecution
The coordinator said shortwave broadcasting to mainland China resumed as of October 2020. Starting from 5 p.m. every day, this hour-long program has reports about Falun Dafa, the suppression in China, overseas events to oppose the persecution, how people started to know Dafa and began to practice, how Dafa teachings changed practitioners for the better, and miracles people received after reciting "Falun Dafa is good" as well as "Truthfulness-Compassion-Forbearance is good".
One series, "Stories of 100 Families," has drawn special attention. The experience of 100 families was narrated to listeners including non-practitioners. "The program brought me to tears," one person said, "I knew the CCP was bad, but I did not know it was so vicious. I admire practitioners' perseverance and I look forward to more stories of this kind."
Starting from December 2021, Minghui Radio also started broadcasting in North America every Saturday afternoon. In addition to the website, FM radio signal is available for two hours in several major U.S. cities each time.
The contents include what Falun Dafa is, activities of practitioners around the world, selected books published by Minghui, and some beautiful music produced by practitioners. Besides these topics, the website has more contents, including cultivation stories and traditional Chinese culture.
Multiple Platforms
In the past 23 years, Minghui is not only a platform for practitioners to exchange insights and experiences in cultivation practice, but also serves as an information center to help people from all walks of life to know more about Falun Dafa.
For Chinese version, people can access Minghui Radio through website (https://www.mhradio.org, requiring software to overcome internet blockade) or shortwave radio (please refer to https://www.mhradio.org/radio.html for details).
Outside China, the app of "Minghui Radio" is available from both App Store (Apple) and Play Store (Android). This app currently has contents in both Chinese and English. For security reasons, we do not recommend using this app in mainland China.
In addition, Minghui Radio Podcasts are available in other languages including  English, Spanish, German, Portuguese, and Vietnamese.
Views expressed in this article represent the author's own opinions or understandings. All content published on this website are copyrighted by Minghui.org. Minghui will produce compilations of its online content regularly and on special occasions.
35 total views