"The Art of Zhen, Shan, Ren" (Truthfulness, Compassion, Forbearance ) International Exhibition debuted in Arshan on July 16. Arshan is a small resort village in the Republic of Buryatia, Russia Federation. Over 1,500 people visited the exhibition during its first week.
The exhibition depicts the inner world of Falun Dafa cultivation practice and the uncompromising spirit of the many Dafa practitioners who, with great compassion, are raising public awareness amidst the persecution in China.
"Falun Dafa cultivation inspires the deepest respect and contemplation of the meaning of life. Thank you, organisers!" wrote a couple from Ulan-Ude in the guest book.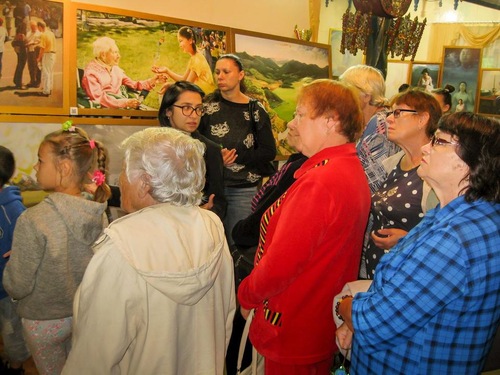 A guest from Blagoveshchensk wrote, "Many pieces are impressive. They teach spirituality and purity of the mind. It is educational!"
Another visitor from Yakutia wrote, "Thank you to the organisers for allowing us to open a new door and present us an opportunity to rethink about our soul."
A member of a group of visitors from Ulan-Ude, Moscow, and Veliky Ustyug commented, "No, the world is not perfect. But it will improve when we are on the path of spirituality and improve ourselves. We face challenges to our beliefs every day. No matter how difficult the path is, victory is ours. Although we are far away from each other, we are together spiritually. Overcome it step by step!"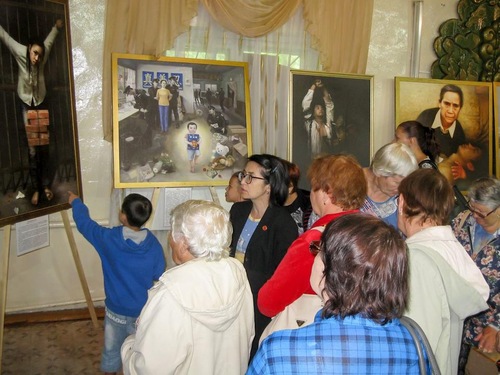 This was not the first time viewing the exhibit for some visitors. A group from Angarsk said that they viewed the exhibition two years ago and still kept the origami lotus flowers bearing the words "Truthfulness-Compassion-Forbearance" they had received at the event back then.
"This (the art exhibition) touched our hearts," wrote a family from Cheremkhovo. "Such an exhibition is very necessary in this time, especially for the next generation."