_____________________________________________
(Minghui.org) After nearly two years of pandemic restrictions, residents in Elsmere, Delaware, were delighted to resume their annual holiday festivities. Their annual Christmas Parade was held on Sunday, December 12, 2021, and Falun Dafa practitioners were invited to participate.
According to the host, 88 groups and hundreds of vehicles participated, making it the largest Christmas parade in its 26-year history. The Falun Dafa entry consisted of waist drum performances and a lotus flower dance. Many parade-goers greeted them with applause and praise for the beautiful melodies and unique costumes.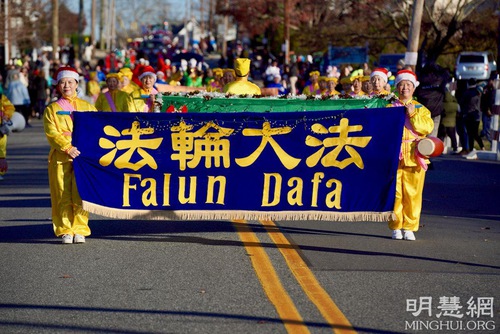 U.S. Senators Remind People That the Persecution Continues
U.S. Senators Chris Coons and Tom Carper attended the event. Along with thousands of residents, they enjoyed the marching bands, dances, floats, fire trucks, and, of course, Santa Claus.
Senator Coons reiterated the importance of the Christmas parade. He said, "It brings communities and people together. That is why this parade has been one of my favorite events in the past 20 years."
As a co-chair of the Senate Human Rights Caucus, Senator Coons is a human rights defender. In December 2020, he and Senator Tom Cotton introduced the "Stop Forced Organ Harvesting Act" bipartisan resolution.
In a letter celebrating World Falun Dafa Day on May 13, Senator Carper reminded everyone: "Although we enjoy the freedoms of belief and speech here, such rights are denied to millions of Falun Dafa practitioners in China. In fact, many of them were detained and tortured for their faith, and some became victims of forced organ harvesting." In his letter, he called for more support to change the situation and wished practitioners well.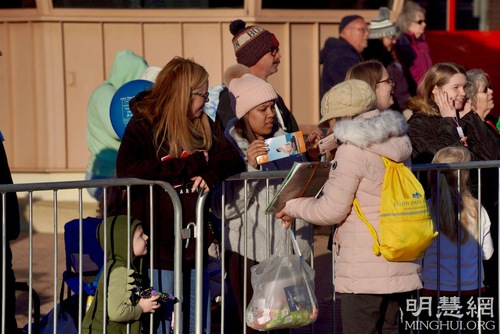 Parade Attendees Express Their Appreciation
Parade co-host Joe Leonetti described the waist drum performance as "fascinating and unique" and the music "great." He remarked on the gorgeous outfits and uplifting performances.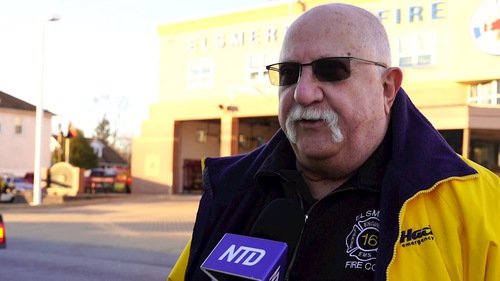 Office manager Jacqueline Hopkins was also impressed, especially with the performers' graceful movements and how well they were in sync. "Although they look relaxed, I realise there's lots of hard work involved," she said.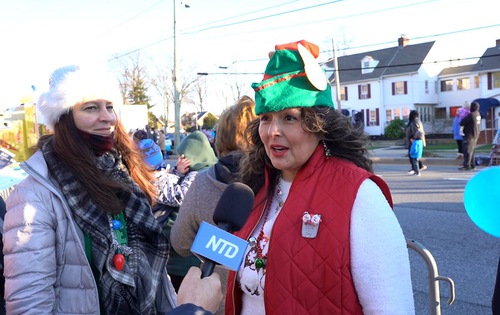 One member of the waist drum team said she was happy to be able to present this ancient Chinese tradition, as well as Falun Dafa, to the community.
Another team member agreed. Originally from China, she said many faith groups are suppressed there, including Falun Dafa. Many practitioners, including herself, were arrested, detained, and tortured for their belief. "But the core principles of Falun Dafa, Truthfulness-Compassion-Forbearance, will benefit anyone. Just like traditional Chinese culture, it inspires me and gives me strength," she said.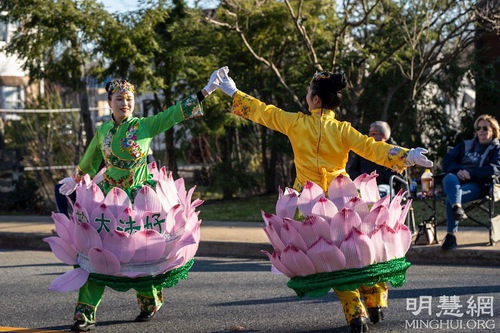 Background: What Is Falun Dafa?
Falun Dafa (also known as Falun Gong) was first introduced to the public by Mr. Li Hongzhi in Changchun, China in 1992. The spiritual discipline is now practiced in over 100 countries and regions worldwide.
Millions of people who have embraced the teachings, which are based on the principles of Truthfulness, Compassion, and Forbearance, and learned the five exercises have experienced uplifted health and well-being.
Jiang Zemin, former head of the Chinese Communist Party (CCP), perceived the spiritual discipline's growing popularity as a threat to the CCP's atheistic ideology and on July 20, 1999, issued an order to ban the practice.
Minghui.org has confirmed the deaths of thousands of practitioners as a result of the persecution over the past 22 years. The actual number is believed to be much higher. More have been imprisoned and tortured for their faith.
There is concrete evidence that the CCP sanctions the harvesting of organs from detained practitioners, who are killed to supply the organ transplant industry.
All articles, graphics, and content published on Minghui.org are copyrighted. Non-commercial reproduction is allowed but requires attribution with the article title and a link to the original article.
23 total views