---
(Minghui.org) Wuhan, the capital of Hubei Province, has added 10 brainwashing centres since the beginning of 2021 to incarcerate steadfast practitioners of Falun Gong, a spiritual discipline and meditation that has been persecuted by the Chinese Communist Party (CCP) since 1999.
According to the latest information collected by Minghui, the newly added centres bring the total number of brainwashing centres used to hold and torture local Falun Gong practitioners to 14 across the city of Wuhan. Between
January and September 2021, at least 71 practitioners were detained and tortured there. Currently there are at least 6 practitioners detained in three of the brainwashing centers.
To carry out the CCP's "zero-out" campaign aimed at forcing every Falun Gong practitioner on the government's blacklist to renounce their faith, the city mobilised the police in various districts to arrest local practitioners and place them in brainwashing centres.
The city's Political and Legal Affairs Committee (PLAC) and 610 Office then signed contracts with "collaborators" (former practitioners who had quit the practice) to work for the CCP in the persecution. The city paid these collaborators handsomely to torture and "transform" the practitioners held in brainwashing centres. The authorities also hired a retired policeman who had a record of torturing practitioners to work in the brainwashing centres in different districts.
Below we detail the tactics the CCP uses to persecute the practitioners, including some representative cases.
(I) Resurgence of Brainwashing Centres
Between March and April 2021, Wuhan opened six brainwashing centres in four districts, including Wuchang, Qingshan, Hongshan, and Donghu Economic Development District. Five of the six sites were brand new. Over 20 practitioners were taken there and tortured.
In May, four new brainwashing centres were set up in the districts of Jiangan, Hanyang, and Huangpi.
In the beginning of June, at least 20 practitioners were taken to the brainwashing centres in Jiangan, Qiaokou, Hanyang, and Huangpi. Among them, 16 were taken to the center in Jiangan district.
The police arrested two elderly practitioners in their 70s in August and put them in Yusunshan Brainwashing Centre in Jianghan district.
The third brainwashing centre in Wuchang district was put to use on September 14 after the police brought in two practitioners.
The center in Qiaokou district held its third brainwashing session on September 22, and two practitioners were brought in.
(II) Mass Police Mobilisation in the Harassment Campaign Against Falun Gong Practitioners
During the zero-out campaign, officers of the Wuhan Police Department followed an unspoken rule to send practitioners who refused to renounce Falun Gong straight into brainwashing centres. The following are a few such cases.
1. Concealing Locations of Brainwashing Centres
When the police drive a practitioner to and from the brainwashing centres, a common tactic to prevent the practitioner from identifying the location of the center was to put a black bag over his/her head and drive off-route to confuse him/her.
Case 1:
When officers from Yejinjie Police Station arrested Ms. Liu Meili from Qingshan district on April 12, 2021, they put a bag over her head and took her straight to Eryalu Detention Centre.
After 15 days, four officers covered her head and transferred her to a brainwashing centre, where she was held for a month. The location of the centre was later identified, which was a three-bed room on the 5th floor of Oriental Friendship Hotel.
The officers never let Ms. Liu out of the hotel room during the month of the brainwashing session. In the evening of May 27, they covered her head and drove her in a police vehicle to her front door.
Case 2:
The police arrested two sisters from Qingshan district, Ms. Wu Manzhen and Ms. Wu Meidi, near Nanganqu Park on March 29, 2021.
Ms. Wu Manzhen, 76, was tortured in Nanhu Brainwashing Centre in Wuchang district for a month.
Ms. Wu Meidi, 74, was incarcerated in Weishi Hotel, which belongs to the Wuhan Iron and Steel Research Institute. The police released her on April 29. Before taking her home, they covered her face with two masks and drove her aimlessly in Honggang City for an hour.
2. Arrests Made Despite Severe Pandemic
When COVID-19 cases were on the rise again in the second half of 2021, part of Wuhan went into a second lockdown on August 3. Despite the severity of the pandemic, Ms. Hu Lifeng and Ms. Zhang Chuzhi, both in their 70s, continued their efforts to tell people about the persecution of Falun Gong. Officers from Zongguan Police Station in Qiaokou district arrested them on August 8 and put them in Yusunshan Brainwashing Centre in Jianghan district on August 26.
3. Police in Qiaokou District Unlawfully Transfer Practitioners to Brainwashing Centres After They Serve Maximum Detention Term
Case 1:
Officers from Qiaokou Police Department broke into Ms. Zhang Meirong's home on September 7 and arrested her. A month ago, she had been reported for openly speaking about the persecution, but the police did not make an arrest back then because of the pandemic.
After 15 days of detention, her family went to Wuhan First Detention Centre on September 22 to pick her up. Three plainclothes officers showed up and said that they were taking Ms. Zhang to Etouwan Brainwashing Centre in Qiaokou district. An officer told the family that if they wanted to see her, they could drive to and wait in front of the centre. The family recognised their faces as they were the same officers who had made the arrest.
Case 2:
Ms. Zhou Ailin was scheduled to be released from Wuhan First Detention Centre on September 29 after 15 days. That morning, five officers from Qiaokou Police Department showed up to take her to Etouwan Brainwashing Centre. She struggled and insisted that she had committed no crime in practicing Falun Gong.
The officers grabbed her arms and legs and threw her into a police vehicle.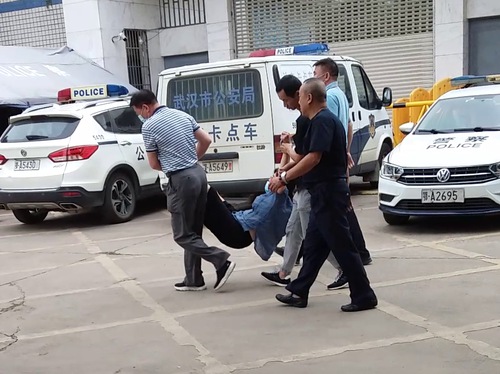 4. Another Arrest
Another arrest was made after someone reported Ms. Liu Xiaolian and Mr. Wang Xiaohui for talking to others about the persecution of Falun Gong at a supermarket on September 13. On the same day, five officers from Cuiwei Police Station ransacked Mr. Wang's home. That evening, the police took the two practitioners to Tongji Hospital and had them do a full physical examination.
The police transferred Mr. Wang to Huayuanlu Brainwashing Center in Wuchang district the next day on September 14.
(III) Signing Contracts with Former Practitioners
The PLACs and 610 Offices in Wuhan city and its various districts signed labor contracts with former Falun Gong practitioners in the beginning of 2021. These former practitioners, or collaborators, were hired to better deceive the practitioners into signing statements to renounce their faith.
They were paid well, with each collaborator receiving a basic monthly payment of 2,000 yuan with an additional 100 yuan per day to work in a brainwashing session. This added up to 5,000 yuan per month at least.
To do this job, a collaborator needs to obtain a certificate, which is recognised nationwide. If a brainwashing centre from outside of Wuhan wanted to hire a collaborator, it would have to pay at least 1,000 yuan each trip.
The collaborators followed the orders of the Wuhan PLAC and 610 Office, and they went from centre to center to brainwash practitioners in different districts. For instance, these collaborators worked in a brainwashing centre in Jiangan district in May and then went to Etouwan Brainwashing Centre in Qiaokou district in June.
Zhang Quanhao, a male collaborator, developed a set of theories to deceive the practitioners into giving up the practice. After the zero-out campaign started, Zhang was placed in a brainwashing centre in Jiangan district to torture the practitioners. At the same time, he assisted the local community officials in their efforts to harass practitioners at home.
Gong Lianghan, a female collaborator, went to some practitioners' homes on March 19, 2021. She tried to coerce the practitioners to sign a statement to renounce the practice. If they refused, she would have them taken to a brainwashing centre.
Other collaborators went to the practitioners' homes to spread misinformation and propaganda against Falun Gong. They demanded the practitioners help spread the propaganda material to other practitioners.
(IV) Former Police Recruited to Help Torture Practitioners in Brainwashing Center
Qu Shen worked as a bailiff in Jianghan District Procuratorate. He was transferred to a prevention office under the district's PLAC after the persecution started in July 1999 and worked in a brainwashing centre to transform Falun Gong practitioners until he retired. The PLAC hired him back to help carry out the zero-out campaign.
According to local practitioners, the police have put hundreds of practitioners in the brainwashing centre in Jianghan district since the end of 1999. Some of them were locked in the centre for up to two years. Qu tortured and disabled many of these practitioners. He directly and indirectly caused the deaths of at least 17 practitioners and the mental breakdown of at least five practitioners.
During the zero-out campaign Qu travelled between different brainwashing centres in cities such as Wuhan, Yichang, Xianning, and Jingzhou. When staff members in a brainwashing centre came across a practitioner who refused to transform, they would call up Qu for help.
He weakened the practitioners' will by depriving them of sleep and insulting and scolding them. He threatened to put them in solitary confinement if they refused to "transform."
All articles, graphics, and content published on Minghui.org are copyrighted. Non-commercial reproduction is allowed but requires attribution with the article title and a link to the original article.