Aug. 29, 2021 | By Minghui correspondent Zheng Yuyan
---
In December 2018, a unique scene appeared at Jalan Alor, which is a pedestrian street located in the west of Bukit Bintang, in Kuala Lumpur, the capital of Malaysia. Falun Dafa practitioners set up display boards and demonstrated the meditative exercises. It drew the attention of many tourists and passers-by, making them stop in their tracks to learn more about the practice.
Jalan Alor is the most famous street market at night in Kuala Lumpur. Having a congregation of Malay, Chinese, and Indian delicacies, it is a must-see for tourists. Besides getting a bite to eat, tourists can now learn more about Falun Dafa and the persecution of its practitioners in China. Many are shocked by the Chinese Communist's (CCP) forced organ harvesting targeting imprisoned Falun Dafa practitioners and call for an end to the persecution.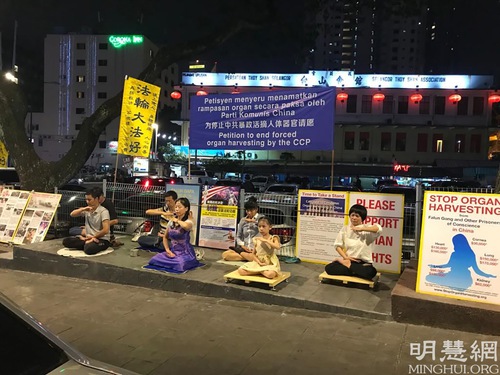 Malaysian Practitioner Gets a New Lease on Life
Mr. Xie, a Falun Dafa practitioner who organised this Falun Dafa information booth, was originally a senior manager whose company relocated him to Shanghai. He used to lead a comfortable upper-class life and thought that's what life was about. He never expected that he would be betrayed by a friend whom he became a guarantor for which got him heavily in debt. Within a short period of time, Mr. Xie felt like he had a fall from grace and reached a dead end; he even contemplated suicide.
Luckily, just when he was feeling lost and helpless, his wife's sister introduced Falun Dafa to him. He also witnessed the changes in his wife throughout her six months of practice of Falun Dafa and was touched. He started to read Zhuan Falun, the central text to the practice, and since then, he embarked on his path of cultivation.
Mr. Xie's life took a turn for the better. In the 13 years that have passed, he has lived according to the practice's principles of Truthfulness, Compassion, and Forbearance. Mr. Xie said, "Whatever is meant to be mine, I will not lose it. Whatever I have lost in the past I have regained. I also gradually paid back all my debts, too."
When comparing his world view and attitude about life before and after cultivation, he felt that his current life is simple, but free. Compassion motivates him to help others understand the truth of the persecution and keep their distance from the shackles of the CCP.
Full of gratitude, Mr. Xie said, "Thank you, Master Li Hongzhi, for teaching people Falun Dafa. Recalling these 13 years, in terms of material possessions, I have not lost anything. Cultivation has benefited me spiritually, helping me to understand the value and purpose of life."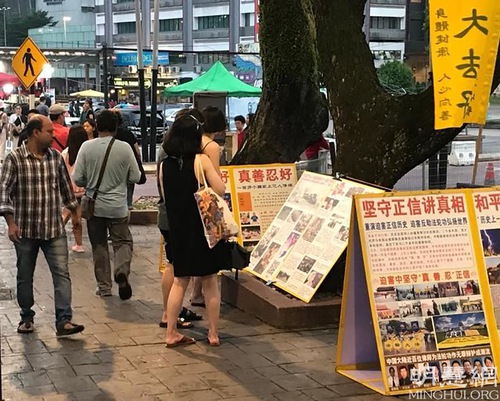 Gaining Experience in Taiwan, Bringing Displays to Malaysia
In October 2009, Mr. Xie's company had him relocate to Taiwan for work. During his nine years there, he went to the Taipei 101 tourist attraction after work from Monday to Friday to distribute informational materials and talk to tourists from around the world. On Saturdays and Sundays, he went to Sun Yat-sen Memorial Hall to do the exercises with the large group and talk to tourists.
After returning to Malaysia in 2018, Mr. Xie sought help from Taiwanese practitioners to produce a complete set of informational display boards about Falun Dafa and the persecution and had them shipped to Malaysia. Then he set up shop in Jalan Alor, which is full of tourists at night.
He displayed the boards out along the pedestrian street and started to distribute materials and talk to tourists there every night. To reach a wide audience, the display boards included text in English, Chinese, Malay, and Korean.
Many tourists and passersby stopped to look at the exhibition boards and talk to practitioners every day. Many of them would sign a petition calling for the end of the CCP's persecution or learn the exercises from the practitioners.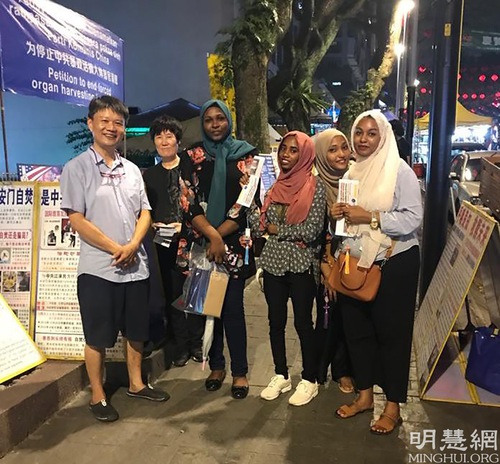 Somali Man Helps Raise Awareness 
One day, a young man from Somalia told Mr. Xie, "Mr. Xie, you have English, Chinese, Malay, and Korean on your display boards but there is no Arabic. Didn't you see that there are many Arabs here who come from the Middle East?" Mr. Xie replied helplessly, "But I do not know Arabic." "In that case, you choose a board and I'll help you translate it!" the Somali main exclaimed.
This Somali man speaks Arabic and travels between Malaysia and the Middle East for business. When he was waiting for his China visa in Malaysia, he stayed in a hotel near Jalan Alor. Every night, he voluntarily helped to pack up the display boards and talked with Mr. Xie in English. The two became friends and the Somali man learned a lot about Dafa. After getting an Arabic script, Mr. Xie sought this Somali man out to proofread it. He helped to produce display boards in Arabic to use at Jalan Alor.
The Somali man told Mr. Xie, "I feel that what you are doing is very good. It is very meaningful. The whole world needs to know about this." Almost every night, the Somali man would come over to help raise awareness in Arabic and distribute materials to tourists.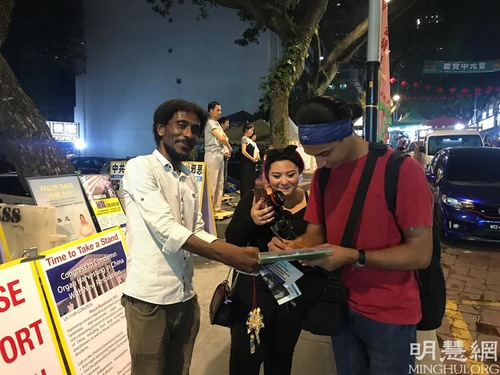 British Tourist Vows to Help Stop the CCP's Organ Harvesting
Two days after New Year's Day 2019, a British tourist in her 20s was attracted by the display boards. She kept looking at the boards and did not move for a long time. Mr. Xie went over to greet her and she was very excited. The woman pointed to the board that exposes the CCP's forced organ harvesting and said, "This was what I have been dreaming about over the past two days. I did not expect to see it here. This is so amazing! I made my New Year's prayer two days ago. I made a wish to stop the CCP's persecution of Falun Dafa. I want to end the CCP's criminal act of live organ harvesting and I want to tell my friends about what I have heard about the CCP's live organ harvesting."
The British woman, who previously learned about the persecution, turned on her phone and showed Mr. Xie the pictures that she took of the boards she saw before and the prayer that she penned. She asked for more information and took many informational materials with her. The woman said with determination, "This persecution must end!"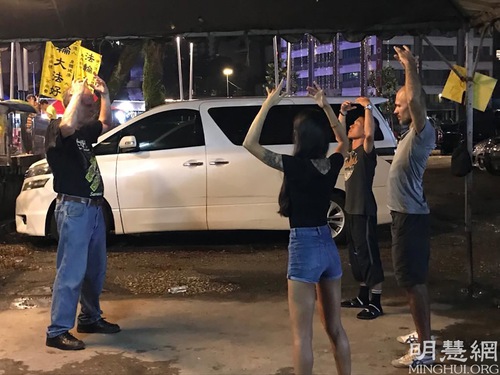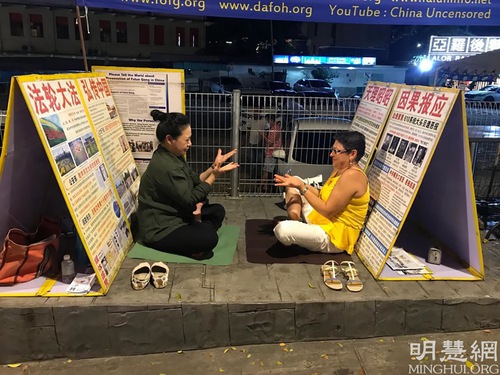 All articles, graphics, and content published on Minghui.org are copyrighted. Non-commercial reproduction is allowed but requires attribution with the article title and a link to the original article.
Chinese version available
(Clearwisdom)
35 total views