Aug. 31, 2021 | By a Western practitioner in Montana, USA
---
The Northwest Montana Fair, which ran from August 18-22, 2021, was a good opportunity to mingle with the community and talk to people about Falun Dafa and the ongoing persecution of the practice in China.
Having a booth and presence at the fair for many years has helped the community understand Falun Dafa practitioners better and realise our good values and commitment to ending human rights abuses in China. Many people stop by the booth year after year to get a new lotus flower and learn the latest about the situation in China.
This year practitioners handed out brochures with information about a website where people can sign a petition to help end the atrocities of the Chinese Communist Party. So many people were grateful to receive it, glad that they could do something for human rights and ending the persecution.
A large number of people already knew how people of faith are highly persecuted in China. Many thanked the practitioners for bringing this to light, as they realise how communism is infiltrating the United States and that there was something they could do to help. Many of them said they were very worried about our country and how our freedoms are being taken away.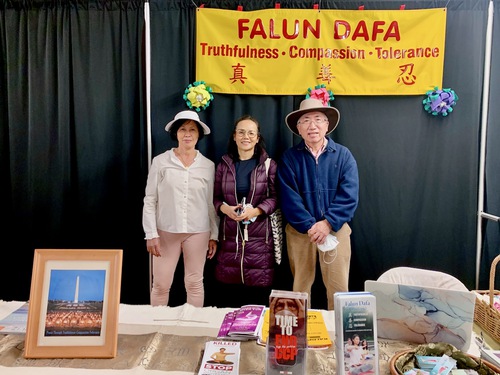 One little boy that kept staring at the Falun Dafa booth and wouldn't leave. His mother kept trying to get him to leave but he was glued to looking at the booth and all the colorful flowers!
Another little boy was trying to understand why the people in China didn't have freedom of belief, and both the mother and the practitioner tried to explain how fortunate we are in our country to have choices. He seemed to understand after his mother told him that he would not be able to go to the church of his choice in China. His wide eyes were trying to understand it all.
One woman said that she had learned the Falun Dafa exercises in Colorado and read the main book of Falun Dafa's teachings. She was very happy to see the Falun Dafa booth at the fair, as were many others. Lots of young people seemed interested in learning more about the practice.
Copies of The Epoch Times went quickly. There were a large number of people who said that they had already subscribed to the paper and remarked about how much they appreciated the truthful news and loved the articles.
Based on conversations over the five days of the fair, it seems that people are quickly awakening to the atrocities committed by the Chinese government and the threat of communism in the U.S.
All articles, graphics, and content published on Minghui.org are copyrighted. Non-commercial reproduction is allowed but requires attribution with the article title and a link to the original article.
17 total views