June 29, 2021 | By Minghui correspondent Xia Chunqing
---
According to a recent survey in June, over 60% of Australian residents consider it urgent for officials to oppose human rights violations by the Chinese Communist Party (CCP). Facing the CCP's communist agenda, 62% of residents recommend that their government safeguard its principles instead of bowing to the CCP.
This sentiment can also be seen on the street. After stay-at-home restrictions were lifted, several Falun Gong information booths in Melbourne city centre and Chinatown reopened. Every day, many pedestrians stop by to sign petitions calling to stop the persecution of Falun Gong in China. Some passersby thanked practitioners for their efforts, and some said they hoped to see more booths.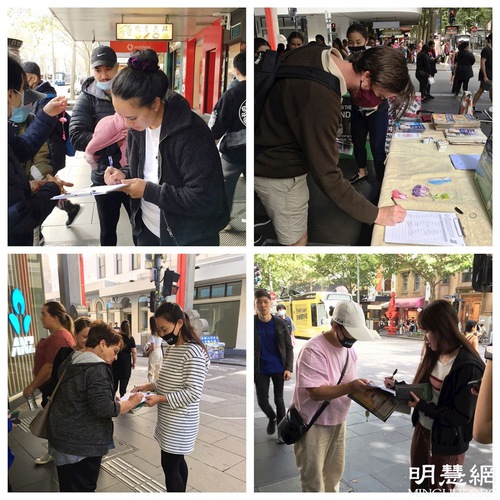 Financial Manager: No Freedom under Communism

John Kirchners, 80, worked as a financial manager for numerous companies before retirement. He praised Falun Gong practitioners for raising awareness of the suppression in Chinatown for the past 20-plus years. He said communism is vicious and that more people should join practitioners to end the brutality.
Mr. Kirchners was born in the Soviet Union. His father was from Germany and his mother was from Russia. As an orthodox Christian, his mother was persecuted by the Communist Party of the Soviet Union (CPSU) and forced to flee to Germany. When Kirchners was 9, his entire family came to Australia to get away from communism.
Having witnessed the terror of communism in the Soviet Union and Eastern Germany, Mr. Kirchners said he knows the Communist Party well. It does terrible things to people and the countries it rules have no freedom, he said.
Mr. Kirchners said this is one reason he wants to stand with Falun Gong practitioners now. Like other communist regimes, the CCP has wrongly persecuted people, he said, and a democratic society like Australia should openly condemn the CCP and expose its bad deeds. He is happy that Falun Gong practitioners have done the right thing in bringing the truth to the public.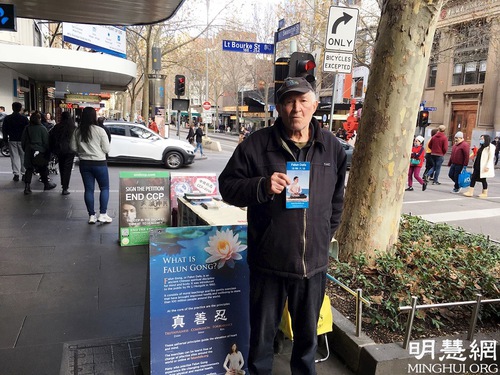 Entrepreneur: More Falun Gong Booths Needed

Brad Starr is an owner of a renowned business in Melbourne that has operated for over 30 years. After signing a petition to support practitioners, he said it is time to stop the CCP's harm as well as its infiltration outside China. He hopes tragedies like this will not happen to future generations.
Impressed by practitioners' consistent efforts in the past and years of sharing information with the public, he said more Falun Gong booths are needed to inform people about this important matter. Having seen practitioners' car tours, he said all these efforts are important since the world needs to step forward and say something in response to the CCP's atrocities.
Starr said he had shared this information with others on social media. Upon leaving, he also took some flyers for his employees and wished practitioners well.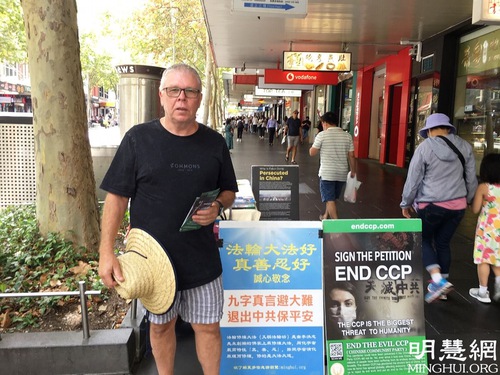 Helping Everyone in the Community
Jane Tassell, 67, works at a senior centre. She has paid attention to the persecution of Falun Gong over the years and said the CCP has made the human rights situation in China worse over time, including for Tibetans, Uyghurs, and now Hong Kong residents.
Ms. Tassell said the Australian government should take serious actions to help people–especially the younger generations–to know what is going on. For example, she said, school curriculums can be implemented to cover these topics.
Ms. Tassell also thanked practitioners for their courage, as people who take a stand on these matters face constant danger both in China and abroad. She said practitioners are admirable for keeping up their efforts in these years, and she believes the situation will change once more people are aware.
Aaron and Jerikes, two high school students, said they first heard about Falun Gong from a flyer and other materials Jerikes's mother brought home. Aaron said the CCP's persecution of Falun Gong should be stopped immediately, and he highlighted the CCP's ongoing killing of Falun Gong practitioners for organs.
Jerikes said the practitioners' persistent efforts have helped the community and are much needed in Australian society. He said he is willing to join these efforts and make the world a better place.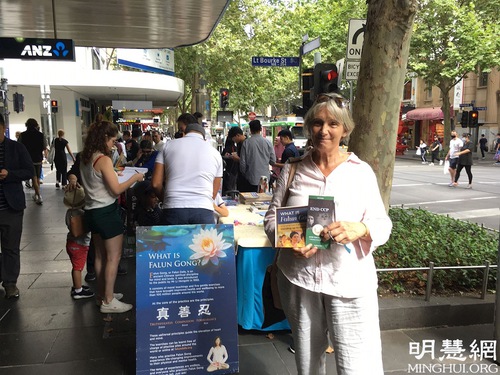 All articles, graphics, and content published on Minghui.org are copyrighted. Non-commercial reproduction is allowed but requires attribution with the article title and a link to the original article.