By a Falun Gong practitioner in Jiangsu Province, China
_______________________________________________________________________________________________
According to a Chinese media report on April 25, 2021, Du Rongliang, deputy mayor and police chief of Changzhou City in Jiangsu Province, was recently investigated for breaking the law and violating certain policies.
Du has been heavily involved in the persecution of Falun Gong in the past two decades. Many people view his downfall as the consequence of his abusing his power to persecute innocent Falun Gong practitioners.
Du was born in Wuxi City, Jiangsu Province in November 1964. He became deputy director of the Wuxi Police Department in December 2002.
In January 2006, he was appointed director of Wuxi 610 Office.
In February 2011, he became deputy Party secretary of Wuxi City.
In September 2015, Du moved to Taizhou City in the same province to serve as Party secretary of the city and director of the Taizhou Police Department. In December 2019, Du was appointed to three positions in Changzhou City: deputy mayor, Party secretary of the city, and director of the city Police Department.
Based on his resume, Du was director of the Wuxi 610 Office between January 2006 and February 2011. Ever since former Chinese Communist Party (CCP) leader Jiang Zemin began to suppress Falun Gong in 1999, the 610 Office, an extralegal agency, has been carrying out the persecution policy through its branches at every government level across China.
During Du's tenure in the cities of Wuxi, Taizhou, and Changzhou, many Falun Gong practitioners in those cities were persecuted for their belief and some even lost their lives. Below are some examples.
"Teacher of the Year" Persecuted to Mental Disorder and Eventually Death
Ms. Zhou Zhiying, who once won "teacher of the year" in Wuxi City, was arrested on September 30, 2009, by agents from the Jiangyin City 610 Office and sent to a brainwashing centre. Jiangyin is under the administration of Wuxi. By the time she was released on February 1, 2010, she had become totally mentally disoriented. She had bruises and needle holes all over her body.
As Ms. Zhou was mentally sharp and sane before the arrest and detention, her family attributed her mental disorder to Jiangyin 610 Office and returned her to the agency several days later. The agency thus kept Ms. Zhou at Qingshan Psychiatric Hospital in Jiangyin, where she was continually persecuted until her death. Her body was cremated on March 29, 2010.
Incapacitated at 40; Deceased at 48
Ms. Dai Lijuan was born in 1963 and she was an employee of Wuxi First Grocery Store. After beginning to practice Falun Gong in October 1999, all her illnesses disappeared in three months.
After the suppression of Falun Gong started in 1999, Ms. Dai went to Beijing in November 2000 to appeal for Falun Gong. She was thus kept at Qianqiao Psychiatric Hospital in Wuxi for four months, during which time she was injected with unknown drugs many times.
In March 2002, Ms. Dai was again sent to Jinchengwan Brainwashing Centre because of her belief. Since she did not renounce Falun Gong, she was sent to Wuxi Psychiatric Hospital and kept there for five months.
In March 2003, she was arrested at work again and sent to Jinchengwan Brainwashing Centre, before being transferred to Xuzhou Brainwashing Centre, where she was detained for two more months, during which time she was subjected to severe beatings and fell into critical condition. It was through the practice of Falun Gong that she regained her health.
When telling others about Falun Gong and the persecution on June 20, 2003, Ms. Dai was arrested by Beitang police in Wuxi. Wu Jian and other police officers beat her so savagely that she passed out twice and was rushed to a hospital for emergency rescue twice in one night. The brutality lasted three days and she was on the verge of death.
Due to forced drugging and continued beating, Ms. Dai was completely paralyzed and incontinent and all her muscles atrophied. She kept vomiting from time to time, could not extend her fingers, and was unable to take care of herself. After suffering for 8 years, Ms. Dai died at 48 on March 28, 2011.
During Ms. Dai's last eight years of life, her mother Ms. Ge Xiuying, also a Falun Gong practitioner, took care of her the entire time. Seeing her healthy and happy daughter's plight, Ms. Ge's pain and sorrow were beyond words.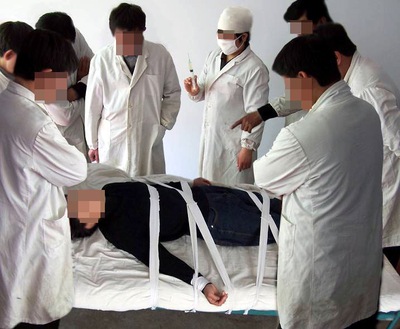 Several Practitioners Imprisoned
Ms. Sun Yong, over 60, is a retiree from Gezhouba Machinery and Electronics Company from Hubei Province. She visited her hometown of Yixing City (a city inside Wuxi) in April 2009 and returned to Hubei in May 2009. Suspecting she had distributed Falun Gong materials in Yixing, Jiangsu Province police arrested her in June 2009 and ransacked her home. In mid-December 2009, Ms. Sun was sentenced to a four-year prison term.
Mr. Wang Weineng, a native of You County, Hunan Province, works at Jianghai Hospital in Wuxi. Officers from Madun Police Station arrested him and his coworker Wang Juan on February 9, 2010. Chong'an Court sentenced Mr. Wang to two years on October 29, 2010.
Ms. Yu Delan is a practitioner from Yongchuan District, Chongqing City, in her 40s. Due to disability caused by polio from childhood, she had a bad temper. After beginning to practice Falun Gong, Ms. Yu regained her health, and her temperament improved significantly. She was arrested in Yixing City on September 10, 2009, and kept at Yixing Detention Centre. On January 29, 2010, she was sent to Nantong Women's Prison for an unknown term.
Sentenced to Five Years for Possessing Several DVDs
Mr. Shi Bingjun was arrested in late 2011 by Wuxi 610 Office and later given two years at Fangqiang Labor Camp. Mr. Shi did not yield and was released from the labor camp in June 2013.
Four months later, when Mr. Shi passed Donggang Town on a bike, patrol officers stopped him and found that he was carrying several DVDs with information related to Falun Gong. Wuxi 610 Office agents arrested him and held him in Wuxi First Detention Centre. The police ransacked his home twice, confiscating a computer and a printer, along with other personal belongings.
The Binhu District Procuratorate submitted Mr. Shi's case to the Binhu Court several times but it was turned down each time. The procuratorate continued to frame him and resubmitted materials. In the end, Mr. Shi appeared in court on May 8, 2015, and was sentenced to five years in prison.
Persecuted for Filing a Criminal Complaint
Ms. Xie Sujuan is a resident of Wang'an Village and was arrested by Huazhuang Police Station on November 22, 2010. After being detained for dozens of days, she was sent to Judong Labor Camp.
Her term was set to expire November 22, 2012, but when her family went to pick her up that day, they learned that officers from Huazhuang Police Station had taken Ms. Xie to a brainwashing centre.
Officers from Binhu 610 Office and Huazhuang Police Station arrested Ms. Xie at home on August 28, 2015. They said it was because Ms. Xie had submitted a criminal complaint against former CCP leader Jiang Zemin for persecuting Falun Gong. The complaint was submitted to the People's Supreme Court and People's Supreme Procuratorate.
Based on information from Minghui, between 2010 and 2014 alone, Du was responsible for the arrest and detention of many Falun Gong practitioners including Mr. Shi Bingjun, Ms. Xie Sujuan, Ms. Wu Wenying, Ms. Liang Aiying, Ms. Zhang Alian, Ms. Chen Meifeng, Ms. Pan Qizhen, Mr. Qi Shixiu, and Mr. Qian Jiarong.
We sincerely hope officers like Du will stop committing crimes against Falun Gong practitioners so that they and their families can avoid the consequences of blindly following the CCP and persecuting innocent people.
All articles, graphics, and content published on Minghui.org are copyrighted. Non-commercial reproduction is allowed but requires attribution with the article title and a link to the original article.
Chinese version available
(Clearwisdom)