The long coastline on Australia's Gold Coast ushered in a brilliant dawn on the morning of December 20, 2020. From afar people could see a long line of cars with various messages about Falun Dafa. Practitioners of Falun Gong held a car rally on the Gold Coast to spread information about the spiritual discipline.
The car parade lasted four hours and started from Mitchell Park in Southport, passed through the well known tourist spots Surfers Paradise, Broadbeach, and Burleigh Heads, and finished at Home of the Arts.
Twenty cars participated in the parade. The cars had banners written in English and Chinese atop them conveying messages such as "Falun Dafa is good, Truthfulness, Compassion and Forbearance is good," "CCP lies, People Die," and "Say No to the CCP, Keep Safe from the CCP virus."
Adan was one of the participants in the car parade. He said, "The CCP's existence is a threat to everyone in this world. Therefore we want to raise awareness of the regime's crimes against humanity."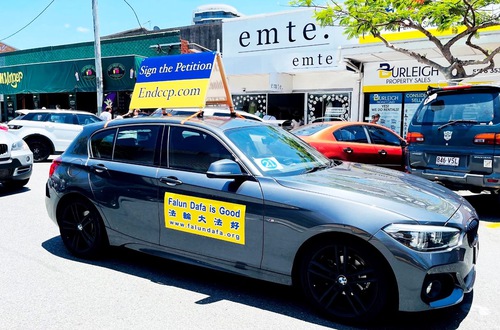 Political Candidate Hopes Chinese People Will Gain Democracy and Freedom
Michael Kaff, political candidate for Mudgeeraba in the City of Gold Coast, came to show his support for the car tour.
"More and more people have realised the evil nature of the CCP," he said. "It is just like the Nazis. The regime has infiltrated Australia in the areas of government, technology, and education through various means such as the Confucius Institute. It covered up the virus and led to the global pandemic.
"The Australian Government has stepped out now, as well as the U.S. Government. Like the U.S., we must cut off trade with the CCP and overthrow it. We can have good relations with China again someday when there is no CCP."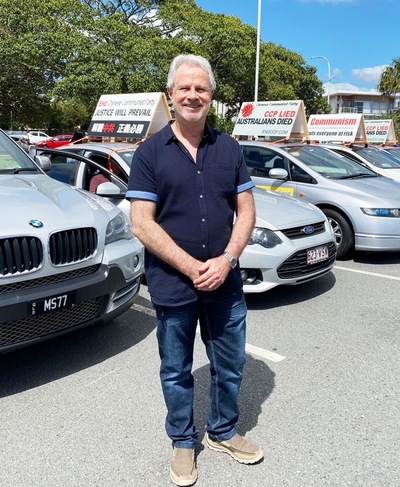 I Support Trump in Saying No to the CCP
Mat Dehey, a supermarket manager, said he supports United States President Donald Trump in saying no to the CCP.
"The CCP is very evil," he said. "It controls the Chinese people and it wants to control everyone in the world. But the mainstream media don't report about this at the moment. I am very supportive of Trump. He has done a lot during his tenure as president and achieved tremendous success. I also support him in saying no to the CCP."