Falun Dafa practitioners participated in the 24th National Book Fair in Pondicherry, in the state of Tamil Nadu in South India, on December 18, 2020. This major event lasted nine days, providing practitioners the first opportunity to clarify the truth to the public directly since the Chinese Communist Party (CCP) virus (coronavirus) outbreak.
Chief Minister of the State of Tamil Nadu, Edappadi K. Palaniswami, officials from the Ministry of Justice, and other important local dignitaries attended the opening ceremony of the book fair.
Practitioners told the officials about the unjust imprisonment and persecution, cruel torture, forced labor, and forced live organ harvesting that Falun Dafa practitioners who cultivate Truthfulness-Compassion-Forbearance have experienced in China for the past 21 years.
Practitioners also explained that Falun Dafa is a high-level practice that cultivates the heart and nurtures kindness in people. The practitioners showed some of the Falun Dafa books to the dignitaries.
The dignitaries told practitioners they hoped Falun Dafa could be introduced at all the schools in Pondicherry.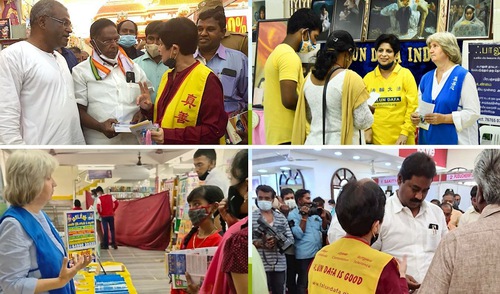 Many visitors expressed interest in learning the Falun Dafa exercises and were surprised to hear that practitioners always teach the exercises totally free of charge. Sixty-five Falun Dafa books were purchased by people during the book fair.
Many people were alarmed to learn that Falun Dafa practitioners are currently persecuted by the CCP in China. People could not believe that the regime would resort to such violent persecution methods against a peaceful group of cultivators.
Practitioners told the book fair attendees about the principles of Falun Dafa and also showed them information about the Art of Zhen-Shan-Ren (Truthfulness-Compassion-Forbearance) International Exhibition.
Many visitors said that they have seen the peaceful, slow, and gentle Falun Dafa exercise movements being displayed by practitioners at the beach.