Falun Dafa practitioners demonstrated the five sets of exercises at Taipei's Liberty Square on January 16, 2020. Although there were fewer tourists due to the CCP virus (coronavirus), several overseas visitors still visit the popular tourist attraction. The peaceful scene of practitioners doing the exercises prompted many visitors to take photos.
A tourist from Luxembourg said, "This is amazing!" Two young tourists from Japan also expressed their admiration after they learned that Falun Dafa is practiced in over 100 countries and regions worldwide. A French reporter stationed in Taiwan specifically came to take photos after learning about the event.
Falun Dafa, also known as Falun Gong, was first introduced by Mr. Li Hongzhi in Changchun City, China in 1992. The practice is based on the principles of Truthfulness, Compassion, Forbearance and has five gentle exercises.
It became very popular in China within a few years. Jealous of its wide-spread popularity, former Chinese president Jiang Zemin started a brutal persecution campaign in 1999.
On January 23, 2001, the regime staged a "self-immolation" incident on Tiananmen Square to vilify the practice. In spite of the 20-year-long brutal suppression, Falun Dafa spread to more than 100 countries and regions globally, winning widespread acclaim.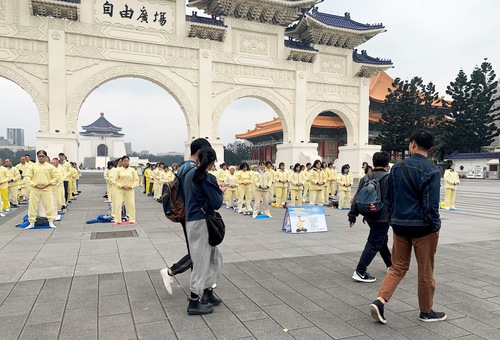 Liberty Square, a plaza within the National Chiang Kai-shek Memorial Hall grounds in Taipei, is one of the city's landmarks as well as a must-see tourist spot for overseas visitors.
Practitioners in Taiwan have held various activities including group exercises at the square for over two decades. In contrast, Beijing's Tiananmen Square, which is also a recreational place and tourist attraction, has become a place where Falun Dafa practitioners are suppressed by the CCP (Chinese Communist Party) regime.