Elected officials and community leaders joined with Falun Gong practitioners in Sydney on January 31, 2020, to celebrate 350 million Chinese citizens quitting the Chinese Communist Party (CCP) and its youth associations. 
A rally was held in front of Sydney's Customs House. Several guests braved the scorching sun to give speeches condemning the regime's brutal persecution of Falun Gong practitioners, Uyghurs, Tibetans, and Hong Kong citizens and praised the courageous Chinese people who have renounced their memberships in the Party.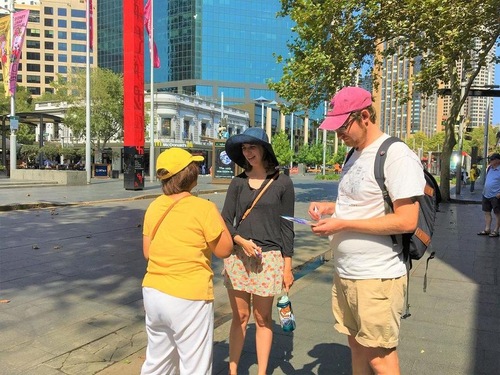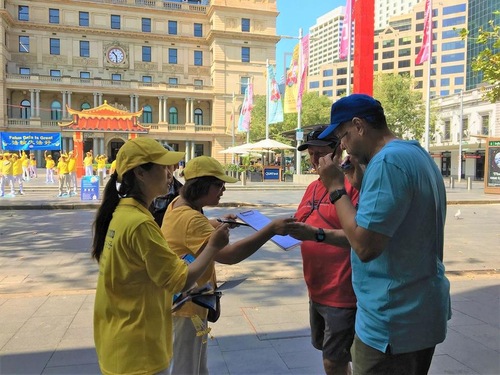 "Quitting the CCP Is an Exoneration of Your Conscience"
John Deller, spokesperson for the Falun Dafa Association in Australia, spoke at the rally. "In Australia, a beautiful and free country, people speak out for human rights without fear. The Members of Parliament whom I met with yesterday asked me to convey their best wishes to Falun Gong. They expressed gratitude to Falun Gong's contributions to Australian society. Today we gather to celebrate 350 million withdrawals from the CCP. This figure has great significance."
Mr. Deller pointed out, "For more than two decades, Falun Gong practitioners have been tortured in China for following the teachings of Truthfulness, Compassion, and Forbearance. They are murdered for their organs. This is an appalling betrayal of humans' innate kind nature. When Chinese citizens wake up to the evil nature of the CCP, it is natural they will seek ways to be pardoned and distance themselves from the fate of the Party, which will be held accountable for its crimes."
Councilor: "I'm Proud to Stand Together with You"
Andrew Wilson, councilor of Parramatta City said, "Usually it is very difficult to get people to support human rights, religious freedom, or to affirm traditional values. Falun Gong practitioners have made tremendous contributions in Australia in the areas of human rights, religious freedom, traditional values, and so on. The CCP shouldn't persecute you. You are right [in demanding an end to the persecution], and I'm proud to stand together with you. Good people will stand with you."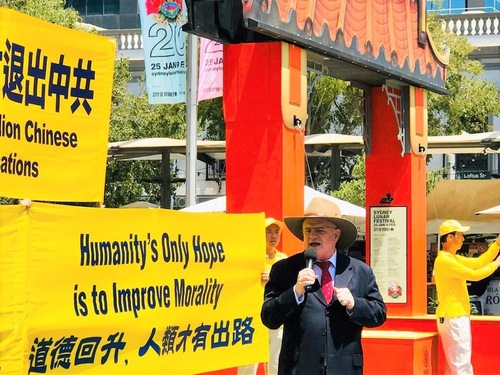 Political Party Leader: "We Must Help Chinese Citizens Quit the CCP"
Leader of the Australia One Party, author, speaker, international business consultant, and former Australian Army Special Forces Lieutenant Colonel Riccardo Bossi began his speech by congratulating the courageous Chinese who have chosen to quit the Party. He then went on to thank the volunteers who worked tirelessly to expose the evil nature of the CCP.
Mr. Bossi said, "The CCP is corrupting political circles in Australia. They have invested heavily in the country. Australia, which used to be economically strong and self-reliant, has become the CCP's vassal. If the regime is not disintegrated, China and Australia too will be destroyed. If Australians want to save Australia, they must help the Chinese quit the CCP and save China."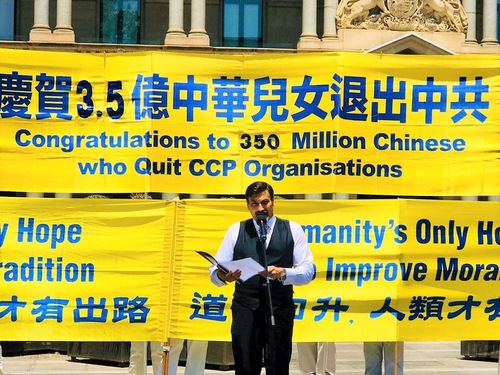 Attorney: "I Believe Justice Will Prevail"
In her speech, Sophie York, a lawyer and lecturer on public international law and legal philosophy, cited examples such as the illegal detention of Falun Gong practitioners, organ harvesting, and Uyghurs locked up in concentration camps to underscore the nature of the CCP.
"Don't count on the CCP to give up its evil ways," Ms. York said. "Their human rights record has worsened over the past years. The regime is getting better at covering up their crimes, blocking information, and repressing those who dare to speak the truth."
She called on the Australian government "To do more in exposing the CCP's human rights violations, follow in the U.S.'s steps to punish crimes against humanity, freeze perpetrator's assets in Australia, and stop them from entering the country. Australia's technological development should not be used to serve the regime's human rights tyranny, our medical advancements should not be used for organ harvesting – don't help the CCP monitor its citizens."
Ms. York concluded, "While we enjoy freedom and democracy, let's not forget those who fight for justice and never give up. Please believe justice will prevail."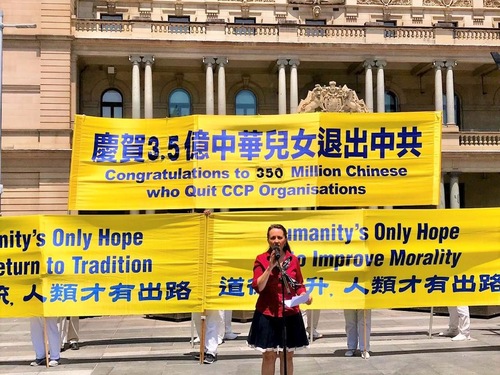 "Let's Support Those Oppressed by Communism"
Paul Folley, general manager of the Australian TFP (Tradition Family Property), a Christian non-profit organization, said, "350 million withdrawals is a great milestone in human history. The CCP is the biggest tyrant in history. It destroys traditional Chinese culture and the spirit of the Chinese race.
"Although it appears strong, the CCP has no foundation and will collapse in a storm. We have seen the fall of the former Soviet Union, and we will see the fall of the CCP. I firmly believe the Creator will not let it exist for long. All those who seek to liberate the Chinese people, fight for freedom and human rights, let us stand next to each other and support those oppressed by communism."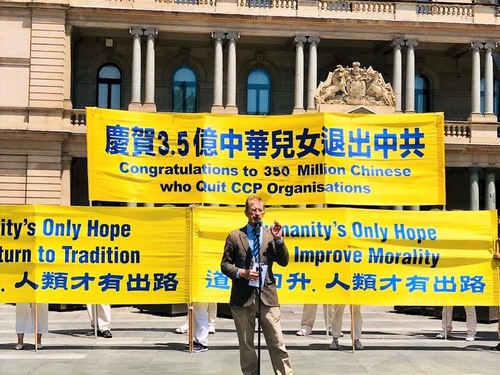 Activist: "I Salute Falun Gong"
Mr. Qin Jin, chairman of the Federation for a Democratic China, stated, "I truly admire Falun Gong practitioners for persisting in getting people to renounce the CCP. It is a surprise that 350 million have quit the Party. This is an astonishing figure. The most important thing going forward is to break through the CCP's blockade and firewall."