By end of March, more than 300 million Chinese had withdrawn their memberships in the Chinese Communist Party (CCP) or its affiliated organisations. Supporting these brave Chinese citizens, celebrations took place in Sydney and Brisbane, two of the top three biggest Australian cities, on April 21.
Sydney
Falun Gong practitioners, city officials, and community leaders joined the event at Hyde Park in Sydney. The recent quitting the CCP (Tuidang) movement started in 2004 when the Epoch Times newspaper published the Nine Commentaries on the Communist Party, said Li Yuanhua from the Global Quitting the CCP Center.
He said the book described how the communist party controlled people with brutality and lies, and harmed a vast number of citizens in the past decades. "Saying 'no' to communism will be good for us as individuals and for our society in general," he explained.
Andrew Wilson, mayor of Parramatta in Western Sydney, condemned forced organ harvesting committed by the CCP. On behalf of the city, he welcomed the practitioners and commended their efforts to expose the atrocities of the communist regime.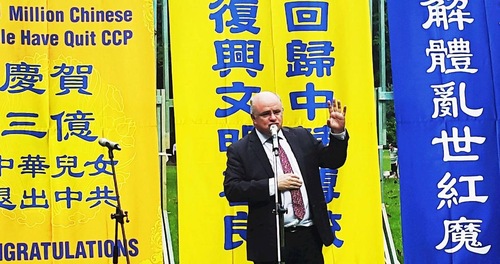 Thuy Dinh Tran, Secretary-General of Vietnamese Association in Australia, said communism has caused great harm in China, Vietnam, and other countries. "People who follow Truthfulness-Compassion-Forbearance should be respected. But now they are detained and killed in China. How can we let it happen and do nothing?!"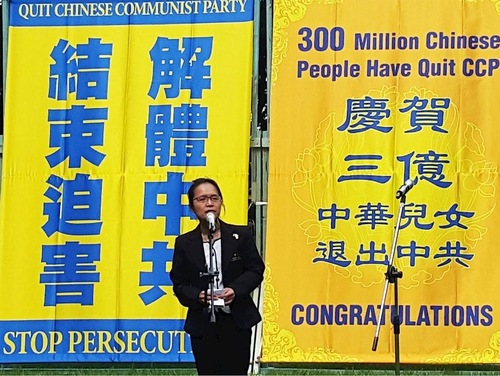 Brisbane
A march was held in Brisbane, the capital of Queensland, on the morning of April 21.
Two high school students said they came from China two years ago and were impressed by the march. "Compared to China, I see that human rights are much better protected here," said one student with the last name of Zhang. "I hope people in China will enjoy freedom of belief one day." He then decided to quit the communist party's organisations.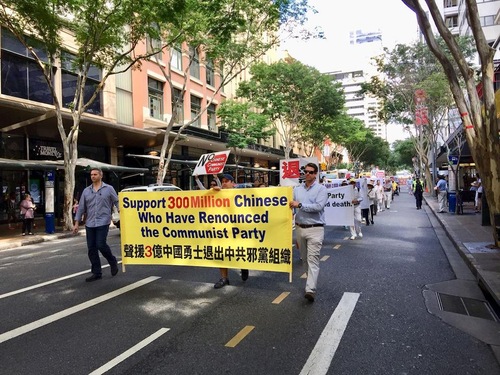 One Chinese tourist was excited to see the Falun Gong march. He took a video to share with his friends back home.
"This trip is eye-opening for me. Compared to China, this is a land of freedom," he said as he agreed to quit the CCP organisations.
Related article in Chinese:
http://www.minghui.org/mh/articles/2018/4/23/澳洲昆士兰声援三亿民众三退-华人现场三退
10 total views