The Shen Yun Symphony Orchestra began its 2019 tour at the Kaohsiung Cultural Centre in Kaohsiung, Taiwan, on September 18.
This is the orchestra's eighth season of sharing the soul-stirring qualities of classical Chinese instruments through the power of a Western symphony.
In addition to original works by Shen Yun composers, this year's program also includes classical pieces by Tchaikovsky, Smetana, and Gounod.

It's Beyond Words
Zhang Ruitai, board director of Lions Club International, attended the Shen Yun Symphony Orchestra's concert at the Taichung City Chung Shan Hall on September 25, 2019.
He said, "The overwhelming momentum of [Shen Yun music] is like tens of thousands of steeds galloping ahead in battlefields."
"After watching the entire performance, I feel uplifted… I am full of positive energy.
"Shen Yun can bring stability, peacefulness, and happiness [to society]… Shen Yun is so wonderful that my palms have turned red due to so much clapping.
"You have to watch it in person so that you can experience how the traditional Chinese instruments and Western instruments are perfectly synchronized… It's beyond words.
"The scene of long-lasting tumultuous applause and cheers for encores is touching… Shen Yun is truly great. It's the best in the world," Mr. Zhang said.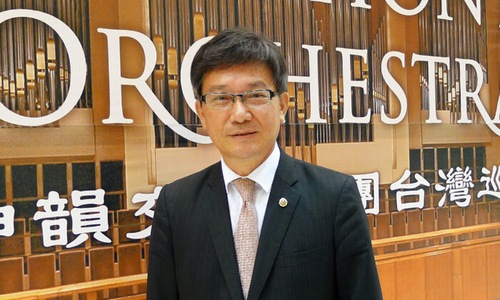 Touches the Human Soul
Huang Kuan-Yu, an award-winning and well known Taiwanese artist who has been dubbed the "healing painting artist," attended Shen Yun Symphony Orchestra's matinee performance at the National Concert Hall in Taipei on September 23, 2019.
"Shen Yun's music can touch the human soul," she said.
"I am so happy, as my mood is boosted and my cells are activated. And my blues are gone.
"It has healing effects as if it can eliminate our vanity and offer us positive energy.
"I envisaged some colours, landscapes, skies, and clouds… The skies were so blue, and the clouds were so white and so dynamic.
"It gradually helped us conform to this kind of music frequency, and then gave us a pleasant mood along with the feelings of diverse scenery… This kind of pleasant mood is something that many people have long forgotten.
"It made me very happy, and I am touched from the bottom of my heart… This kind of touching music has given me boundless inspiration," Ms. Huang said.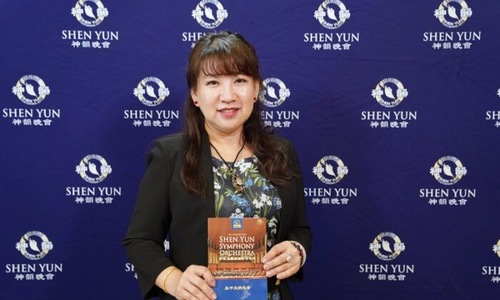 Remarkable Musical Feast
Entrepreneur Yang Yulin, former president of the Central and South American Taiwanese Chamber of Commerce and Ecuador G-1 Governor of the International Lions Club, attended Shen Yun Symphony Orchestra's performance at the Kaohsiung Cultural Centre on September 18, 2019.
"This is a remarkable musical feast," he said.
"There seems to be a nice and touching story behind each note. And the conductors perfectly present every detail along with the notes performed by the entire orchestra.
"The energy field is very strong. It is so strong that it gets the undivided attention of the audience… I therefore naturally swing [my body] with the notes.
"The two conductors of the orchestra are outstanding. They are masters in the field… I found that not only did their baton movements conduct the orchestra, but they also got the complete attention of the audience.
"After listening to the concert, my spirit is uplifted," Mr. Yang said.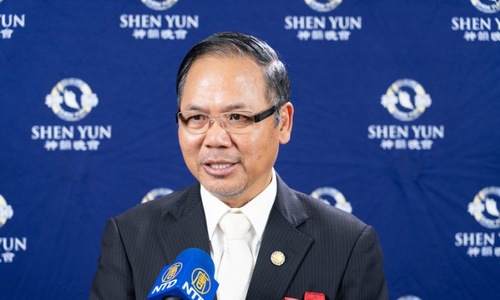 Such Music Can Only Be Found in Heaven
Szu-kai Wei, a graduate jeweler gemologist from the Gemological Institute of America (GIA), attended the Shen Yun Symphony Orchestra concert at the National Kaohsiung Centre for the Arts in Kaohsiung on September 21, 2019.
"[Shen Yun's music] is truly wonderful and soul-inspiring," she said.
"The rhythmic structure is truly wonderful… The music sometimes is very powerful with a tremendous momentum, and sometimes suddenly very peaceful and very quiet, which can grab and hold the audience's full attention.
"It can inspire those who are in a bad mood, and uplift the spirits of those who feel depressed or dying.
"Some elements in the music can make you feel that your cells are suddenly reactivated, as if something we lost before was retrieved… It is full of energy, and it is an orchestra that can enlighten our lives.
"The two conductors' gestures were like the water in a mountain stream, which sometimes flows very quickly and sometimes very smoothly—I felt they were dancing when they were conducting the symphony orchestra.
"Such music can only be found in heaven… It can make people find the driving force of life," Ms. Wei said.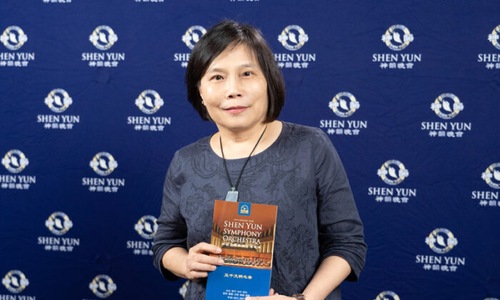 This is a World-Class Performance
Pingtung County Councilor Wu Liang-ching and his wife attended the Shen Yun Symphony Orchestra's concert at Pingtung Performing Arts Centre Concert Hall on September 20, 2019.
"I really cannot put it into words. But I feel really great. After an hour and a half of Shen Yun music, I am in a better mood… This is a world-class performance," he said.
Mr. Wu's wife was also deeply impressed by the performance. "I felt like the music touched me on a different level. And it gave me such an overwhelming feeling that I couldn't explain… I am just blown away," she said.
"Shen Yun's music brought a sense of peace to my soul, and it also allowed me to reflect on different things… I felt like I was at the highest [spiritual] level that humans can possibly attain," she added.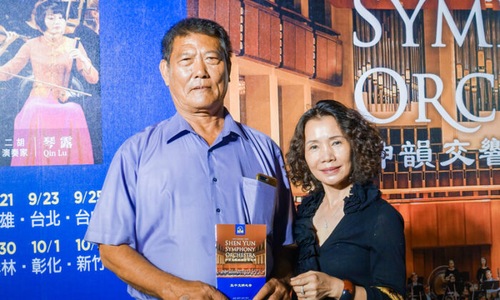 Comforts the Human Heart
Han Zhenan, the general manager of a construction company in Taiwan, attended the Shen Yun Symphony Orchestra concert at National Concert Hall in Taipei on the evening of September 23, 2019.
"I was truly captivated by [Shen Yun's] music… Its tempo fluctuations, as well as rhythms, can touch and comfort the human heart," he said.
"While listening to the music, I felt especially peaceful in my mind… It can help us create the mood for a relaxing and comfortable ambiance in the hustle and bustle of everyday life.
"Since we are busy working in this bustling society that is full of messy messages and dishonesty, I think attending [Shen Yun] is of great benefit to our souls.
"Watching the Shen Yun performance, one can get a special energy of telling the truth openly and uprightly, which is what the world and the society really need nowadays.
"[Shen Yun's music] makes me more mature, and gives me wisdom and compassion to deal with the many problems that I have to face in life.
"After returning to our workplaces with our souls cleansed by this musical concert, our values may be different in terms of our lives, daily work, and many other things that we have to face… This is the biggest benefit I've gained," Mr. Han said.
Shen Yun Symphony Orchestra will perform in Taiwan, Canada, and the United States during its tour this year, and will continue its Taiwan tour with upcoming performances in Changhua on October 1 and Hsinchu on October 2.
Tickets and more information can be found at: www.shenyun.com/symphony.
(Clearwidom)
---