Falun Dafa practitioners talked to passersby during the Night Noodle Markets held in Sydney's Hyde Park on October 16-18, 2019. They told them about the spiritual practice and how it is being persecuted in China.
The Night Noodle Market is an eagerly anticipated annual event that transforms Hyde Park into a busy Asian street food venue.
Calling on the Australian Government to Deny Perpetrators Entry Visas
Australian Noah van Rooy stood for some time at the Falun Gong display reading about how the Chinese Communist Party (CCP) removes organs from detained practitioners against their will.
He said, "I'm following this issue very closely. Forced organ harvesting shouldn't happen."
He asked a practitioner if she knew whether anyone in Australia had traveled to China to purchase such organs. She confirmed that according to valid investigations, Australians had gone to China for such organ transplants.
She said that was why she and other practitioners were there—to inform people about these atrocities and encourage Australians not to go to China for organ transplants. Noah expressed his support.
When he learned that the U.S. government had denied visas to the culprits and their children, he said that the Australian government should follow suit.
He signed a letter to appeal to the Australian prime minister and the federal government to help stop the persecution of Falun Gong practitioners in China.
Diana said she read a report on the Minghui website in which a Queensland police officer commended practitioners for their peaceful protest.
She commented that Falun Dafa is a very peaceful practice and that the Chinese government is persecuting practitioners because it is an authoritarian regime.
She hopes the Australian government will use its trade relationship with China to pressure the communist regime to stop torturing practitioners and do the right thing.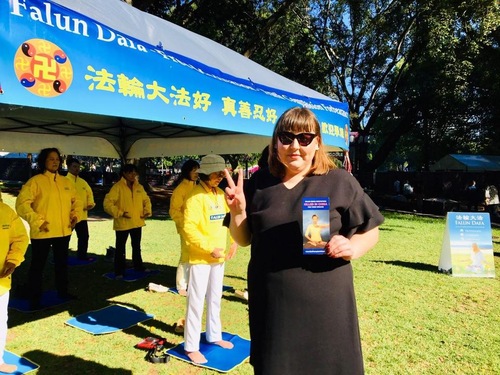 People Appreciate Falun Dafa's Values
Rebecca Mayr, who lives in Sydney, passed by the Falun Dafa information booth after doing volunteer work and signed the petition to show her support.
She said she was very appreciative of the principles of the practice—Truthfulness, Compassion, and Forbearance—and hopes more people in Sydney will take it up.
A woman from Peru was drawn to the exercises and stopped to watch the demonstration for a long time. She said she had seen people doing the exercises in Peru, and she especially liked how peaceful it seemed. She thinks it's wonderful that Falun Dafa emphasises high moral standards, and she hopes to learn it someday.
A woman from Taiwan said she was attracted to the words "Truthfulness, Compassion, and Forbearance, and took a flier about Falun Dafa.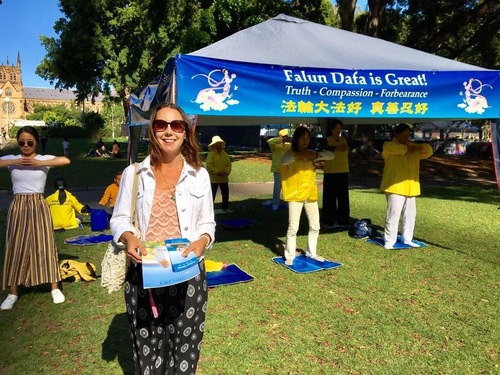 "I Was Misled: Falun Dafa Practitioners Are Honorable"
A Chinese man said that before he moved to Australia, he believed the CCP propaganda and thought that Falun Dafa was against the regime.
He also thought that practitioners were being paid to hand out information. After he left China, he learned the truth by reading uncensored media reports, and observed that practitioners were law-abiding and conscientious people.
He then realised he had been misled by lies spread by the CCP.
---