Falun Dafa in Turkey practitioners participated in the Soli Sun Festival, one of the most popular summer festivals, in the city of Mersin on June 21 and 22, 2019.
Over both days of the festival, they distributed small paper lotus flowers, demonstrated the exercises on the festival stage, and collected signatures calling for an end to the persecution in China.
Neşet Tarhan, the Mayor of Mezitli Municipality and organiser of the festival, picked up information about Falun Dafa at the practitioners' booth.
After touring the other booths, he came back and wanted to try the exercise movements.
He said, "Falun Dafa is great. We must get together on other events." He instructed his assistant to call the Falun Dafa Association after the festival.
Municipal officials took photos of the mayor with the practitioners and published them on the municipality's social media page.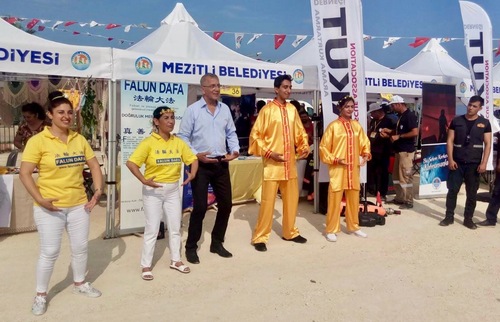 As practitioners did the exercises in front of the booth, visitors to the festival showed great interest in Falun Dafa. Many stopped to try out the exercises, and some said that they planned to join the practitioners at the local practice site.
Sevda hn, an academician at Mersin University, and her friend from Georgia learned the exercises. Sevda hn said afterward, "I could concentrate even in this much noise. I felt vibrations in my hands and fingers. I'm relaxed."
Serap Siber, a fire department volunteer at a neighboring booth, said that this was the first time she had ever done this kind of exercise, and she was very impressed. "I felt lighter. It was like I was a ballerina. It's great that it's practiced throughout the world. I think everyone should meditate," she said.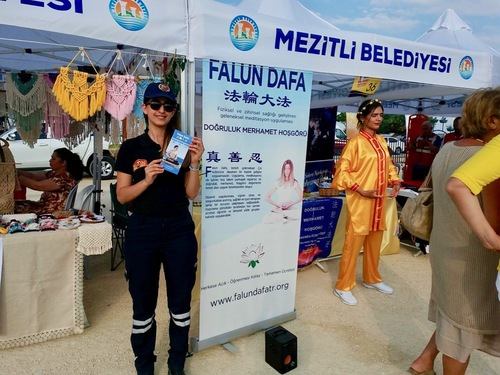 After doing the exercises, Mehmet Ersin Birsen remarked that the exercises soothed the aching areas of his body. He came back the next day to do the exercises again with the practitioners. He said he had been thinking about doing them since the previous day.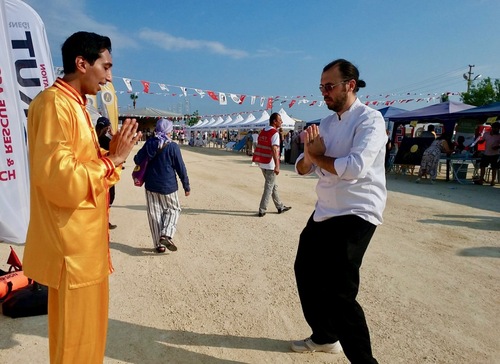 During the festival, many people signed the petition calling for the Chinese Supreme Court to bring former Chinese leader Jiang Zemin, who started the persecution of Falun Dafa in China, to justice. One practitioner went to all the booths and collected signatures from most of the festival participants.
(Clearwisdom)