The documentary "Letter from Masanja," was screened at the Trabant University Theater, at the University of Delaware, on the evening of March 14, 2019. The event was organized by the university's Falun Dafa Club.
People in the audience were moved to tears when seeing the cruel persecution and torture perpetrated against Chinese Falun Gong practitioners.
Falun Dafa (also called Falun Gong) is an advanced self-cultivation practice based on the teachings of the Buddha School. It was founded by Mr. Li Hongzhi.
Hidden Letter in Products Produced for Export Details Torture
In the documentary, Julie Keith, a woman in Oregon, finds a letter hidden in the Halloween decorations she bought from a discount store. The letter, written in English and Chinese, told of prisoners of conscience, especially Falun Gong practitioners, being tortured and also forced to make products for export.
After the hour-long documentary, three Falun Gong practitioners who had been persecuted in China shared their experiences with the audience.
Mr. Kui Hang
Because he practiced Falun Gong, Mr. Kui Huang, once a doctoral student at Tsinghua University, was arrested more than 10 times, jailed for a total of 5 years, and subjected to different kinds of tortures, including long hours of forced labor, being shocked with electric batons, force-feeding, sleep deprivation, and brainwashing.
Ms. JingfangYang
Ms. Jingfang Yang, another Falun Dafa practitioner, was jailed in the Hefei City First Detention Centre from December 2002 to the summer of 2003. She was forced to produce products for more than 12 hours a day, such as paper boxes, and Christmas string lights. After that, she was transferred to the First Women's Prison in the Anhui Province, where she was forced to work for 16 hours a day.
Ms. Hon Cui
Ms. Hong Cui was sentenced to three-and-a-half years of forced labor in the Tiantanghe Women's Forced Labor Institute in the Daxing District of Beijing. She was tortured with sleep deprivation, solitary confinement, forced labor, and brainwashing.
Question and Answer Session
Dr. Ann Corson, spokesperson for the organisation Doctors Against Forced Organ Harvesting (DAFOH), was connected via the internet to answer audience questions. Some such questions were:
"Why does the communist regime fear a group of good people who practice meditation?
How many people in China are involved in the forced organ harvesting crime?
How much money does the communist regime make by pillaging organs?" And,
"How can I help stop the persecution?"
At the end of the Q&A session, a member of the audience commented that "this world is big and will last" but that the communist regime will only exist temporarily and the Chinese communist leaders should understand that their existence in this world will pass.
He said, "Because we have brave people like these (Falun Gong practitioners), who step up, peaceful but strong. You are so generous and I appreciate you coming here tonight! Thank you for letting us know the truth."
Audience Members Share Thoughts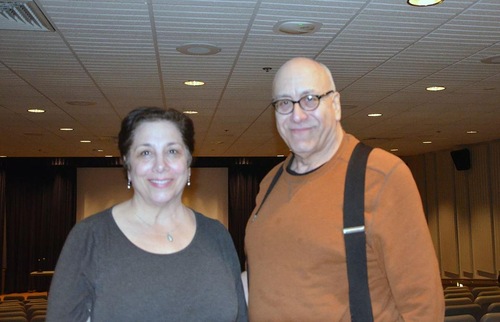 Assistant professor Leslie Criston and her brother Mike Criston watched the documentary and shared their feelings. Both hope that more people will learn the truth about the persecution.
Professor Leslie Criston, who teaches English at the English Language Institute, has many Chinese students in her classes. She said, "It's a very moving film. It's so sad, but also encouraging at the same time."
Mike Criston, an artist, said, "It's heartbreaking to see such a dark and cruel persecution. But there is an upbeat voice in it. Truth has power!
"A man sent a letter requesting help and a woman helped him, and in the end, we have the film tonight. They are very courageous. They risked their lives. This is helping the entire world, helping everyone, so they have power. No words can express my gratitude."
Leslie added, "They are so brave. They are heroes. They not only survived the persecution, but, more importantly, they are persistent. They didn't give up their faith. I used to believe that I had strong faith in my religion, but I could not [persist] in [such a] situation. I wish I could. This story is so heartfelt."
Mike added, "Persecution won't change a person's heart. It only becomes stronger. If you continue your efforts, you will succeed. Like Gandhi said, 'There have been tyrants and murderers, and for a time, they seemed invincible. But in the end, they always fall.' Always! History is always like this."
Mike began to look for inner energy to heal an injury a few years ago. The search opened his eyes: "Meditation is powerful. Everyone who has meditated knows that. Dictators never last long. So we must continue to fight them, do whatever we can. I plan to call my congressman and my senators and ask them to support the resolutions about Falun Gong. Every bit helps. This film is very powerful."
Leslie said she would share the facts with the teachers and students she works and associates with.
(Clearwisdom)