Falun Gong practitioners were invited to participate in the Lunar New Year Festival held in Hurstville, Australia, on February 2, 2019. The suburb, a thirty minute drive from the Sydney CBD, is home to the largest Chinese community in Australia. More than half of the 30,000-strong population are Chinese.
Nine practitioners demonstrated the five sets of Falun Gong exercises on stage at the event, while a practitioner explained the exercises in English. The audience gave warm applause after the demonstration, and many people expressed interest in learning Falun Gong.
Four practitioners then sang two songs in Chinese that were written by Falun Gong practitioners, Coming for You and Welcoming the New Year. Many local Chinese people were impressed that the two Western practitioners sang in Chinese. The performance was met with warm applause, and many people took photographs.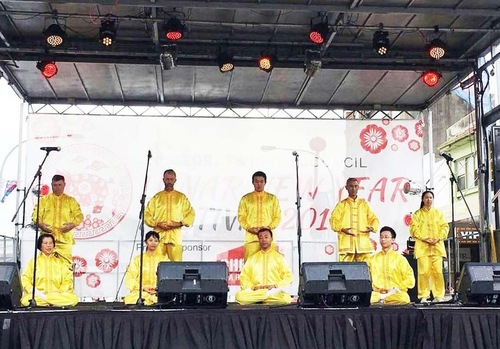 Local Chinese: You Must Come Every Year
A Chinese audience member named Nana said that she had heard of Falun Gong a long time ago. "Falun Gong teaches Truthfulness-Compassion-Forbearance. I am against the Chinese Communist Party's persecution of Falun Gong."
She said she had never seen the Falun Gong exercises for herself, and today was her first time meeting Falun Gong practitioners. She asked, "How can these exercises be so harmful that the CCP persecutes practitioners?"
"Your performances are healthy and graceful. You must come every year from now on," she said.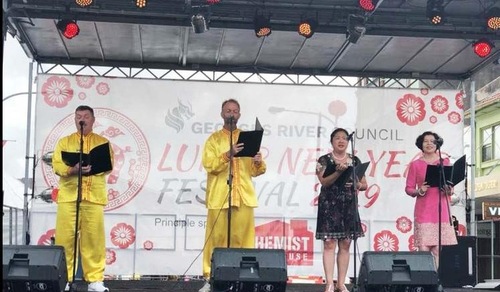 Local People Wish to Learn Falun Gong
Falun Gong practitioners demonstrated the exercises at their booth, and offered free exercise instruction, as well as paper lotus flower folding. Many people came to the booth to learn.
Amira Andreadis brought her children and mother-in-law over to learn how to fold paper lotus flowers and do the Falun Gong exercises.
She said, "The practice has strong energy and is peaceful. I must learn it." She left her contact information with the practitioners.
Her mother-in-law held a practitioner's hand and said, "You all are so beautiful! I feel strong energy. I like this very much. If there is a teaching session, please contact me. I must join it."
A Chinese couple watched the exercise demonstration and said to a practitioner, "We have been to several countries and know that Falun Gong is good. It is not like those reports in China."
The practitioner asked them if they knew why the CCP censors information. The husband replied, "It fears that people will learn about its crimes. It has done too many bad deeds."
They told the practitioner that they were in Australia visiting their child. They asked whether they could learn Falun Gong that day and then practice at home themselves after returning to China. They asked for the time and place of the local group practice site in Hurstville.
Falun Gong practitioner Nicholas Earle was teaching members of the public to fold paper lotus flowers. He said that many people had asked him about the persecution in China while learning how to fold the flowers.
A young man from Nepal wished to learn Falun Gong and said he had heard of the practice a long time ago. He left his contact information to sign up for the next free instruction session.