Falun Gong practitioners joined several events between December 10 and 13, during Human Rights Week in Loja, a city in southern Ecuador. Highlights of these events included a practitioner being interviewed by a television news reporter, hundreds of people attending documentary screenings and learning the exercises during large-scale exercise demonstration sessions.
During the human rights events organised by professors and students from Universidad Internacional del Ecuador (UIDE), practitioners distributed flyers about Falun Gong and explained the mistreatment practitioners suffer in China for their beliefs to passersby. They also collected signatures calling for an end to the suppression in China.
In the evening, a practitioner was interviewed by a television reporter in Loja. After explaining what Falun Gong is and describing how practitioners are persecuted in China, he was invited to the television station to watch a preview of the news segment. The practitioner was then able to talk with more of the station's staff members about Falun Gong.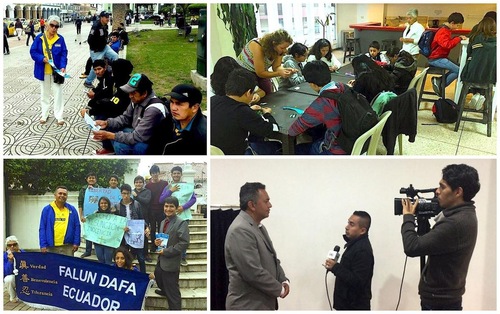 Between December 10 and 12, the documentary Free China: The Courage to Believe screened for audiences in several theatres in Loja, including theaters inside Eugenio Espejo Private School, Liceo de Loja, and Iberoamerican College, and Unidad Educativa Antonio Peña Celi.
Follow-up forums and discussion panels gave audience members additional opportunities to learn about the situation in China. Startled by the severe human rights violations against Falun Gong practitioners in China, more than 100 professors and students discussed their concerns.
Like the other schools that hosted screenings of the documentary, the professors and students at the UIDE Law School learned the five sets of exercises and discussed their understandings. Some students said they could feel strong energy on their hands while doing the exercises and wanted to learn more about Falun Gong.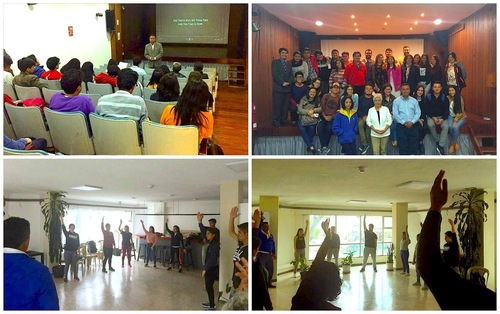 Practitioners also showed the professors and students how to make paper lotus flowers by hand on December 12. The professors and students were impressed by the beautiful flowers and interested to learn that in Chinese culture the lotus symbolizes purity in the face of adversity.
One practitioner said she was touched by the kindness and warm feedback from the community. She also hoped the suppression in China would end soon.
26 total views