Falun Dafa practitioners from Western Australia (WA) have participated in the region's Albany Agricultural Show for over a decade and continued that tradition in 2018.
On November 9 and 10, practitioners returned to the annual event to share the meditation practice with their community and inform Australians of the persecution taking place in China today.
According to Karen, a practitioner from the region, many visitors to the fair stopped by the booth to learn about Falun Dafa and its benefits. They also expressed their support for the practitioners who are being persecuted for their faith under China's communist regime.
"What struck me most this year was how supportive people were," Karen said. "They know that the Chinese Communist Party (CCP) persecutes different religions and faiths, so they understand what's going on and are supportive of our efforts [to expose this]."
Susan, a local practitioner, also felt a need to share this information with her community. "I think it's my responsibility to inform people of what's happening in China. To me, letting people know about Falun Dafa will lead to a change in understanding in our society and support for ending this persecution of Falun Gong."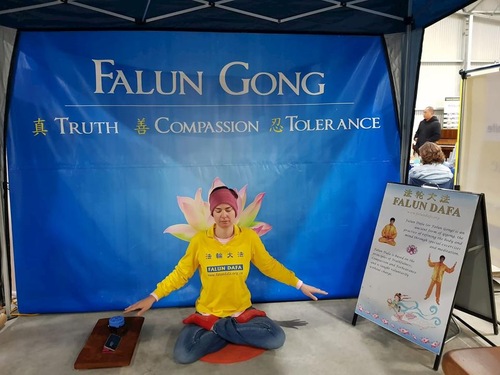 A Grassroots Approach
"Public opinion is powerful," Susan added. "This is why I will continue talking about the persecution with people I meet."
Susan emphasised her grassroots approach to speaking with those in the community. "Regardless of how far away the person lives, it's important they get this information. I feel public awareness of this issue has been increasing."
According to Susan, many visitors recognised her and the Falun Dafa booth from past shows, even recalling conversations with her from years before.
One person remembered seeing Susan seven years ago in another town. Another recalled seeing the Art of Zhen, Shan, Ren (Truthfulness, Compassion, Forbearance) International Art Exhibition with artwork by Falun Dafa practitioners while it was on display in Australia.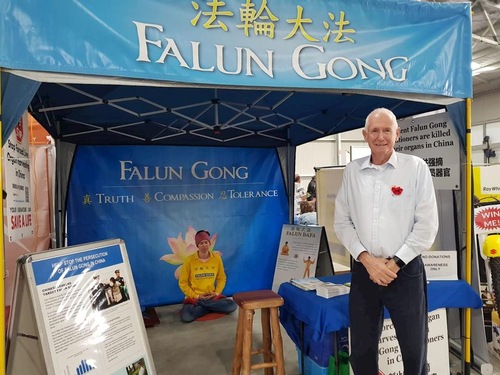 Friendly Locals
Susan said she received many thumbs-up and encouragement to "keep up the good work!"
Karen drove four and a half hours from her home to participate in the show. She said it was no trouble at all, as she enjoys the company of people in the region. "I like the down-to-earth, kind folks around this area. I want to inform them about the forced organ harvesting crimes in China."
Albany has a rich history. The port city, known for its natural environment and preservation of its heritage, is the oldest colonial settlement in Western Australia. Located in the Great Southern region of the country, agriculture and farming contribute significantly to its economy.
The 2018 Albany Agricultural Show is the 123rd hosting by the Albany Agricultural Society, founded in 1889.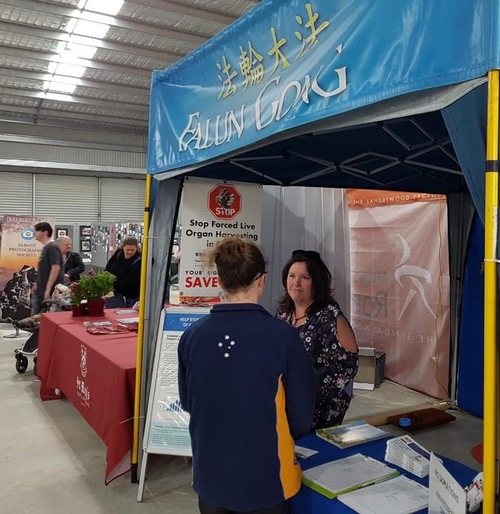 28 total views