Falun Gong practitioners in Sydney, Australia, joined the annual Double Bay Street Festival on Sunday, November 4, 2018.
An estimated 80,000 people attended the street festival in the upscale, harbor-side suburb of Double Bay this year. Falun Gong practitioners demonstrated the exercises, handed out introductory flyers, and told people about the Chinese Communist Party's (CCP) persecution of Falun Gong in China.
Despite the hustle and bustle around them, the practitioners were tranquil as they did the Falun Gong exercises on the warm spring day. Many people who wanted to learn the exercises left their contact information. Almost everyone who passed by the Falun Gong booth received a flyer.
Falun Gong practitioner Hellen Chen said, "Many people have shown great interest after hearing that Falun Gong is an ancient cultivation practice of mind and body. They asked about the closest group exercise location and left their contact information. Some asked if the CCP was still persecuting Falun Gong. I told them, 'Yes, it has been 19 years.' They were surprised and hoped the persecution would end soon."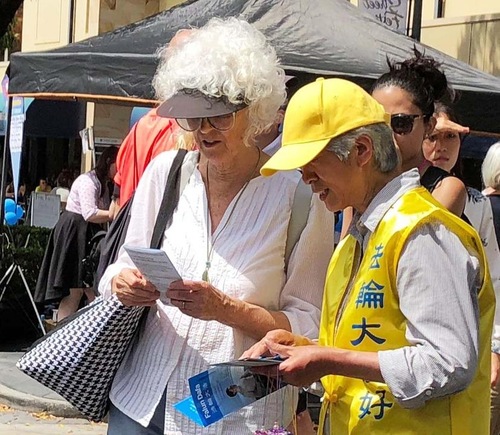 A Ms. Norman said to a practitioner. "I really appreciate your coming here and showing us this beautiful and peaceful meditation practice. I feel fortunate to witness your beautiful demonstration and hard work. I'm sure the community will treasure it, because they have great respect for human rights and values around the world. They are as concerned as I am about China's violation of human rights."
Practitioner Mr. David Lu, a computer engineer, said he was happy to see that people in the Double Bay community respected practitioners' efforts and were concerned about the persecution in China. "They stopped to watch us do the exercises and took our introductory flyers," he said. "They paid close attention when we explained the situation in China. Many people left their contact information because they want to learn the Falun Gong exercises."
Mr. Lu said one man he spoke with had seen Falun Gong practitioners' activities in Washington, D.C., but had not understood what they were protesting.
"I told him that they were protesting for freedom of belief, because the CCP is persecuting Falun Gong. The core values of Falun Gong are Truthfulness-Compassion-Forbearance, which the CCP opposes. The Party rules with violence and lies. It persecutes other religions and beliefs besides Falun Gong. We seek to protect human rights and universal values for everyone. Even though the CCP seems to be powerful, it has lost the people's support and will soon collapse," Mr. Lu said.
11 total views