With the arrival of spring, and more tourists and local residents filling the streets of Warsaw, Falun Gong practitioners in Poland have been holding activities every Saturday and Sunday at Old Town Market Square and the Copernicus Monument.
They introduce Falun Gong with an exhibition in Chinese, Polish, and English languages, and collect signatures on a petition calling for an end to the persecution of Falun Gong by the Chinese Communist Party (CCP). Their tireless work has received great support.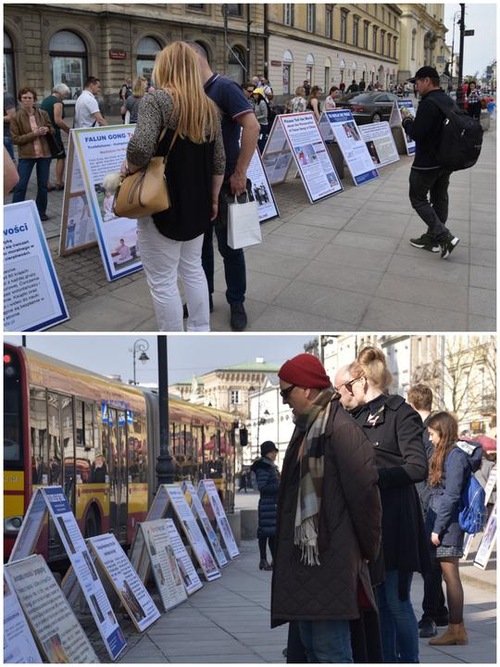 "Supporting You Is Supporting Justice"
A gentleman from India was alarmed to learn of the persecution of Falun Gong. While signing the petition, he told a practitioner, "I will go online and tell my friends to come sign the petition. The world needs justice, morality, and Truthfulness-Compassion-Forbearance. The Communist Party's violation of human rights is unacceptable! Organ harvesting shouldn't be allowed to exist in the world!"
A gentleman from Korea read the Falun Gong exhibition display carefully. He told a practitioner in Chinese, "The Communist Party is so wicked! I would like to sign the petition to support you. I support Falun Gong!"
A tourist from Ukraine deeply sympathised with Falun Gong practitioners facing persecution. He said, "Millions of Ukrainians have also died as a result of communism!" He signed the petition with tears in his eyes.
Mr. Maszewski, a local resident, stopped to view the exhibition. He told a practitioner, "What you are doing is very important and very much needed. You should tell all people about this, especially all departments in Poland involved in organ transplantation. Harvested organs shouldn't be allowed to enter Poland, nor should our citizens go to China for organ transplants. It's critical for all people to know about this crime. I never participate in any signature collections, but today is an exception. I will sign. All people of conscience should support you. Supporting you is supporting justice."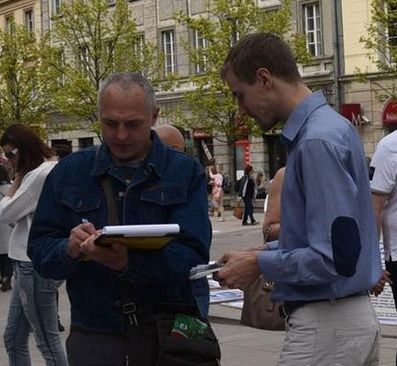 "Energy of Falun Gong Will Brighten the World!"
Mr. Latoszek, his wife, and their children were taking a walk when they saw the Falun Gong display. They asked for a brochure and watched the Falun Gong exercise demo. The couple signed the petition calling for an end to CCP's organ harvesting.
Mr. Latoszek said he was outraged that such an uplifting practice has been severely persecuted in China. They told a practitioner, "We support you. The persecutors will be punished. The energy of Falun Gong will brighten the world."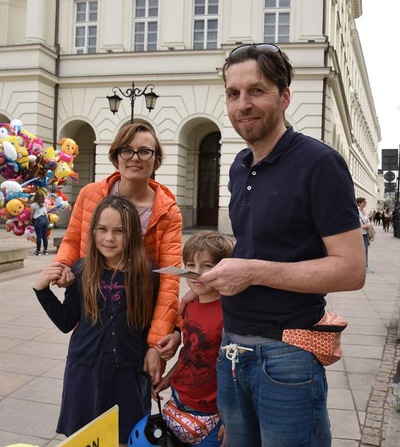 Elderly Couple Condemns Communism
Mr. and Mrs. Jażnicki stopped to listen to a Falun Gong practitioner's conversation. Upon learning more, they went to sign the petition at the booth.
Mr. Jażnicki told the practitioner, "I'm almost 80. I experienced the war in Poland and saw what Hitler did. When the war was finally over, I thought we would have peace, but red Fascists replaced black Fascists. It was the Russian Bolsheviks' communism. What is communism? It's demonism! It's worse than Fascism. I have indeed seen and heard so many things in my life. I feel fortunate that communist power has collapsed in Poland. Now I see a new crime of communism: organ harvesting from living people!"
Mr. Jażnicki added, "Though I don't know much about Falun Gong, I know that what demons attack must be angels, must be good people. We pray for you and hope the Chinese will live their lives without communism one day. I hope the world will be completely free of wicked communism!"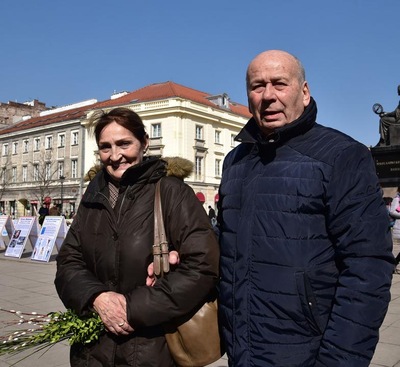 Chinese Tourists Seek to Know the Truth Behind the Persecution
Mr. Zhang from China viewed the Falun Gong exhibition and asked a practitioner many questions. He said, "I have heard a lot about it, but the thing is that I feel that China is in pretty good shape now. How am I wrong?"
The practitioner told him, "Take a look at the morality in China today. How can a nation lacking morality and the ability to tell right from wrong have a future? How long can the superficial prosperity last? The worst crime of the Communist Party is that it has wiped out Chinese people's belief in divine beings. The persecution of Falun Gong clearly shows the Party's fear of belief. How can people feel safe living in a country that doesn't believe in anything except money? Isn't it alarming?"
Mr. Zhang kept nodding. He said, "Learning more about the true situation is the only way to be clear-minded. Many standards of right and wrong are confusing. I really need to think more about it." He said he would learn more about quitting communist organisations online.
A Chinese man named Gao approached Falun Gong practitioners with a smile. He said, "I have seen you in front of the Chinese Embassy. I have said so before, 'As soon as the Internet blockade in China is gone, no need for Facebook or Twitter, YouTube alone can make the CCP collapse.' The CCP is nothing in front of the facts. The Chinese people have been deceived for so long! Even though I can't do anything to the CCP, I have learned what's right and wrong. I can make a choice for myself, which is to stay away from the wicked Party!'