Falun Dafa (also called Falun Gong) practitioners from Melbourne participated in the annual Easter Gala Parade in Bendigo on April 1, 2018.
Close to 10,000 spectators watched the grand parade, which included dozens of participating groups, and highly praised the Falun Dafa procession, especially the powerful music played by the Tian Guo Marching Band.
Mayor Margaret O'Rourke visited the Falun Gong practitioners and thanked them for promoting traditional Chinese culture. After learning about the Falun Dafa principles of Truthfulness-Compassion-Forbearance, she praised them as great values.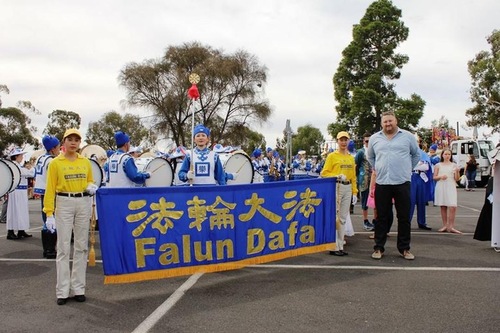 Led by the Tian Guo Marching Band, the Falun Gong procession was the largest group in the parade. The band played both Chinese and Western music. Spectators applauded warmly for the performance.
Following the band was a model of the book Zhuan Falun authored by the founder of Falun Gong. A team of practitioners demonstrated the Falun Gong exercises behind the book model.
The procession also included two decorated floats, a team dressed in traditional Chinese costumes, a fan dance troupe, and a waist drum troupe. Their bright colors and aspiring energy were admired by the spectators and won high praise from the parade organizers.
Mr. Raph Beh (right), the Greater Bendigo parade manager, said they were fascinated by the Falun Dafa group because they looked gorgeous, and the band, floats, waist drums, and costumes were all wonderful.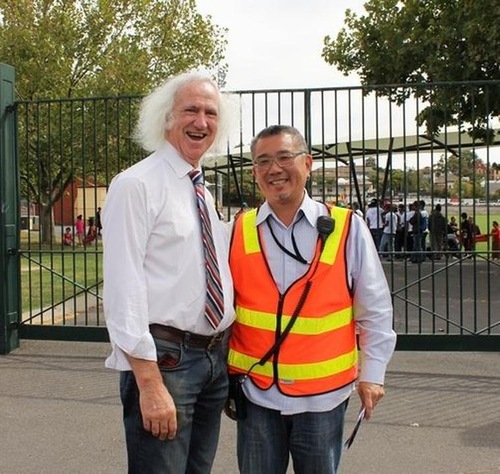 Mr. Beh has been involved in organizing the parade since 1987. He is the coordinating official for cultural events in Bendigo. He said that Falun Dafa was an important cultural group because they spread information of peace. He said he could feel their positive energy, which was needed at the Easter parade, and that was why they were invited every year.
Mr. Andrew Reid, Bendigo's 2018 Citizen of the Year, was very impressed with the Tian Guo Marching Band. He said the performance was beautiful and exciting. "Truthfulness, Compassion and Forbearance are universal values. They are spreading wonderful information! That's great!"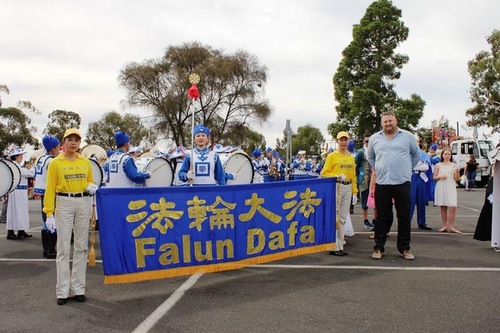 Mr. and Mrs. Murray and their group of 24 people came from Adelaide to watch the parade. Mr. Murray said that the Falun Dafa group was very unique, their marching band was attractive, and the fan dance was beautiful. After hearing about the principles of Truthfulness-Compassion-Forbearance, he said, "I like these values. They bring us peace."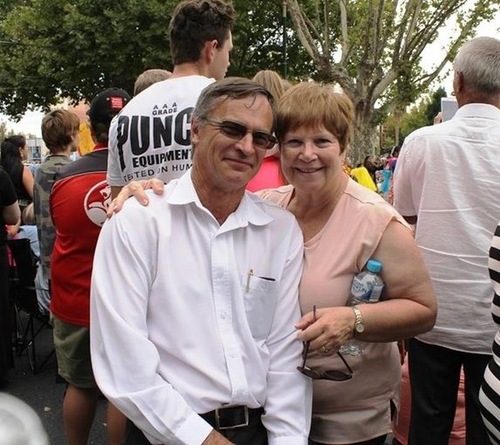 Ms. Chen, a Bendigo resident originally from Taiwan, enjoyed the beautiful fan dance and exercise demonstration. She had heard about the persecution of Falun Gong in China, and was saddened by violence against innocent people.
She was happy to see Falun Gong practitioners enjoying the freedom of spreading the information of Truthfulness-Compassion-Forbearance in Australia. "I think it's great! The Falun Gong group is very energetic. Many Australians are also part of their procession. I'm impressed."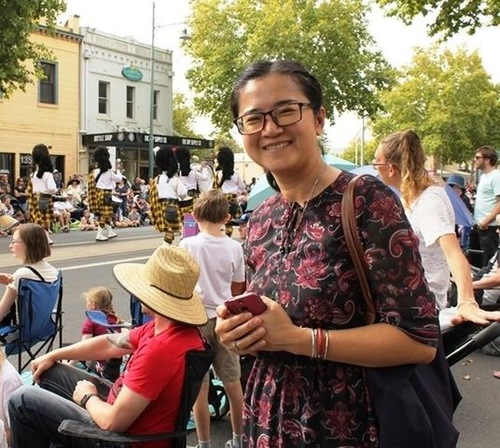 Li Yi (nickname) came from mainland China. He was amazed by the Falun Gong group in the parade. He said, "Falun Gong has such a large group! Australia has freedom. People respect each other. It's great that Falun Gong spreads the values of Truthfulness-Compassion-Forbearance to the world, and promotes traditional Chinese culture!"
Ms. Laura Melhuish, a local resident, expressed admiration for the Falun Gong practitioners for spreading great values. She said, "I truly felt their positive energy. I'm a Christian. I think Truthfulness-Compassion-Forbearance are very important qualities, especially in today's society, so it's significant to spread these ideas! It's amazing!"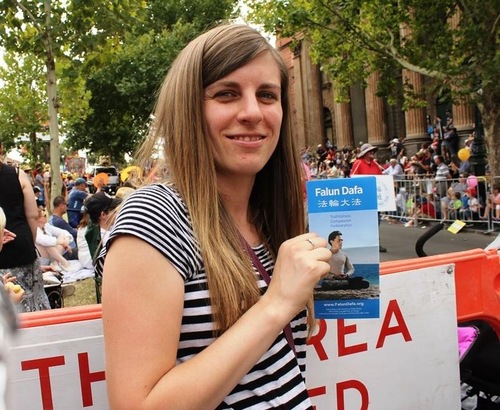 22 total views