A street fair took place in Adelaide on February 17, 2018, the day after Chinese New Year, to celebrate this major Chinese holiday.
Falun Dafa practitioners set up a booth at the entrance to Chinatown to welcome passersby and to introduce this peaceful practice for cultivating the mind, body and spirit.
Many people were happy to hear about Falun Dafa and were surprised to learn about the ongoing suppression of the practice in China.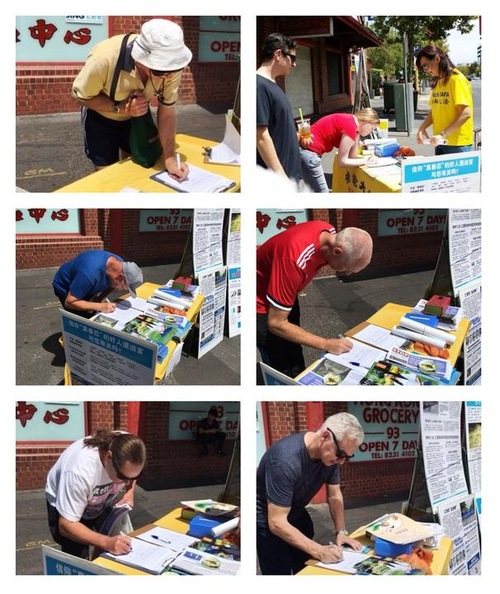 Something Important to All of Us
Helen Manos, a retired teacher, greeted the practitioners. She said that the persecution, especially the Chinese regime's forced organ harvesting of living practitioners, is against human rights and should be addressed.
Since hearing about the atrocities in China several years ago from human rights organisations, she has become actively involved, contacting Members of Parliament and the foreign minister about helping stop the persecution.
Helen said that the principles of Truthfulness-Compassion-Forbearance are something we should all cherish. "Western Society cannot ignore the suppression [in China]. The Australian government needs to do its part too," she added.
Preserving Traditional Values
Lyndon Grimmer is also a retired teacher. Having heard about Falun Dafa some 10 years ago, he is impressed by practitioners' consistent efforts to raise awareness of this urgent matter.
He believes that, under the rule of the communist party, many people in China have compromised their moral principles. But he has been impressed with Falun Dafa practitioners' efforts to uphold traditional values.
"I hope that more Australians could learn Falun Dafa," he added, pointing to practitioners sitting in meditation. "These exercises are not difficult to do. One may gain some new perspectives from the practice."
Chris Mulhears, owner of a clothing company, agreed. He has paid attention to Falun Dafa since the Chinese Communist Party banned the group in 1999. "Falun Dafa and other groups are severely persecuted in China," he said. "There should be more support from the international community.
For example, the Australian government could pass resolutions to condemn the brutality."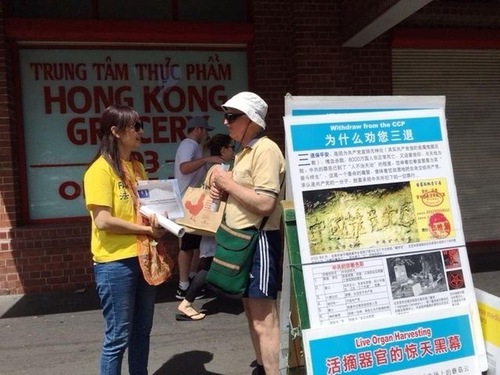 Spreading the Word
Chef Brian Burchell heard about Falun Dafa and the human rights violations in China for the first time. He was shocked by the state-sanctioned forced organ harvesting that is taking place in there. "This is horrible! It's even worse than what the Nazis did several decades ago," he commented.
Brian would like to see more reports on the matter in the news media. "At least I will tell my coworkers and friends about this. We cannot let something like this continue," he said. "If people are not allowed to practice Truthfulness-Compassion-Forbearance, this world would be over."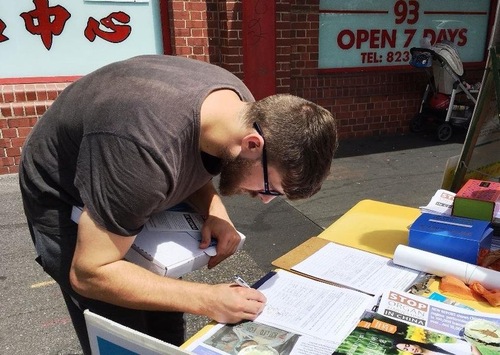 A Chinese student named Chi was glad to see the practitioners. Back in China, his mother and several aunts practice Falun Dafa. "I saw similar materials in their homes too. Glad to see Falun Dafa in so many different countries," he smiled.
Like many other Chinese, both Chi and his wife have agreed to renounce their membership in the communist party's organisations, after they learned of the bad deeds committed by the regime. Nineteen Chinese residents and tourists also decided to renounce their Party membership that day.