Falun Gong practitioners in Queensland, Australia, participated in the 12th Toowoomba Languages and Cultures Festival on August 20, 2017. This popular multi-cultural festival attracts 70 to 80,000 people every year.
Falun Gong practitioners have been invited to share their traditional Chinese cultivation practice at this festival since its inauguration in 2006. They explained the benefits of Falun Gong and talked about the Chinese Communist Party's (CCP) persecution of its innocent practitioners.
Many at the festival expressed their adamant disapproval of the persecution, especially the CCP's state-sanctioned organ-harvesting from living Falun Gong practitioners. They signed a petition calling for its end and expressed their support for practitioners' peaceful appeals.
Practitioners were invited to demonstrate the Falun Gong exercises on stage. Their beautiful movements, introductory remarks, and soothing music won warm applause from the audience. A festival organiser told a practitioner, "It's great! I felt like I was being shaken by a powerful energy! Thank you so much!"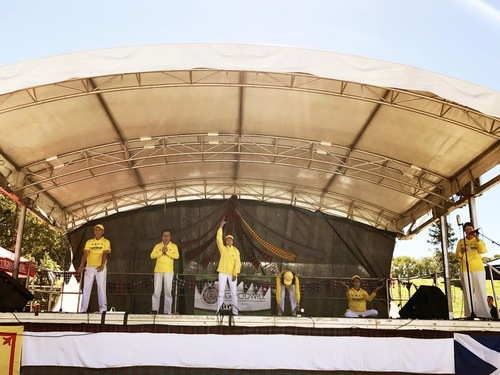 A couple of days before the festival, an organiser contacted Falun Gong practitioners, hoping they would be able to fill in for a canceled performance. Agreeing without hesitation, they presented Tang Dynasty and Qing Dynasty costumes and shared different aspects of traditional Chinese culture and history.
Mayor Paul Antonio, a great supporter of multiculturalism, thanked practitioners for their contribution to the success of the festival in person and had his picture taken with them.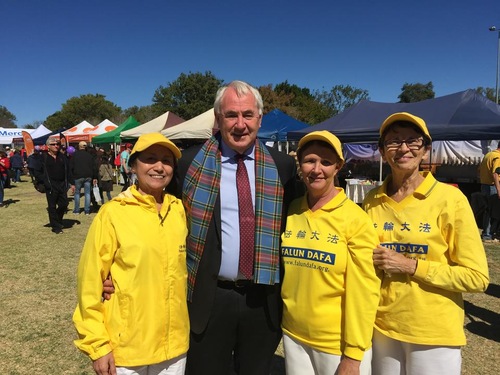 Many people were interested in learning Falun Gong. A lady from a little town 40 kilometers away told a practitioner, "I heard about Falun Gong a long time ago but haven't had a chance to learn it. I'm so happy to see you here today! I would like to find a group of people who are interested and invite you to our town." The practitioner agreed to go teach them Falun Gong. She said, "Thank you! I'm so lucky today!"