Nearly 1,000 Falun Gong practitioners held a rally and a candlelight vigil in front of the Chinese consulate in New York on Sunday, marking their 18th year of peaceful resistance against the persecution of Falun Gong by the communist regime in China.
Several survivors of the persecution told attendees about their own experiences of being tortured in China for practicing Falun Gong. The supporters commemorated those who lost their lives in the persecution, which began on July 20, 1999.
At the rally, the spokesman of the Falun Dafa Information Center, Zhang Erping, briefly reviewed the facts of the persecution, in which more than 4,000 practitioners have been killed as a result of torture and numerous practitioners have lost their homes and jobs.
"However, on the same day that the persecution started," Mr. Zhang said, "Falun Gong practitioners also started the peaceful resistance. Due to their tireless efforts, more and more people in the world have learned what Falun Gong really is and how brutal the persecution is. Many governments have passed resolutions condemning this crime, calling for investigations into it, and helping to end it."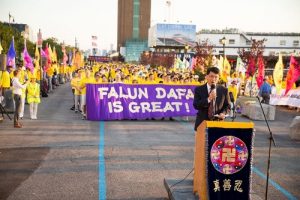 The chair of the World Organization to Investigate the Persecution of Falun Gong, Wang Zhiyuan, told the audience that his organisation has documented the crimes committed against practitioners in the persecution, and warned that those who continue to carry out the persecution under the Chinese Communist Party (CCP) would be brought to justice.
Yi Rong, spokesperson of the Global Service Center of Quitting the Communist Party, announced that more than 278 million Chinese have quit the CCP.
(Clearwisdom)
63 total views