By an Australian Dafa disciples
On July 21, 2017 Gold Coast community leaders joined in remembering the brutal persecution Falun Dafa practitioners have endured in Mainland China for the past 18 years.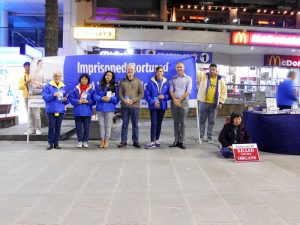 Australian Dafa practitioners held an information stall, displayed banners and collected petition signatures at the touristic Cavill Mall in Surfers Paradise.
Many people were quite moved by the banner's image of a young man peacefully meditating by the beach and the words "imprisoned, tortured and killed just for doing this".
Australian Labor Party Queensland election candidate Rowan Holzberger was pleased to join the activity, and acknowledged Falun Dafa's community service as a holistic practice of mind, body and spirit provided free-of- charge.
"Certainly from what I see meditation is a very healthy thing. Meditation and mindfulness is something I am fascinated by. There is something to be said for that quiet, introspection. I think there are a lot of things, which we in modern Western society miss because we are going so fast and perhaps, if we just slowed down a little bit and just took a bit of time to be quiet in our thoughts and be mindful of our actions and what we are doing at the, you could get a lot more out of it. It is very easy to let those negative thoughts give us energy but it is actually those positive thoughts that give us that really good energy that keeps us going," he said.
Mr Holzberger expressed concern about the ongoing persecution and more recent allegations of organ harvesting, and extended his support for more open debate about human rights issues happening in Mainland China.
"International trade of pillaged human organs is disgusting. While we have a vitally important relationship with the Chinese Government, we never miss a chance to talk about human rights. Anyone who is afraid of bringing-up human rights issues must be afraid because they think it will affect their business or their relationship with China; we have a fantastic relationship with China that only grown over the years despite the fact we have continued to talk in private and in public about human rights," he said.
Michael Kaff, who last year ran as an independent candidate for the Australian Senate and will run again in 2019, felt obliged to attend the activity because he feels strongly about Falun Dafa. He commended the practice on bringing much needed serenity and balance to the local community.
"With the stress and strain that people go through in their daily, professional and family lives, anything that helps them be at one with themselves, relaxed and balanced is very welcome. Falun Dafa is very much needed in society; it can only do good and help people," he said. "How can the Chinese Communist Party possibly persecute loving practitioners like Falun
Gong? All they want and stand for is peace, harmony and bringing balance to the planet and God knows we need that. So we must support them; we must protect them and we must protest on their behalf and speak out for the voices that are not being heard and ensure that the governments around the world – that are not doing anything about it – stand up and stop this disgraceful oppression and victimisation once and for all."
Mr Kaff said the persecution had continued for too long and called for greater international intervention.
"Eighteen years is 18 years too long. I think we need to take a stronger stand and look at people over profits. If we do take a stand and make a difference, hopefully others will also stand up and feel empowered to make a statement. That will help make the world a better place and we will live in more harmony and with greater tolerance, acceptance and respect," he said.
Mr Kaff encouraged all to learn more about Falun Dafa by visiting the official website, writing letters to local MPs to express your disgust regarding the ongoing persecution in China and ask the government to take swift and tough action to help stop the persecution.
Mr Kaff has published his views on many issues, including the persecution of Falun Dafa, on his Facebook page entitled "Michael Kaff for the Senate" and his website