Several events were recently held in major Canadian cities to commemorate the peaceful appeal by Falun Dafa practitioners in Beijing on April 25, 1999. After the Chinese government illegally arrested dozens of practitioners in Tianjin, over 10,000 practitioners voluntarily gathered in nearby Beijing to request their release.
Three months later, then-Communist Party leader Jiang Zemin started the nationwide campaign to suppress Falun Dafa practitioners.
The following reports were received from Vancouver, Edmonton, Ottawa, and Montreal.
Vancouver
In downtown Vancouver, Canada, practitioners performed group exercises, and held a rally and candlelight vigil on April 22. Ms. Zheng, a witness of the appeal in 1999, recalled why she and others participated in the 1999 event.
"Most of us had practiced Falun Dafa for a number of years, and we benefited from it both physically and spiritually," she said, "We felt it was our responsibility to tell the government what Falun Dafa is, not just for us, but also for society in general."
That is why they went to the Beijing Appeals Office. "We would like to tell officers that Falun Dafa practitioners follow the principles of Truthfulness-Compassion-Forbearance, and we hold them close to our hearts."
Despite rain, many passersby talked with practitioners and signed petitions to show their support.
Arman joined the candlelight vigil along with his wife and son. He said, "I have heard about the persecution in China for several years now. And I am glad to help today, because this is important for me and my family."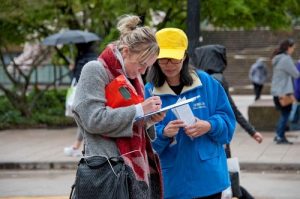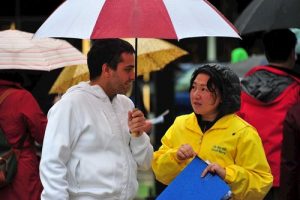 Edmonton
Practitioners gathered at Dr. Wilbert McIntyre Park in Edmonton on April 22 to commemorate the April 25 event in Beijing in 1999. Ms. Jiang Hong, from Chongqing, China, recalled how her father Jiang Xiqing was detained and tortured for practicing Falun Dafa. "Medical records showed that three of his ribs were broken during a beating on January 28, 2009. While his body was still warm, officials forcibly sent him for cremation. My family strongly requested emergency rescue, but they were denied," recalled Ms. Jiang in tears.
She added, "Police officers said they had documents showing that my father was dead, so they could do whatever they wanted."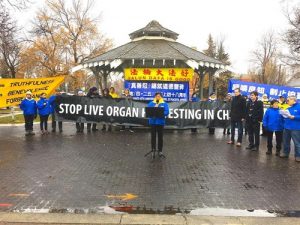 Two Members of the Parliament attended the event despite the rain. "It's an honor to be here to stand with [Falun Dafa practitioners] for Truthfulness, Compassion, and Forbearance, to stand in solidarity to commemorate the brave 10,000-plus men and women who [gathered] in Beijing on that fateful day of April 25, 1999," said Michael Cooper, MP, "It was a day when goodness truly triumphed."
Cooper told the crowd that he and other elected officials would continue pressing the Canadian government to help stop the persecution in China and promote "freedom, democracy, and human rights."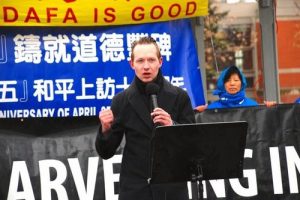 Garnett Genuis, MP, who recently introduced bill C-350 that bans organ trafficking, also spoke at the gathering. He said, "As China does its best to whitewash its international image, the persecution is escalating, it's getting worse, and it requires a strong response from those of us in the West and throughout the world committed to justice and human rights." Numerous evidence has shown that a large number of practitioners have become victims of forced organ harvesting in China.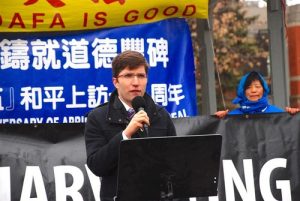 According to investigations by former Canadian secretary of state David Kilgour, Canadian human rights lawyer David Matas, and American investigative journalist Ethan Gutmann, up to 90,000 organ transplants take place in China on a yearly basis, with the majority of the involuntary donors being Falun Gong prisoners of conscience who are killed for their organs.
Montreal
A performance by the Tian Guo Marching Band drew a big crowd in Montreal's Chinatown. Both local residents and tourists alike were impressed by the music, and came up to learn about Falun Dafa.
"This is awesome!" said a Chinese tourist as he took pictures, "truly amazing!"
Tracy, who was a middle school student in Tianjin back then, said her parents went to Beijing at that time. "No one told them to do so. They knew Falun Dafa was good, and they did not want practitioners to be wronged. They did everything from their hearts."
Another practitioner, Ms. Yang, said what the overseas practitioners are doing is the same, "Master Li, founder of Falun Dafa, taught us to always follow the principles of Truthfulness, Compassion, and Forbearance. This does not change regardless how other people treat us."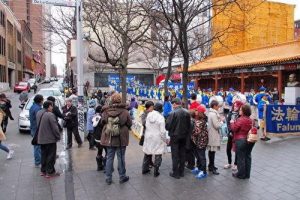 Ottawa
Practitioners held a rally in front of Ottawa's Chinese Embassy on April 22. Lu Hongyan said that from her family's experience, one can learn how the suppression has negatively affected tens of millions of families in China.

She said, "My mother Chen Huixia is 60 and she began practicing Falun Dafa in 1998. Within several months, her hepatitis, as well as uterine and stomach problems, were all gone. We were so happy for her because she became heather and happier than ever."
However, the peace did not last long since the suppression started one year later. Her mother was continually mistreated and harassed for her belief. Ms. Lu recalled, "In 2003, she was detained for three months. Then in June of last year she and another eight practitioners were illegally arrested again. "I was very worried, but we did not know where she was and how she was."
About one month later, she learned from other released practitioners that her mother had been sent to a brainwashing center. "The physical and mental mistreatment made her very weak, unable to stand or walk." Nonetheless, she was still detained. Even after her family hired an attorney for her, officials denied him access to her files.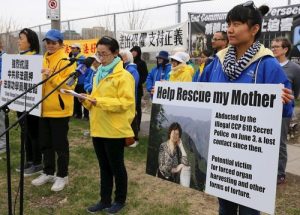 Lu said, "She is still in a detention center as of now."
Li Xun, president of the Canadian Falun Dafa Association, said the nationwide suppression in China is costly. He said, "It not only caused harm to practitioners and their families, but also undermined the social conscience that serves as a cornerstone of society."
"China has a long history of 5,000 years, and the glory is largely rooted in the traditional culture. When the principles of Truthfulness, Compassion, and Tolerance are under attack, each of us needs to think what it means, to us and our future."
Related articles in Chinese: