A rally calling for the release of 60-some Falun Gong practitioners arrested in March in China's Shaanxi province was held in front of the Chinese consulate in Sydney on April 20.
Sisters Liu Lin and Liu Li spoke at the rally and condemned the arrest of their mother Li Yuhua and sister Liu Chunxia who are among those rounded up in March in Shaanxi Province.
Liu Li said their 73-year old mother has been arrested and jailed five times in the last 18 years because she refuses to give up her belief in Falun Gong. Their sister Liu Chunxia was previously jailed for five years, losing her job as a result. She was arrested again with their mother.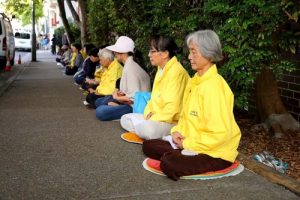 Liu Lin, an Australian citizen, entered the consulate with her sister to talk to officials, but they refused to answer questions or to accept their letter of appeal. An official pushed the women and told them, "Leave. Get out of here."
The Chinese consulate then closed its visa office and posted a notice that they had no choice but had to open the visa office for only one hour in the afternoon "since Falun Gong would 'attack' the consulate."
A passerby saw the announcement. She pointed at the practitioners peacefully meditating in front of the consulate and said, "They don't look like a group who is about to attack the consulate."
A senior citizen who was passing by asked the Falun Gong group what was going on. She sympathised with them and said, "It is totally reasonable to protest if your family was arrested for no reason."
After the protest, an Australian policewoman came to Liu Lin and comforted her.
"I hope your mother and sister will be released as soon as possible," she said. "You have done a great job."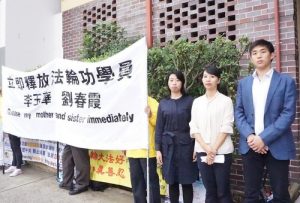 26 total views