In July 1999, former Chinese dictator Jiang Zemin ordered the persecution of Falun Gong, a spiritual discipline based on the principle of Truthfulness-Compassion-Forbearance.
In his desperate attempt to eradicate Falun Gong, he issued a series of secret orders: "Ruin their reputations, bankrupt them financially, and destroy them physically;" "Beating them to death counts as suicide;" and "Cremate them without verifying their identities."
Under such orders, the Chinese court system has been used as a rubber stamp that hands down predetermined prison sentences to practitioners, whose only "crime" is to refuse to renounce their faith.
While some judges argue they are simply "following orders," others actively carry out the persecution policies in an attempt to line their own pockets and advance their careers.
Regardless, we are saddened to see that many of them have met with misfortune over the years. Traditional Chinese culture holds that good is rewarded while evil is punished. As Falun Gong practitioners, we do not want to see these judges incur karmic retribution by blindly following the persecution policies that have no legal basis.
It is with a heavy heart that we compile this special report. We hope it will serve as a reminder to those still participating in the persecution of innocent people. We also hope to see Chinese judges uphold the law and defend practitioners' constitutional right to freedom of belief.
129 Reported Retribution Cases in 19 Regions
Minghui.org has reported 129 cases of Chinese judges receiving karmic retribution for their participation in the persecution. Some judges were prosecuted for corruption or economic crimes, while others committed suicide. Many more died of illness or injuries, and some are still plagued by serious health problems.
The affected judges are located in 17 provinces and two centrally controlled municipalities (Beijing and Shanghai).
Liaoning Province leads with 34 cases, followed by Heilongjiang and Sichuan (16 each) and Hebei (11). The other regions reported single-digit cases.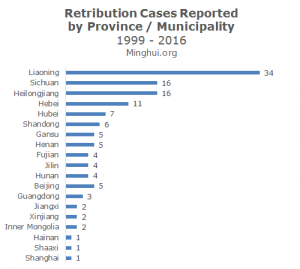 Fourth-Ranked Judge in China Sentenced to Life for Corruption
The past few years have seen China engaged in a large scale anti-corruption campaign known as "catching tigers," or high-ranking officials. Hundreds of "tigers," including high-ranking Communist Party and government officials, have since been investigated or prosecuted for graft.
What has rarely been mentioned in the mainstream media is that many of these fallen "tigers" have been, to varying degrees, involved in the 17-year persecution of Falun Gong. To maintain the momentum of the persecution, Jiang Zemin encouraged an environment of corruption as a way to entice officials' compliance. Many officials viewed persecuting practitioners as a viable career path, only to find themselves now caught in the anti-corruption campaign.
Xi Xiaoming is one such case. He served as Vice President of the Supreme People's Court and was the fourth-ranked judge in China between June 2004 and July 2015. He was abruptly removed from office in July 2015 and sentenced to life in prison in February 2017 for taking bribes worth 114 million yuan ($16.72 million USD).
More than 200,000 Falun Gong practitioners have filed criminal complaints against Jiang Zemin since May 2015. They mailed their complaints to the Supreme People's Court, but the highest court redirected most (if not all) complaints to their local police departments. As a result, many practitioners were arrested or even sentenced for trying to seek justice against Jiang.
The fall of Xi Xiaoming is no surprise, given the Court's active role in the persecution of Falun Gong. Some have predicted that it is a prelude to bringing the "ultimate tiger"–Jiang Zemin himself–to justice.
Please see Appendix 1 for a selection of cases of Chinese judges prosecuted, fired, or demoted.
Court Vice President Jumps to His Death
On the evening of January 9, 2013, Zhang Wanxiong, deputy president of the Liangzhou District Court in Wuwei City, Gansu Province, jumped from the sixth floor of a courthouse office building. His body was not discovered until the next morning.
Chinese Communist Party propaganda typically attributes suicides of Party officials to depression or mental illness. Zhang's case was no exception; the police reported that they found a note on him.
While the real reason for Zhang's suicide may never be known, some in China speculate that he may have received payback for sending to trial and sentencing many Falun Gong practitioners to prison.
First Judge to Imprison Falun Gong Practitioners Dies of Lung Cancer
Chen Yuanchao was a judge at the Haikou City Intermediate Court in Hainan Province. In November 1999, he sentenced four Falun Gong practitioners to between two and 12 years in prison, the first time practitioners had ever been sentenced for their faith.
Luo Gan, the former CCP General Secretary of the central Political and Legal Affairs Committee, issued Chen an award for passing the sentences. He also bestowed an award on Haikou Intermediate First Criminal Court.
To encourage judges in China to follow Chen's lead, Luo Gan touted Chen's "honorable" conduct. His story ran on government-controlled TV and was used by the CCP to promote their agenda.
Chen was diagnosed with lung cancer in March 2002 and died in September 2003 at the age of 52.
Please see Appendix 2 for other cases of deaths of Chinese judges.
All Judges Involved in the Same Case Developed Health Problems
Eleven Falun Gong practitioners were tried by Zhongshan Court in Dalian City, Liaoning Province in 2003. The first presiding judge was 35-year-old Liu Riqiang. As soon as he got involved in the case, he was diagnosed with cancer and had to have a kidney removed. He withdrew from the proceedings due to poor health.
His successor, Qu Huiyong, failed to appear in court on August 2, 2013, having been unexpectedly hospitalised due to heart disease. Instead of canceling the hearing, the court instructed Zhou Lixiang to fill in for Qu.
The defense lawyers protested the unanticipated change of presiding judge, but Zhou was ordered to proceed with the hearing.
Witnesses reported that Zhou behaved strangely during the proceedings, and her colleagues said she appeared absentminded in the days that followed. Not long after, she was hospitalised for unknown health problems.
Please see Appendix 3 for more cases of Chinese judges suffering from illnesses or injuries.
27 total views