Australian Falun Dafa practitioners have joined Chinese New Year festivities for the first time on the Gold Coast, Queensland.
The Lunar New Year Celebrations held on February 4, 2017 is the tourist city's biggest Chinese New Year celebration, attracting as many as 15,000 visitors.
Many people were drawn to the Dafa stall by the continuous exercise demonstrations, colourful photo displays and hand-made Oriental lotus flowers. Many children, youths and adults all commented on how beautiful the paper-folded origami lotus flowers were, and inspired they were to hear about the courage and conviction of Australian Dafa practitioner Jane Dai and her daughter, Fadu, whose man of the family was tortured to death during the Chinese Communist Party's (CCP's) ongoing persecution of Dafa in Mainland China.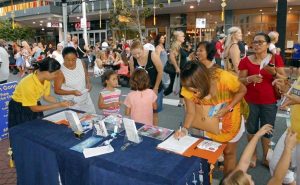 Some passerbys were very interested in where they could learn the exercises. A young couple had been keen to try some qigong exercise for a long time. The young lady said she was interested in naturopathy, and was very much a believer in improving xinxing (meaning mind or moral nature in Chinese). She was very excited about learning the exercises, and promised to attend the local Dafa practice site.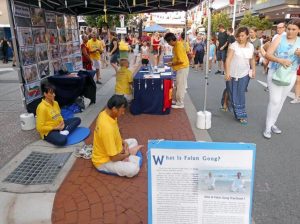 Hien briefly met with a Vietnamese-born practitioner and mentioned that he had already heard about Dafa back home in Sydney, saying he uses every opportunity to tell his Vietnamese relatives and friends about the CCP's vicious persecution in China. Hien took a photo with the practitioner to remember the occasion.
A group of five other Vietnamese people came to the Dafa stall, and enquired about where they could learn the Dafa exercises. They were interested to hear the exercises were taught voluntarily and free of charge, and even signed the petition to help stop the forced organ harvesting of Dafa practitioners in China.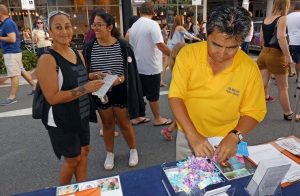 Another man called Len said he had heard about Dafa before, and sympathised with practitioners as he himself practiced a form of Native American meditation. He was interested in seeing the Journey of Falun Dafa photo exhibition, showing Falun Dafa's beginnings in the early 1990s as an official CCP-endorsed activity until the year 1999 when then-CCP leader Jiang Zemin reversed the policy and launched a large-scale persecution against Dafa practitioners in China. Len said he had not heard much about the organ harvesting of Dafa practitioners in China, but promised to read the information and consider signing the online petition that supports an end to the CCP's evil actions.
After the fireworks, many people took Falun Dafa fliers and considered making a Lunar New Year resolution to start living more according to the universal principles of truth, compassion and tolerance – which are closely observed in the practice of Dafa.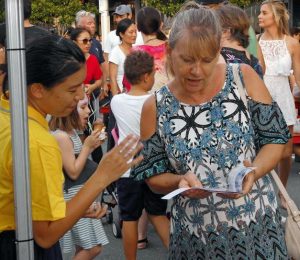 44 total views