Various local community events are held throughout the summer in the State of Missouri. These events attract many people who come to enjoy themselves, shop, and take in new experiences. Falun Gong practitioners participated in two popular events over the past weekend – the Strawberry Festival in Kimmswick and the Webster Arts Fair in Webster Groves. The gentle Falun Gong exercises drew the attention of many event-goers at both locations.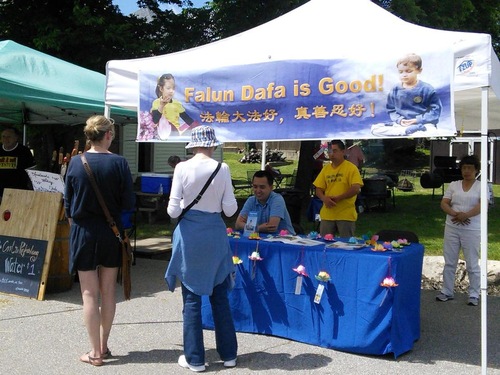 On June 4 and 5, practitioners participated in the Strawberry Festival in Kimmswick, a historic river town on Mississippi River. The festival is the second largest in Kimmswick, with people coming from miles away to enjoy strawberries and the various foods made of strawberries.
The Falun Gong booth drew the attention of many people, who stopped by to learn about the practice. People especially seemed to enjoy the colourful paper lotus flowers decorating the booth. The woman at the neighbouring booth was also interested in Falun Gong, and invited the practitioners to her home to teach the Falun Gong exercises.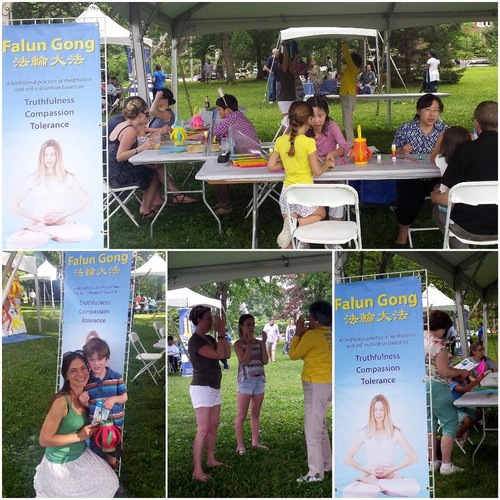 The Mayor of St. Peters, another Missouri town, came forward to greet the practitioners at the booth. He said to a practitioner, "You may not know me, but I remember you, as I often issue proclamations for you (Falun Gong)." He said he was happy to see the Falun Gong stand at the festival.
Missouri practitioners also participated in the Webster Arts Fair over the same weekend. The art fair is a very popular event in the St. Louis area and draws many residents with an interest in art and culture. This was the fifth year that Falun Gong practitioners have participated in this event.
The Falun Gong booth is always a popular stop for children and their parents. Practitioners introduced Falun Gong and taught children how to make folded paper lanterns. Many parents showed interest in Chinese culture and were very open to learning about the health and spiritual benefits of Falun Gong. Several said that they would go online to learn more. A number of people learned the exercises at the fair and remarked about how refreshed they felt afterwards.
(Clearwisdom)
52 total views