Hundreds of thousands attended the 30th Taste of Dallas in Fair Park over the first weekend of June. They were met with a rich experience of food, music, art and culture. Many were delighted to discover that Falun Gong was taking part in the festival.
One lady spent a long time at the Falun Gong booth watching the exercise demonstration. She said something indescribable was keeping her there, and that while she had been looking for something all her life, she didn't really know what it was, but felt that she had finally found it today. She took a Falun Gong flyer and looked forward to learning more.
Another lady was very excited to find Falun Gong. She took pictures of the Falun Gong booth and wanted to share them with her friends. She said she needed a practice like Falun Gong, which could make people calm and compassionate. She felt it was exactly what she had been looking for.
People at nearby booths also came to find out more, especially about the persecution in China and where they could learn Falun Gong. A lady named Sarah was upset to hear the Chinese Communist Party (CCP) harvests organs from unwilling living donors. She signed a petition in protest. She also told others who visited her booth to sign the petition at the Falun Gong booth.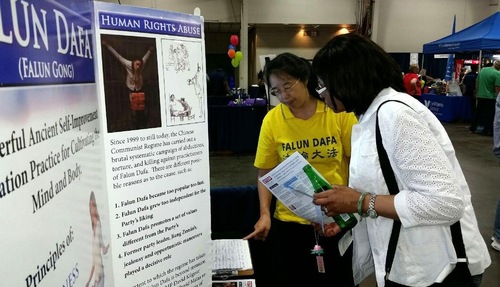 A lady working at a vision correction booth became interested in learning Falun Gong. She treasured the pretty paper lotus flower that she was given.
Jill, a certified physical therapist, came straight to the Falun Gong booth and signed the petition. She had heard about the organ harvesting atrocities before, and was happy she could do something today to help.
(Clearwisdom)