Shen Yun Performing Arts began its Asia-Pacific tour on January 30, 2016, and has since performed over thirty shows in eight cities across Australia and New Zealand. Many theatregoers walked away feeling touched and uplifted by the positive spirituality presented in the performance.
"I was moved by the charm, delicacy, soft colours…," said artist David Saunders. "It was beautiful."
Mr. Saunders thought the backdrop scenes were "brilliant" and he said they "brought the images out of the heavens all the time, and down on to the earth to show the people on the earth how to behave, and how to live."
A Gift "Wrapped up from Heaven"
"I felt a kind of unity, almost a global unity," said music teacher Gwen Woodruff, who attended the performance in Perth with her three daughters.
Teacher and musician Linda Eppinger said, "It's touched my life, and changed my life in a way that I will never forget." She said she received a gift "wrapped up from heaven, that came off the stage, through the audience."
Ms. Eppinger added, "I believe the people in that show were under the direct influence of God. The heavenly kingdom of God is where it is coming from, spreading that hope of goodness and light."
Ms. Eppinger's sister Regina Crothers, the principal of a primary school, shared her feelings by saying, "I loved it all… It was about divine will and mercy."
The other sister, high school teacher Pauline Doherty, called Shen Yun "amazing" and "lovely."
She said, "I very much believe in angels, but here I see them on the stage. I feel hope for the world, renewed in myself."
"Sublime" and "Incredible"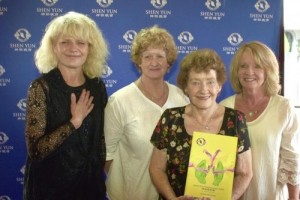 Travel consultant John Neville exclaimed, "They generate a great energy, peace, vitality, enthusiasm, and a spiritual self. It's incredible!"
Mr. Neville was especially touched by the erhu solo performance, which he thought was "gorgeous" and "sublime."
"It's like you're into another space… It cuts into your soul," he said. He said he thought Shen Yun's music possessed "one of the greatest healing powers."
He left Shen Yun "realizing anything's possible." He shared, "If you don't have hope for the future you might as well forget it. You have to believe in hope."
"You leave and you think, life is just wonderful," he added.
"Authentic Love of Dance and Music"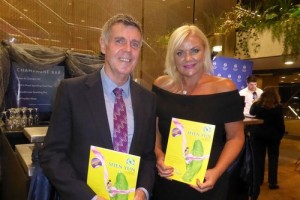 Marishka Cross, senior proposal coach for PricewaterhouseCoopers, said, "There is such elegance, and grace and precision, in all of it, and you can just tell that there's the authentic love of dance and music."
"Cleansing and cathartic… it's a very positive experience. I loved it," she added.
"Grace" and "Unconditional Love"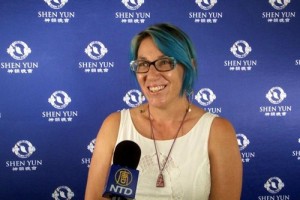 "I felt the presence of the Lord in that house [State Theatre]… It was beautiful," said Christine Fitzsimmons, who attended the performance with her friend Particia Ngai.
Ms. Fitzsimmons called Shen Yun "indescribable" and "amazing." She said she saw "beauty, grace, and… unconditional love that seemed to flow."
Ms. Ngai appreciated the company's effort in reviving traditional Chinese culture, "It really gives a history, the more authentic many, many years of history. We don't always see that."
Shen Yun's last stop in Australia is the Sydney Lyric Theatre in Sydney on March 8-13, 2016. For more information on tickets and dates, please visit shenyun.com.
(Clearwisdom)
6 total views