In early August, Canberra practitioners held a 4-day "Truthfulness-Compassion-Tolerance"
art exhibition at a bustling shopping centre in Queanbeyan to clarify the truth
to local residents. The city is located on the border between New South Wales
and Canberra. After the practitioners clarified the purpose of the exhibition,
the shopping centre administration, the shopping centre offered the exhibition
site for free.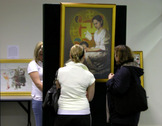 The exhibition site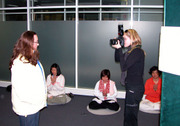 A reporter taking
a photo at the exhibition
Taking this opportunity,
practitioners told the public about the recently exposed atrocities of organ harvesting
in China. After chatting with the practitioners, many visitors expressed their
sincere support and goodwill. Quite a few people studied the paintings and the
printed explanations attentively and then asked for more details. Some who were
touched by the practitioners' persistent and selfless efforts to end the persecution
wanted to donate money to help. (The practitioners politely declined offers of
financial help.) There were also people who volunteered to distribute truth clarification
materials and write to government officials and elected representatives.
The
Queanbeyan Age newspaper dispatched a photographer to the exhibition site. Perhaps
due to her busy schedule, the photographer only took a few photos and then left
in a hurry. One day later, she called the organiser to ask several questions about
the exhibition. The organiser then told her the background of the exhibition and
the facts about Falun Gong. The photographer listened to the long introduction
with great interest. She was very regretful that she didn't have time to appreciate
the artworks more and asked the organiser to let her know when the next exhibition
was coming up.
Posting date: 10/Aug/2006
Original article date: 8/Aug/2006
Category:
Australian News
21 total views