(Minghui.org) The Ottawa Dragon Boat Foundation issued a statement on its website on November 13, 2023 to apologise for asking Mr. Gerry Smith to remove his shirt with the words, "Falun Dafa is Good" in 2019.
The statement reads, "The Festival has a policy of equity, inclusion and diversity and welcomes all attendees from every race, religion, ethnicity and creed. All people, including Falun Gong practitioners, are welcome to the Festival."
Artist Kathy Gillis was one of the witnesses to the incident. "I'm glad they came to this resolution," she said.
"People need to realise that it's much bigger than taking off the shirt. This is a political act," she said.
The City of Ottawa also issued a statement on November 8 in which it acknowledged Falun Dafa (also known as Falun Gong) as a belief and said that event organisers can't engage in discrimination.
The city's statement pointed out that a licensee or a person employed by a licensee or an agent of a licensee shall not discriminate against any member of the public on the basis of race, ancestry or place of residence, origin, colour, national origin, citizenship, creed (including Falun Gong practitioners), gender, sexual orientation, age, marital status, family status or disability, as set out in Section 17(2) of Bylaw No. 2013-232.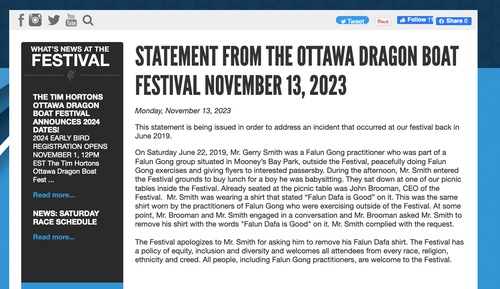 Background
Four years ago, on June 22, 2019, Falun Dafa practitioner Gerry Smith peacefully practiced the exercises outside the Dragon Boat Festival venue in Mooney's Bay Park and distributed leaflets to passers-by who were interested.
That afternoon, Mr. Smith entered the festival grounds to buy lunch for a boy he was looking after. They sat at a picnic table in the festival area. At that time, Mr. Smith was wearing a yellow T-shirt with the words "Falun Dafa, Truthfulness, Compassion, and Tolerance" printed on it. John Brooman, the CEO of the festival who was sitting at the same table, asked Smith to remove the shirt. Mr. Smith told Mr. Brooman about Falun Dafa, but Brooman insisted that he take off his T-shirt. Mr. Smith then agreed to his demand.
It was reported that Brooman previously said the Chinese Embassy was a festival sponsor and that he did not want to see any clothing with the words "Falun Dafa" printed on them anywhere in the park. He added that he wanted Smith to ask practitioners who were practicing outside the festival area to leave.
After the incident, Smith made repeated attempts to get Brooman to apologise, but to no avail, so he filed a complaint with the Human Rights Tribunal of Ontario.
Every year around the time the Chinese Dragon Boat Festival is celebrated, Ottawa holds a dragon boat race and festival. In 2019, the Chinese Embassy released an online message to celebrate the Ottawa Dragon Boat Festival. According to the embassy, on the evening of June 21, 2019, Zhao Haisheng, Counselor of the Department of Culture of the Chinese Embassy, delivered a speech at the opening ceremony of the Dragon Boat Festival.
Francis Houleo, the boy who was with Smith, said in an eyewitness statement submitted to the Tribunal of Ontario that he thought Brooman spoke to Smith in a bad manner.
"I remember that I didn't like the conversation. I wouldn't want someone to talk to me like that. The best I can say about John's [Brooman's] attitude is that it was not OK," he said, adding that he later asked Mr. Smith whether the festival CEO was "one of those people who are deceived by the Chinese government."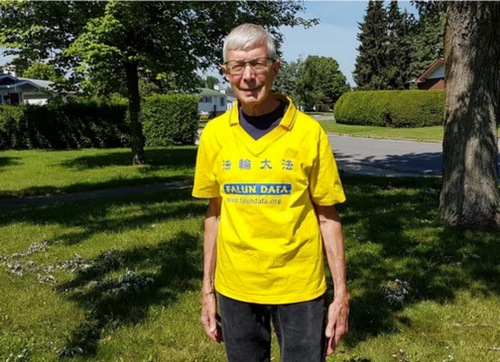 The Chinese Communist Party (CCP) Extends the Persecution
The Falun Dafa Association of Canada (FDAC) stated that the incident is a reflection of the Chinese communist regime's ongoing persecution of Falun Dafa and its extension into Canada.
FDAC spokesperson Grace Wollensak expressed appreciation for the festival's apology and the City of Ottawa's statement recognizing Falun Dafa as a protected creed.
"The apology serves as a remedy to correct the wrongs and an acknowledgment that following the CCP's attempts to discriminate against Falun Gong in Canada is unacceptable," Ms. Wollensak said.
Ms. Wollensak also condemned the CCP's "malign tactics to influence all different sectors of society" in a news release. She said that the incident is not isolated but rather part of the CCP's ongoing interference on Canadian soil.
The FDAC recently published a report documenting dozens of cases in Canada in which Falun Dafa practitioners were attacked verbally or physically or otherwise harassed due to the CCP's interference.
"It's alarming that the Chinese Embassy is extending its persecution of Falun Gong to this community event, and it is extremely concerning that it has manipulated some people," Ms. Wollensak said.
"We urge Canadians to be vigilant and alert to CCP's manipulation and resist the influence of a totalitarian regime attempting to undermine our free society in Canada."
Copyright © 2023 Minghui.org. All rights reserved.