(Minghui.org) Barbara Lee, U.S. Congresswoman from California and Co-chair of the Policy and Steering Committee, wrote to U.S. Secretary of State Antony Blinken on September 29, 2023, asking that the Secretary contact his Chinese counterparts and the associated judicial agencies "in the strongest terms" to secure the release of Falun Gong practitioner Ms. Kong Qingping, who is currently incarcerated in China for her faith.
Ms. Kong, a Dalian City, Liaoning Province, resident, was arrested on October 22, 2022 for practicing Falun Gong. She is currently held at the Yaojia Detention Centre and has been denied family visits.
According to Ms. Kong's family in China, she was found to have severe high blood pressure and a lung condition when she was admitted to the detention centre. The family demanded that the Shahekou Police Station release her on bail due to her poor health, but the police have refused.
Congresswoman Lee wrote, "I have deep concerns regarding the well-being of Ms. Kong during her confinement by the authorities of the People's Republic of China (PRC). Therefore, I urge you to ask Ambassador Nicholas Burns to raise this case directly with his PRC counterparts and call for Mrs. Kong's immediate unconditional release."
Congresswoman Lee also said, "According to those familiar with her situation, Ms. Kong has been unable to contact any friends or family since her detainment in 2022. In addition to taking Ms. Kong into detention, these security officials also raided her home and confiscated Falun Gong materials that did not belong to her according to witness testimony. They have conveyed that Ms. Kong was only able to meet her lawyer once before her trial in April 2023, and there was scarce evidence against her. Her trial was remanded back to local authorities due to insufficient evidence; however, she remains in custody."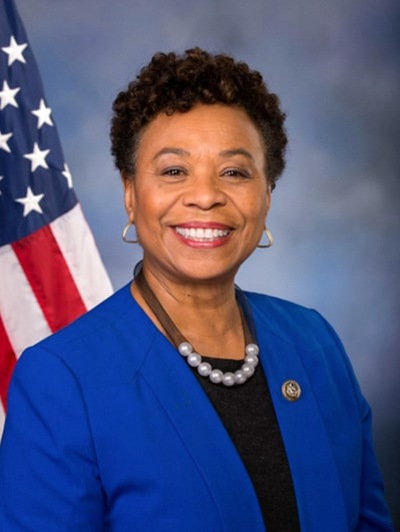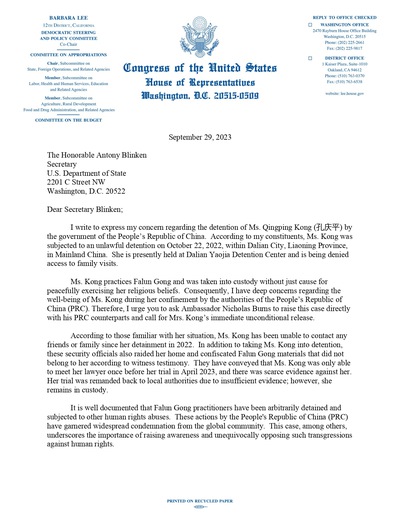 Despite the lack of evidence of wrongdoing, the Ganjingzi District Court in Dalian still held a virtual hearing of Ms. Kong's case on September 22, 2023. She suffered from dizziness during the session and couldn't hear the lawyer or the judge clearly. Her lawyer demanded to have Ms. Kong released for medical treatment, but judge Ni Shengjun denied the request.
The hearing lasted two hours. Prosecutors Ji Xiaohui and her assistant Hu Tongjun of the Ganjingzi District Procuratorate maintained that it was a strong case and attempted to request another court session to go over the so-called evidence they had.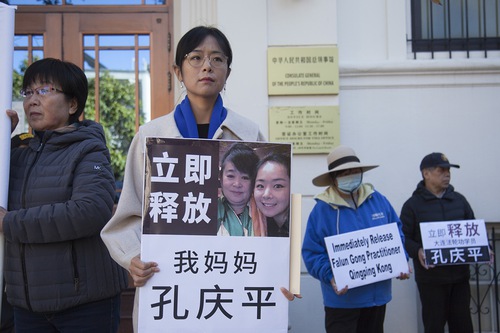 Congresswoman Lee ended her letter with, "It is well documented that Falun Gong practitioners have been arbitrarily detained and subjected to other human rights abuses. These actions by the People's Republic of China (PRC) have garnered widespread condemnation from the global community. This case, among others, underscores the importance of raising awareness and unequivocally opposing such transgressions against human rights."
Since Ms. Kong's arrest, her daughter, Ms. Liu Zhitong, a San Francisco resident, has been working tirelessly to rescue her. Ms. Liu said that her mother suffered a persistent fever in early 2004 and was diagnosed with septicemia. Her condition was very dangerous and the medical treatment didn't have much effect on her. Ms. Kong later decided to practice Falun Gong. In just one month, her health improved significantly and her ailments disappeared. The melasma on her face was gone and her complexion became rosy and refined. In addition to the improvement in her physical health, her bad temper also disappeared. Her relationship with her husband and other family members became harmonious again.
Ms. Liu said her whole family was impressed by her mother's changes, and realized that Falun Gong was nothing like what was depicted by the communist regime's slanderous propaganda.
Chinese version available
(Clearwisdom)
U.S. Congresswoman Urges Secretary of State to Help Rescue Detained Falun Gong Practitioners