(Minghui.org) Falun Dafa practitioners from several cities in Sri Lanka gathered at Sahas Uyana Park in Kandy on July 20, 2023 to tell people about the persecution of practitioners in China and commemorate the 24 years that Dafa practitioners worldwide have peacefully resisted the ongoing suppression.
Dressed in yellow and white, practitioners demonstrated the five Falun Dafa exercises, accompanied by the soothing exercise music. In the evening, they held a candlelight vigil and silently mourned practitioners in China who lost their lives in the persecution by the Chinese Communist Party (CCP).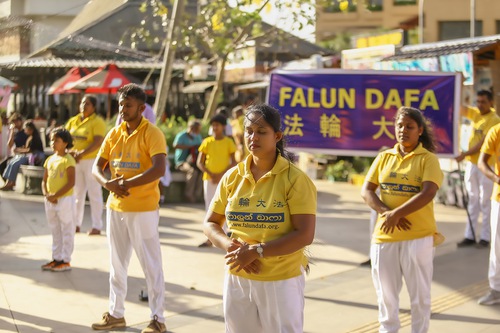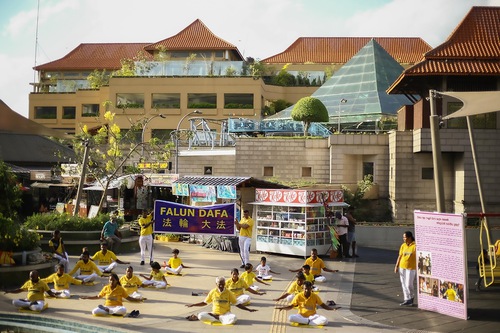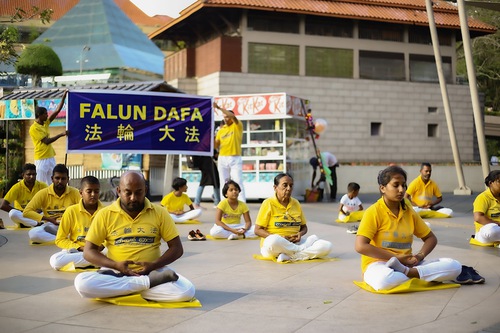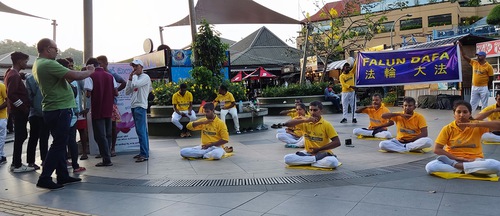 The atmosphere during the event was peaceful and solemn. Many people stopped to watch the exercise demonstration and learn more about Falun Dafa. Practitioners explained that Falun Dafa is based on the universal principles of Truthfulness, Compassion and Forbearance. A big poster was displayed with information about the ongoing persecution by the CCP in China. Many people expressed their support for practitioners and condemned the persecution.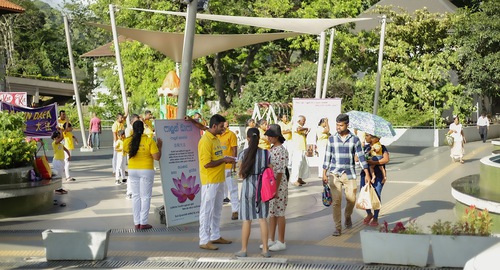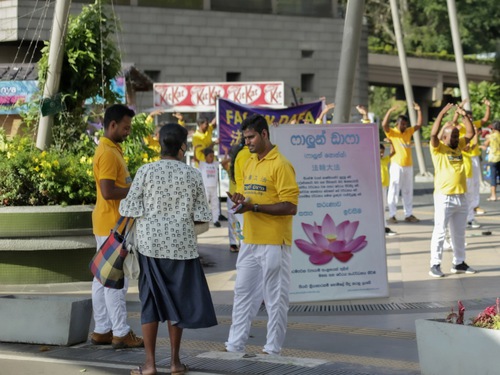 Falun Dafa Warmly Received in Sri Lanka
An officer from the Emergency Raid Section of the Kandy Municipal Council asked a practitioner why Falun Dafa was persecuted in China. The practitioner explained that the CCP strictly suppresses spirituality and has destroyed China's ancient culture. She also told the officer about the Chinese Embassy's transnational repression of Falun Dafa in Sri Lanka.
The officer hoped that the Sri Lankan government would stand up for practitioners, and expressed his wish to join practitioners at their local practice site to learn the exercises.
One man was excited when he saw practitioners doing the exercises. A practitioner explained the benefits of the practice. The man asked if he could livestream them doing the exercises to his social media group. With the practitioners' permission, he streamed a portion of the exercise demonstration while providing an explanation of Falun Dafa to his viewers.
A group of nursing students watched the entire demonstration. One practitioner introduced Falun Dafa to them, and told them about the ongoing persecution in China. The students praised the practitioners for standing up for justice, and said that they would join the local Falun Dafa practice site to learn the exercises.
A school counselor, upon finding out that Falun Dafa teaches people to improve themselves according to Truthfulness, Compassion, and Forbearance, told practitioners that she thought Falun Dafa was, "A great thing for current society, where children face various dangers." She also told practitioners to, "Keep doing this good thing."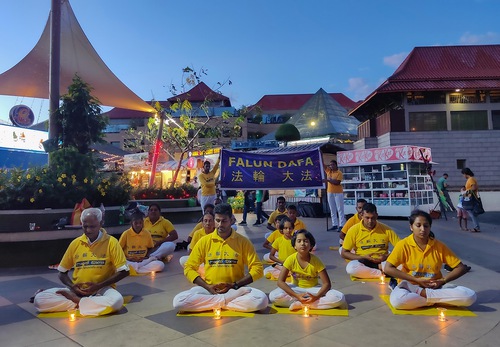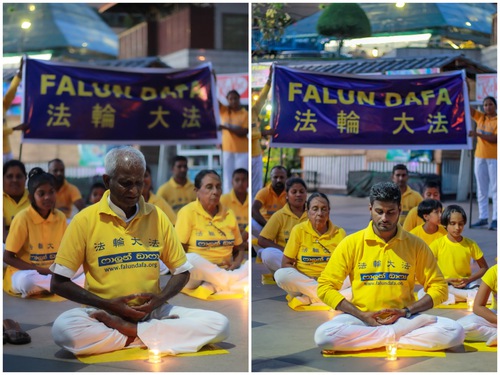 Chinese version available
(Clearwisdom)