(Minghui.org) On July 20, 2023, an article to support Falun Dafa was published on the German Federal Government Commissioner for Freedom of Religion and Belief's website. The author of the article, Frank Schwabe, condemned the ongoing persecution of Falun Dafa in China and commended practitioners' 24-year-long efforts to end it.
Frank Schwabe is a member of the German Parliament with the Social Democratic Party (SPD) and a Federal Government Commissioner for Freedom of Religion and Belief.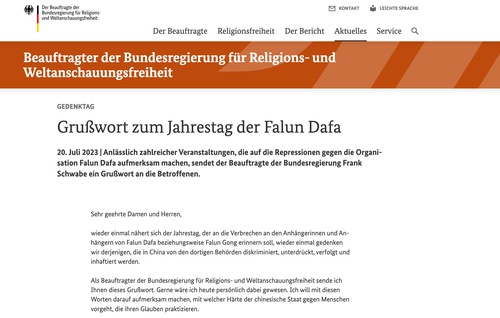 The letter's introduction states, "On the occasion of numerous events that draw attention to the persecution against the organisation Falun Dafa, the Federal Government Commissioner Frank Schwabe sends a greeting to those affected."
In his letter Mr. Schwabe wrote, "Being the Federal Government Commissioner for Freedom of Religion, I am sending you this greeting. I would have loved to be (at the event to protest the persecution) personally today. I want to draw your attention to the Chinese state's harsh acts against people who practice their faith.
"Falun Dafa practitioners have been affected by the large-scale persecution for more than 24 years. You have our deep sympathy and support. As a spiritual community based on Truthfulness, Compassion, and Forbearance, Falun Dafa appears to pose a major threat to Chinese authorities.
"The Chinese authorities have so far not been able to refute the reports on their human rights violations, harassment, unlawful detention, and so-called re-education measures.
"It is also inconceivable that the Chinese regime illegally harvests organs from imprisoned members of Falun Dafa. This deeply saddens me.
"I once again call on the Chinese government to uphold international law and protect human rights, including the right to freely practice a religion and belief. Also it should make transparent how organs for transplants were obtained in China, and grant the international community free access to court hearings and inside of prisons – only in this way can you deal with these serious allegations.
"We must not forget that freedom of religion, belief, and spirituality is a fundamental human right and essential for a free and just society. We should also be aware that there are many people worldwide who are persecuted for their beliefs and commitment to freedom of religion and belief.
"Let us commend (the practitioners) today and commit ourselves to standing up for a world in which freedom of religion and belief, human rights, and freedom of speech are respected. May the memory of Falun Gong practitioners inspire us to courageously and fearlessly work for freer societies.
"Be certain that I will continue to be of service for you and that I will work with you to promote the freedom of religion, spirituality, and belief."
Web address: https://religionsfreiheit.bmz.de/religionsfreiheit-de/aktuelles/grusswort-falun-dafa-168906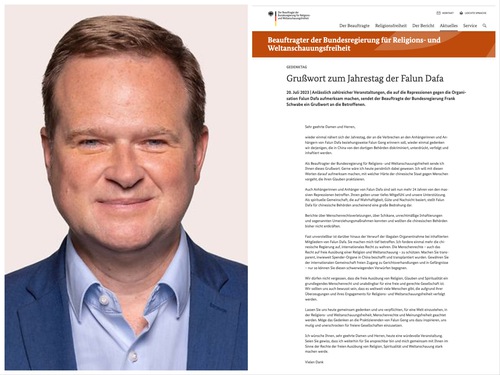 Chinese version available
(Clearwisdom)