August 1st, 2023 / By Australian Dafa disciples
---
Falun Dafa's principles of truth, compassion and forbearance inspired many people attending the 2023 Pacific Pines Winterfest held on July 16.
The largest annual community event in the Gold Coast hinterland welcomed well over 6000 attendees to Central Park Oval, where there was a very diverse mix of stalls, community groups, food, and family-friendly entertainment.
Practitioners set up a marquee tent, information table and demonstrated Falun Dafa's five exercises.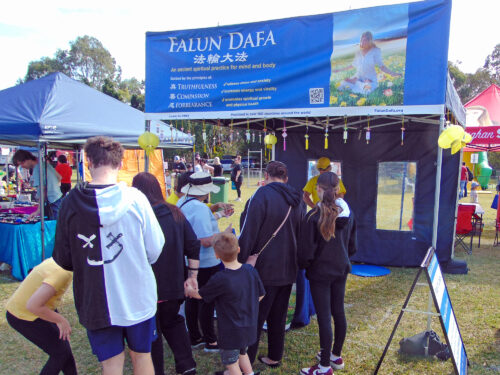 After watching the demo many people felt compelled to stop, talk, take fliers and sparkling lotus flowers. Several of them wanted to find out where they can learn the peaceful practice.
When Shelley learnt the lotus flower represents peace and purity, she promised to keep it in a "special place in her heart".
Others showed support by signing a petition opposing the Chinese Communist Party's (CCP's) 24-year arbitrary detention, torture, organ harvesting and killing of Falun Dafa adherents in mainland China. Their only crime was trying to be more truthful, compassionate and tolerant in their daily lives.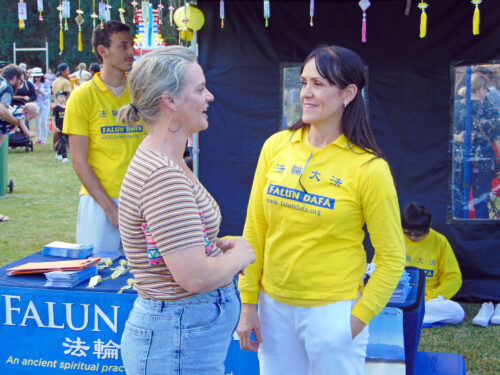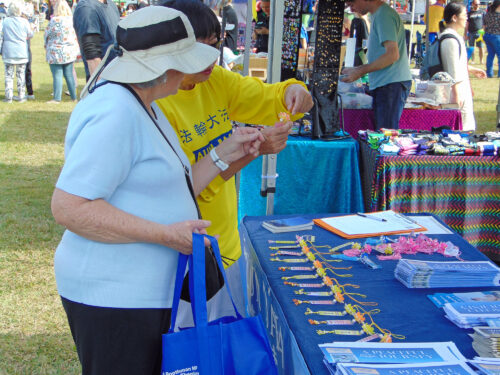 Practitioners also took the opportunity to update several politicians who also held information stalls at the festival.
Incumbent Queensland Member for Gaven Meaghan Scanlon was very pleased to hear Falun Dafa practitioners recently visited the capital of Canberra for face-to-face meetings with both the Australian Department of Foreign Affairs and parliamentary office of Foreign Affairs Minister Penny Wong.
Liberal National Party (LNP) Queensland State Member of Parliament for Theodore Mark Boothman was very satisfied to hear both the department, and his LNP colleague Federal Member for Wright Scott Buchholz, made representations to the Chinese Embassy in Canberra about the ongoing detention of Falun Dafa practitioners in mainland. Boothman openly expressed his wishes for the CCP's violent history to end.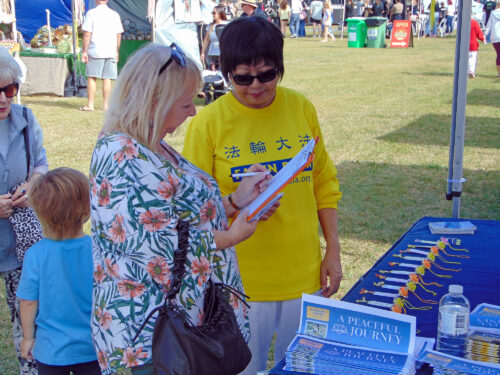 Gold Coast City Councillor for Division 5 Peter Young's advisors welcomed Falun Dafa practitioners back to the festival, and were very glad to hear each year many people visit our stall. They also asked practitioners to keep in touch with their office to provide further updates.
Festival organisers from the Pacific Pines Residents Group were also happy to see Falun Dafa practitioners return since the event was last held back in 2021. Vikki Hocking said it was "really good" to see Falun Dafa again.
Practitioners thanked organisers and VIPs for their support.