(Minghui.org) The Taipei City Council on June 21, 2023, passed a resolution urging the Legislative Yuan to pass laws to prosecute those who participate in forced organ harvesting perpetrated by the Chinese Communist Party (CCP).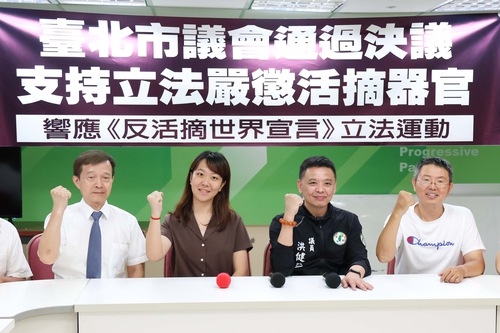 This resolution, co-sponsored by 28 legislators, has three main points:
1) severely condemn forced organ harvesting as a crime against humanity;
2) support the legislation by all governments against forced organ harvesting, the "Universal Declaration on Combating and Preventing Forced Organ Harvesting";
3) urge the Taipei City Government to inform locals of the atrocity of forced organ harvesting by the CCP, educate locals about the "Human Organ Transplantation Regulations," which prohibits the sale and purchase of organs from abroad, and call on locals not to go to China to receive trafficked organs for transplantation.
Hung Chien-Yi, the Taipei City councilor who introduced the resolution, said, "This proposal represents a universal value and a common belief in the world." He urged all city councils to pass similar resolutions and speak up against the atrocity.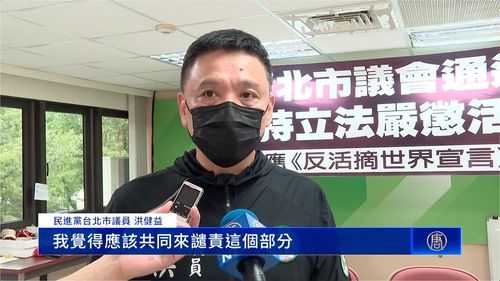 Taipei City Councilor Hsu Hung-Ting agreed that non-consenting organ extraction and trafficking violated basic human values and should not happen in any country or region. This is why this resolution received support from legislators from all political parties, he said.
Councilor Hsu hopes that through this resolution, "We can uphold this value on our land, that no human organ should be removed when the person is still alive, trafficked or commercialized, without their consent."
According to the CCP's own data, the number of transplants performed in China ranked second in the world, with no clear indication of the source of the organs. More and more evidence have shown that the regime has been harvesting organs from non-consenting Falun Gong practitioners and other prisoners of conscience.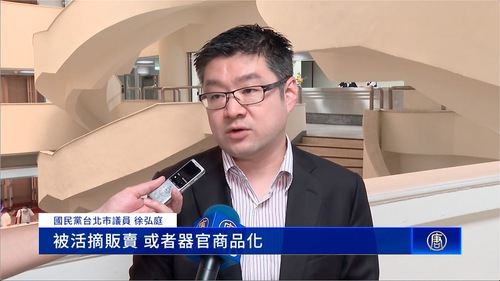 Another Taipei City Councilor, Hsu Li-Hsin, said that any government that goes against its people would be toppled one day. Pointing to historical tragedies such as concentration camps and unethical human experimentation, Hsu said that the world cannot allow organ harvesting crimes to continue in the 21st century.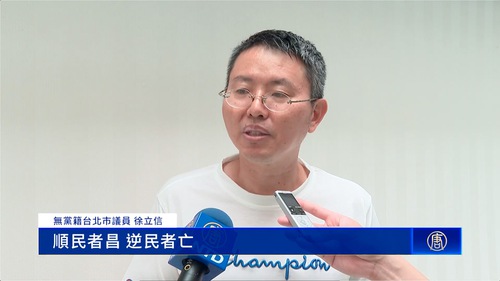 Taipei City Councilor He Meng-Hua said the resolution is very meaningful. She hopes that the Chinese people can one day enjoy freedom of belief and personal safety. She urged all city councils to step forward and speak out on this important issue.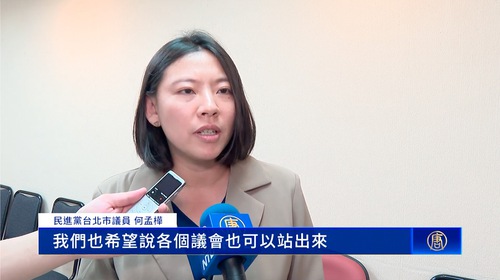 Taipei City Councilor Li Chien-Chang said Taiwan's Legislative Yuan should pass laws to impose sanctions on the perpetrators. Through education and criminal legislation, he said the public in Taiwan should be made aware of the atrocity by the totalitarian and tyrannical CCP regime. "This must be widely publicised so the whole world can work together to stop it," he said.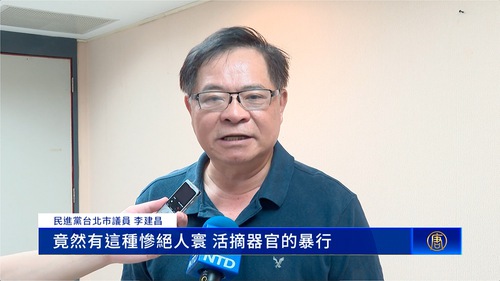 A number of Taiwan legislators from both sides of the aisle held an international press conference in 2022 to announce the "Law on Combating and Preventing Live Organ Harvesting." They called on the international community to build a human rights firewall and work together to stop the CCP's organ harvesting atrocities. Nearly 20 members of legislative bodies and human rights advocates from Europe, United States, Japan, and South Korea sent videos to support the effort.
The legislators also requested the Taipei City Government to inform the public of the CCP's forced organ harvesting and urge the public not to travel to mainland China to engage in illegal organ trading or transplantation.
Chinese version available
(Clearwisdom)